Beaufort Oglethorpe "Bo" Buchanan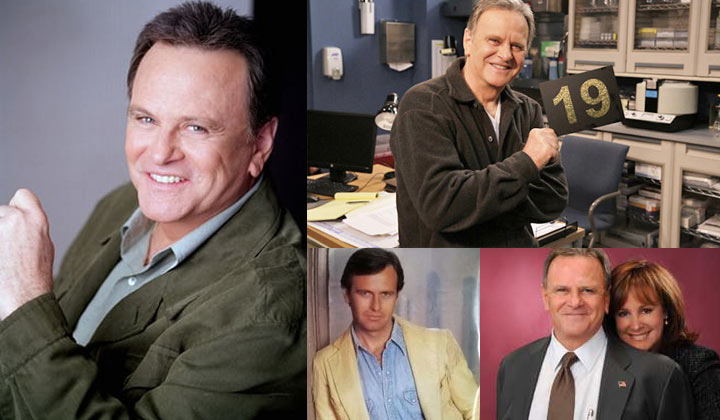 2008; as a young Bo
Tanner Woods
2008; as Young Bo
Born April 18, 1948; was said to be 20 years old in July 1968 when David was conceived
Celebrated his birthday on April 18 (on-screen in 1997)
Died and went to heaven before regaining consciousness (Jan 2012)
Bo Ralston (when he thought Yancey Ralston was his father)
Bill Brady (assumed name working at the plant)
Llanview police commissioner (was briefly relieved of his duties in 2011 and reinstated shortly afterward)
Former producer of the soap 'Fraternity Row'
Owned WVLE TV station
Worked at the Lord/Manning plant (undercover)
Produced movie with Marco Dane
Former executive of Lonestar Records
Served in the United States Army during the Vietnam war
Llanview, Pennsylvania
Formerly 459 Wakashin Street, Llanview, Pennsylvania 19100 (with Paige and Matthew)
Married to Nora Hanen [June 7,2010 to present]
Delilah Ralston (Married: 1983; divorced)
Didi O'Neill (Married: January 10, 1986; dissolved by her death in 1988)
Sarah Gordon (Married: March 21, 1990; dissolved by her death in 1992)
Cassie Callison (Married: November 27, 1991; invalid)
Nora Hanen (Married: June 1, 1995; Divorced: June 21, 1999)
Asa Buchanan (father; deceased)
Olympia Buchanan (mother; deceased)
Renee Divine Buchanan (step-mother)
Clint Buchanan (brother)
Ben Davidson (paternal half-brother; deceased)
Cordero Roberts (nephew)
Kevin Buchanan Sr. (nephew; via adoption)
Joey Buchanan (nephew; via adoption)
Jessica Buchanan (niece)
Natalie Buchanan (niece)
Rex Balsom (nephew)
Pike Buchanan (paternal uncle; deceased)
Jeannie Buchanan (paternal aunt; deceased)
Rafe Garretson (paternal cousin)
Austin Buchanan (paternal cousin; deceased)
Sammi Garretson (paternal first cousin once removed)
Demerest "Duke" Buchanan (great-nephew; via adoption; deceased)
Kevin Buchanan Jr. (great-nephew; via adoption; deceased)
Megan Buchanan (great-niece; deceased)
Brennan "Bree" Buchanan (great-niece)
Chloe Brennan (great-niece; deceased)
Clinton James "CJ" Roberts (great-nephew)
Sarah Roberts (great-niece)
Shane Morasco (great-nephew)
Ryder Asa Lovett (great-nephew)
Liam Asa McBain (great-nephew)
Zane Buchanan (great-great-nephew; via adoption)
David Vickers (son; with Emma Bradley, born 1968)
Drew Buchanan (son; with Becky Lee; born 1983; died Sep 16, 1998)
Matthew Buchanan (son; with Nora, born 1999)
Drew Buchanan II (grandson, via Matthew; born Jan 13, 2012)
Emma Bradley [in 1968]
Mimi King
Pat Ashley
Becky Lee Hunt
Georgina Whitman
Gabrielle Medina (deceased)
Lindsay Farrell Rappaport (engaged in 1999)
Lindsay Farrell Rappaport (engaged in 2008)
Nora Hanen Buchanan (while Nora was married to Clint)
Alex Olanov (made out while Bo was trying to get information out of her; Mar 2011)
Assault on R.J. Gannon (charges dropped).
Charged with framing Todd Manning for murder
Failed to press charges against Matthew for murdering Eddie Ford (2011)
Failed to press charges against Nate Salinger for assaulting Matthew (2011)
Kidnapped and held hostage by Patrick London [1988]
Struck by lightning and transported back to 1968 [2008]
Shot in abdomen by Schuyler Joplin [2010]
Shot by Troy MacIver [Jan 2012]
Bo Buchanan came to Llanview in 1979 to join his relocated father in the east coast division of Buchanan Enterprises. Soon he had a love interest in the TV talk show host Pat Ashley. In 1983 he had a new love, Delilah Ralston, but they stopped the relationship from going any further after Bo's mother, Olympia, declared on her deathbed that Yancy Ralston was Bo's father, not Asa. That would make Delilah and Bo cousins. When Asa found out Bo and Delilah weren't together anymore, he married Delilah. Bo then started sleeping with Becky Lee Abbott, who became pregnant with their son Drew. They split up, and Bo married Delilah after learning that Asa was in fact his father. Later in 1984, they got divorced.
Wanting to get away from his family for a while, Bo went to work at the Lord-Manning factory using the fake name of Bill Brady. He lived with the O'Neill family and fell in love with one of the daughters, Didi O'Neill. Didi was injured by an explosion at the factory and went blind. She and Bo got married in 1985. The following year, Bo took off for Vietnam in search of MIA's. In 1988 he returned without Didi, but the family sensed something wasn't right. It turned out that the Bo in Llanview was actually Patrick London, who had plastic surgery to alter his appearance, and the real Bo was being held hostage along with Didi and Delilah. During the hostage situation, Patrick and Didi were both electrocuted.
In 1990, Bo fell in love with and married Sarah Gordon. But soon after the wedding, Sarah was kidnapped by Carlo Hesser and presumed dead in a plane crash. Bo married Cassie Callison in 1991 but was shocked at the reception when Sarah turned up alive! Bo stayed with Cassie for a time, but before long reunited with Sarah. Cassie and Bo annulled their marriage. In 1992 Sarah was killed in a hit-and-run accident on the day that she was supposed to re-marry Bo. After Sarah's death, Bo tried to commit suicide but was talked out of it by Sloan Carpenter.
A new attorney in town, Nora Hanen Gannon, helped Bo to get over his loss. They got engaged in 1993 but delayed their marriage because Nora had a brain tumor and needed surgery. Nora went temporarily blind after the surgery and was stalked at her beach house by her former client and convicted rapist Todd Manning. Bo rescued Nora and they returned to Llanview, where Nora was operated on and regained her vision. Bo and Nora married in 1995.
Bo's son by Becky Lee, Drew Buchanan, arrived in Llanview as an adult and soon became a cop, just like his father. He was on an investigation and got in the way when Barbara Graham was trying to shoot Kevin Buchanan and was shot. Drew died, and Bo was devastated.
In 1998, Nora and Bo were trying to have a baby. Lindsay Rappaport changed the test results to show that Bo couldn't have children, because she wanted him for herself. Desperate to give Bo a son to replace Drew, Nora asked Lindsay's ex-husband, Sam Rappaport, to sleep with her so she could become pregnant and pass off the baby as Bo's. Nora became pregnant but soon told Bo that the baby she was carrying was in fact Sam's. Bo and Nora separated. Nora had the child, which she and Sam named Matthew. Later, Nora found out that Bo really could have children and thought Bo could in fact be the Matthew's father. Test results were performed, but Lindsay paid off the lab technician to change the test results. The technician disappeared before Lindsay could find out if the results had been changed, but the results showed that Sam was the father. Nora and Bo's divorce was finalized, and Bo and Lindsay got together.
Lindsay confessed to Bo that she tried to have Matthew's DNA test altered, but changed her mind at the last minute. Bo forgave her, although Lindsay didn't tell Bo that she was the one who originally changed the results to show that Bo was impotent. Lindsay accepted Bo's marriage proposal, then found out she was pregnant with Bo's child. On their wedding day, Nora interrupted the wedding with the announcement that Lindsay was the one who changed Bo's fertility tests. Bo walked out on Lindsay. He took off to Cherryvale, where met Lindsey's sister, Melanie Farrell. Bo asked Melanie to marry him.
Colin MacIver, Melanie's ex-husband, died and Melanie was one of the suspects in his murder. When a hair sample taken from Colin's fingernails matched Melanie's hair, Bo was forced to take Melanie into custody. She admitted to hitting Colin with a poker the night he died and also revealed she'd helped her father die. Melanie broke off her engagement to Bo, but Bo wasn't convinced that she was the one who actually killed Colin. Later it was revealed Nora had actually killed him. Bo and Melanie later broke it off.
Gabrielle and Bo became lovers, and Gabrielle found a letter from now-deceased Sam Rappaport that revealed that Bo was Matthew's biological father. Gabrielle at first kept this news to herself, but ultimately revealed the truth to Bo. In the fall of 2003, Gabrielle's son with Max Holden died and she was devastated. With Bo's help she began to enjoy life again and accepted Bo's marriage proposal. On New Year's Eve, Gabrielle was murdered by the Music Box Killer. Bo turned to Nora to help get over his grief over Gabrielle and flirted at reconciling, but Bo was unable to forgive Nora for cheating on him with Sam.
Bo began a relationship with Dr. Paige Miller and invited her to move into the apartment Bo shared with Matthew. The two became engaged, but broke it off when Paige admitted that she had been the doctor on call the night that John McBain's father, Thomas, was brought into the operating room and that she had been drunk. They later reconciled, but in July 2007 Paige took a job in the Middle East with the humanitarian aid group Doctors Without Borders and left town.
Bo was devastated by the loss of his father in August 2007. Bo and Asa had been in constant conflict over Asa's less than honest business dealings, and Asa's sudden death left the relationship unresolved. In February 2008, Bo was fired as police commissioner by the new mayor and replaced with ousted FBI agent Lee Ramsey. Bo became the court-ordered guardian of Lindsay, who had killed Spencer Truman but was found temporarily insane at the time. After Nash Brennan's sudden death, Bo proposed to Lindsay and they planned to marry at once. Nora found a letter from R.J. Gannon, however, proving that Lindsay faked insanity to get out of a murder sentence and presented the letter to Bo in the middle of his wedding. Lindsay admitted that she lied about being insane, and Bo left her at the altar.
Bo disappeared from town, and Rex Balsom tracked him down at the Buchanan ranch outside Paris, Texas. There they were struck by lightning and transported back to 1968, where everyone saw Bo as Asa and Rex as Bo. There they met Emma Bradley, Spencer Truman's mother, who according to history had slept with Asa and gotten pregnant with David Vickers. Bo, as Asa, failed to sleep with Emma in 1968 before being struck by lightning again and transported to the present day. In the past, Rex as Bo slept with Emma Bradley, who was the spitting image of Rex's childhood love Gigi Morasco. After returning to Llanview, Bo was reinstated by the mayor as police commissioner following the death of Lee Ramsey.
In February 2009, Bo was stunned to discover that David Vickers was his son, via a one-night stand with prostitute Emma Bradley in 1968. Everyone thought David was Asa's son, including Asa, who had left instructions following his death to give over his entire estate to David. David and Dorian, who had married, kicked the family out of the house when David thought he was Asa's son. But after learning he was Bo's son, David said he had too much respect for Bo to hurt the family and decided to move to Hollywood to resume his acting career.
When Nora found a joint in her son Matthew's backpack, she and Bo figured Matthew was getting high, although he only bought the joint to try to fit in with other kids in school. Cole Thornhart later smoked the joint outside the Buchanan mansion, and Matthew lied to impress his schoolmates and told his parents he smoked it. Bo said he was going to send Matthew to military school, over Nora's objections, but he later reconsidered after having a heart-to-heart with Matthew. When Cole got into a car accident while under the influence, Matthew was riding shotgun and got thrown from the car. Bo found Matthew, hours after Cole had been taken to the hospital, and was the first to realize that Matthew could not feel his legs. Bo and Nora were dismayed when the doctors said Matthew likely would never walk again. Bo and Nora got closer as they struggled to help Matthew cope with his paralysis. While sitting in a car after dropping Matthew off at school for his first day back following the accident, Bo and Nora nearly shared a kiss before Marcie McBain interrupted. Later Nora wanted to ignore what nearly happened, but Bo forced her to own up to their feelings for each other. When Clint spotted them in an embrace and demanded to know what was going on, Bo told Clint that he nearly kissed Nora. Clint was upset at Nora for not confiding in him, and Bo blamed Clint for bringing this on himself by deciding to date his ex-wife!
The next day, Bo learned from Nora that Clint had proposed to her during Natalie's bachelorette party at UltraViolet, and that she had accepted. Clint invited Bo and Matthew to join him and Nora for breakfast at the Palace and he presented Nora with an engagement ring, when announced that he had found a doctor who said he could help Matthew walk again. Later, Bo confided to Nora that he didn't trust Dr. Greg Evans, since he only came to town because Clint paid him, and said Clint should have come to them first. After reviewing Matthew's tests, Dr. Evans told Nora, Bo and Matthew that he could help Matthew walk again. But when they learned the surgery could be life threatening, Nora told an angry Matthew that she refused to let him have the surgery and Bo said they couldn't do anything that would put Matthew's life in jeopardy. Bo and Nora were shocked when Matthew said he would rather be dead than stuck in a wheelchair for the rest of his life. Matthew then hired Tea Delgado to represent him in a lawsuit against his parents, in which he would attempt to get permission from the court to have the surgery.
On the night before Nora and Clint's wedding, Bo and Nora shared a kiss at Asa's lodge. Matthew witnessed the kiss, and told his parents he would drop his lawsuit in exchange for not telling Clint. Bo and Nora called Matthew's bluff, and Matthew ultimately decided not to tell Clint because he didn't want to hurt his uncle. On the day of the wedding, Bo visited Lindsay at Statesville Prison and said he wanted her to talk him out of stopping Clint and Nora's wedding. But Lindsay said Bo should stop Clint from marrying Nora if he really loved Nora and could risk hurting his brother. But Bo couldn't bring himself to tell Clint that he was in love with Nora and stood by as Nora and Clint said their vows. Bo and Nora hired attorney Elijah Clark to represent them in the lawsuit against Matthew and were devastated when the judge ruled that Matthew could have the surgery without his parents' consent. Bo's estranged son David Vickers, who had bankrolled Matthew's lawsuit, returned to town and tried to forge a real relationship with Bo, although Bo reacted coolly to the idea that David was his son.
When Matthew's doctor refused to perform his surgery, Bo and Nora hoped Matthew would give up the idea of walking again. But Matthew found another doctor in Seattle who would do the operation. Bo and Nora pretended to support Matthew in his decision, but when they got Matthew on the Buchanan jet they revealed that they were taking Matthew to London and enrolling him in a private school. Matthew was furious at his parents, who turned to each other once again to console themselves. Bo admitted to Nora that he was still in love with her and kissed her. Nora finally admitted her feelings for Bo, but said she couldn't be with him until she broke things off with Clint. Bo and Nora kept finding excuses not to tell Clint, however, even after David discovered the truth and agreed to stay quiet. After Matthew escaped from the London school, Bo and Nora tracked him down in Seattle but were too late to stop his surgery. They were relieved that the surgery went well, however, and were overjoyed when Matthew began to regain feeling in his legs.
While Bo and Nora were off visiting Matthew in Seattle, Clint learned that Nora and Bo were having an affair from the butler at the London compound, Nigel's cousin Neville. Kimberly Andrews, Clint's new assistant, had arranged for Neville to tell Clint about the affair and urged Clint to get even with Nora. Clint then arranged for Nora to walk in on him and Kimberly in bed together. Nora couldn't believe it when Clint told her that he had been having an affair with Kim, but as Clint started filling in the details, Nora realized that Clint was really talking about her and Bo. Clint told Nora he only staged the dalliance with Kim so she could feel the betrayal he felt. As Nora prepared to leave the mansion with Bo, Clint drew a rifle on them and berated them for carrying on behind his back. Clint then told Bo that he was no longer his brother. Nora and Bo accepted newly elected Mayor Dorian Lord's invitation to the mayoral ball on New Year's Eve, unaware that Dorian and Clint had set a trap for them. Clint secretly provided journalists with details of Nora and Bo's relationship and they put Dorian on the spot during the mayor's ball, giving her an opening to fire Bo. Clint served Nora with divorce papers and asked for $42 million in damages. When Nora's attorney threatened to sell the mansion, which was in Nora's name, Clint agreed to drop the request for damages in exchange for Nora signing over ownership of the mansion to him, which Nora agreed to do. Nora and Bo moved back into Bo's old apartment. When Dorian fired Bo's replacement, who had been handpicked by Mitch Laurence, Dorian asked Bo to take back his old job and Bo agreed.
After Schuyler Joplin went off the deep end and kept Gigi hostage at Viki's cabin, Bo and Rex tracked them down and tried to get Schuyler to surrender. But when Schuyler fired his gun at Rex, Bo jumped in the way and took the bullet. He was rushed to the hospital and underwent emergency surgery, but he came through with flying colors. Jarred by the near-death experience, Bo told Nora he wanted to marry her. Nora was afraid that the marriage would head south like before, but Bo said it would be different this time because they were going in with both eyes open. Nora said yes, and they told Matthew the news. Bo also told Clint, who had gotten over some of his anger about Bo and Nora after Bo had been shot, and Clint revealed that his own quickie marriage to Kim had ended.
On their wedding day, Bo and Nora persevered despite a series of comical obstacles and made it to the alter, only to be interrupted by a shotgun-wielding Clint, who had learned that David Vickers was responsible for Kim leaving town and was prepared to shoot him. Cooler heads prevailed however, and Bo and Nora exchanged their vows before friends and family.
Bo returned from his honeymoon and immediately got involved with the building case against Eli Clarke, who was suspected of killing Melinda Cramer and others to keep the truth about his other identities from getting out. Bo also got embroiled in the complicated family life of Inez Salinger, a troubled but beautiful woman who had left her two oldest sons when they were young and raised another boy who had no knowledge of his brothers. Bo met Inez after stopping her for a broken taillight and later hired her to be his assistant at the police station. He encouraged Inez to come clean to her sons about the past, which she did. Bo agreed to be best man at David's wedding to Dorian, but right before the wedding Bo found a note David had written in which he told Dorian he was leaving town because he couldn't commit to one woman.
Bo encountered Matthew's wrath after Matthew learned Bo had hired Inez, whose son Nate was now dating Matthew's first love Danielle. Matthew felt Nate had stolen Danielle away from him and told his father to fire Inez, but Bo told Matthew everyone deserves a job despite what he may think. Matthew turned Bo's words against him when Clint offered to show Matthew the ropes at Buchanan Enterprises, pressuring Bo to allow Matthew to intern there after school. When Bo learned Clint had invited Inez to dinner, Bo seethed with jealousy and told Nora that Clint was worming his way into Bo's life. But Nora dismissed Bo's objections, telling Bo it was a good thing that Clint had gotten over his anger with them and was trying to get on with his life.
Bo continued to get more involved in Inez's life. When her ex-husband Eddie Ford showed up in town in October 2010, Bo went to see Eddie at Inez's request and warned him that the police would be watching him. Eddie warned Bo that Inez was trying to get her hooks into him, but Bo said she was his secretary and nothing more. Bo walked in on Nora and Inez having an argument over a plant that Inez had purchased for Bo, and Inez admitted that Nora felt she was getting too close to him. When Eddie showed up at Dorian's house on Thanksgiving Day and punched James in the face during an altercation, Bo responded personally and had Eddie arrested. Nora complained to Bo that he was taking Eddie's case too personally because of Inez and told Bo that Inez was good at playing the victim card. Inez told Bo that she and Clint had broken up but denied that it had anything to do with Bo. When Nora learned about the breakup, she warned Bo that Inez was trying to break up their marriage. Bo lashed out at Nora and said that she was the one who had been unfaithful in the past, not him.
Bo was worried when Nora disappeared, but then he received text messages from Nora telling Bo that he should sleep with Inez to even the score over her affair years earlier with Sam Rappaport. Bo confided in Inez and ended up staying the night in her apartment. The next morning, Inez told Bo that they had slept together after Bo got very drunk, but Bo didn't remember anything. Bo was horrified when Rex told Bo that Nora had been kidnapped by Eddie Ford and had gone missing after Rex and Nora were in a car accident. Bo later found Nora wandering in the woods with no memory of what had transpired after Rex had rescued her from Eddie's hotel room. Eddie later turned up dead, and Nora told Bo that she suspected Inez had killed him. Bo confided in Clint about his indiscretion with Inez and followed Clint's advice to keep the truth from Nora. Later, Bo was stunned when Matthew told Nora that Bo had cheated on her with Inez, saying he had seen them kissing in her apartment. Bo admitted it was true and Nora kicked him out. Rex told Bo that Inez could have drugged him, and Inez eventually admitted to Bo and Nora that the whole thing was a scheme set up by Clint to get back at them. Bo tracked down Clint at the stables and forced Clint to admit what he had done. Bo and Nora agreed not to say anything to the family right away, hoping to get enough evidence against Clint to arrest him, but they ordered Matthew to quit his internship at BE.
Bo was flabbergasted when Rex told him that Clint had had David thrown in a Moroccan jail on the day of his wedding to Dorian, and that Rex had known for months. Bo raced to Morocco to try to rescue David, and Rex followed behind him. David had been moved from the jail, but a prison guard led them to Alex Olanov's private island, St. Blaize's. Bo seduced a willing Alex in an effort to get her to admit that she had helped Clint relocate David to her island. Rex located a healthy David before Bo had to finish the deed. David returned to Llanview, quickly reunited with Dorian and married her as Bo served as best man.
Bo and Nora suspected that Clint was responsible for murdering Eddie Ford and then planting the gun at Inez's apartment. Joey told Nora that he saw Clint with Eddie at the mansion the same day Nora was abducted, but they still lacked any concrete evidence. Rex vowed to help Bo crack the case to get back in his good graces, and Rex uncovered video footage showing Clint leaving Eddie's hotel room with a gun on the night he was killed. Bo quickly arrested Clint and charged him with murder, but Clint denied any involvement in the killing. Before his arraignment, Clint stunned Bo and Nora by revealing that Matthew killed Eddie and then called Clint in a state of shock. Matthew admitted that he was guilty, and Nora later remembered that she had seen Matthew in the hotel room after he shot Eddie but had left without saying a word.
Nora and Bo struggled with what to do about Matthew. Neither wanted to turn him in, but they also didn't want to go against their morals by letting him go. Matthew offered to turn himself in, worried that the truth would get out before he could come clean. But Bo and Nora stalled for time, hoping to come up with a solution that would keep Matthew out of prison. Bo confronted Clint, blaming him for putting Matthew in this position by using him as part of Clint's vendetta against Bo and Nora. Clint told Bo to handle Matthew privately, but Bo said he couldn't let Matthew go free. After Clint had a heart attack, Bo went to the hospital and was shocked when Clint revealed that he was dying.
After learning that TV reporter Blanca Morales was threatening to expose Matthew as the killer, Bo and Nora went to confront Blanca and were shocked when Clint confessed to the murder on live television. Bo and Nora returned home, where Matthew was about to tell them that someone else knew he was the killer when he fell to the floor unconscious. Bo and Nora rushed Matthew to the hospital, where doctors detected a small bump on his head and decided to run some tests. Matthew awoke but was confused, thinking he had just been in the car accident with Cole and was paralyzed. The tests revealed Matthew had suffered a serious head trauma and needed immediate surgery. Matthew made it through the surgery but had only minimal brain activity. The doctors urged Bo and Nora to take their son off life support and allow his heart to be donated to Clint, whose heart was failing, but Nora refused to even consider such an action and lashed out at Clint before realizing that he had no clue about Matthew's injury. Bo was relieved when Matthew began showing signs of brain activity. But his gratitude turned to heartache when he learned that Rex's fiancé Gigi had suffered carbon monoxide poisoning and that her heart would be transplanted into Clint.
Bo tried to question Matthew about the accident but all Matthew could get out was the word "Eddie" before he began having a seizure. Bo and Nora searched for clues in their apartment and found a gum wrapper that they later linked to Nate Salinger. Bo questioned Nate, who admitted what had happened. But Bo realized that turning in Nate would mean turning in their son as well, so he decided not to press charges. After Matthew suffered another seizure, the doctors told Nora and Bo that Matthew needed to be transferred to a rehabilitation center in Philadelphia where he could be looked after properly. Nora and Bo reluctantly agreed but grew frustrated when Matthew showed no progress at the rehabilitation facility. Bo was stunned when Nora told him that Destiny was pregnant with Matthew's child. Destiny planned to have an abortion but changed her mind after Nora begged her to keep the baby, sparking a rift between Nora and Destiny's mother.
After Dorian Lord resigned as mayor to assume the role of U.S. senator, Bo got a new boss named Kathleen Finn. Kathleen had once been attracted to Bo but he did not return her advances, and Kathleen seemed to harbor a grudge against Bo. When the man everyone believed was Todd Manning was revealed to be Todd's twin brother Victor Lord Jr. and subsequently murdered, Kathleen ordered Bo to make an arrest or clean out his office. Bo refused to make a premature arrest and Kathleen fired him.
On Thanksgiving Day 2011, Bo and Nora were visiting Matthew when Matthew suddenly flatlined. It seemed that Matthew was dead, but the doctors managed to revive him and Matthew opened his eyes for the first time in months. Bo and Nora were grateful beyond belief to have Matthew back. Destiny came to visit and Matthew realized that she was pregnant, but he didn't realize the baby was his until Destiny told him. When Matthew learned that Nora had pressured Destiny to keep the baby, he was livid. Matthew had lost months of his life and didn't want to be saddled down with a new baby. He told a devastated Destiny that he would support her and the baby but didn't want to be a father and didn't want to be tied down to her. Bo and Nora both hoped Matthew would come around eventually.
On New Year's Eve, hundreds of inmates escaped Statesville Prison during a major blackout. Bo assisted John in responding to the prison and learned that Troy MacIver had escaped. Bo called Nora and got her to reveal that Troy was at their house. But when Bo arrived with police backup, Nora and Troy were gone. Lindsay then appeared outside on the balcony and told Bo that she had escaped as well to warn him that Troy was up to something. Troy had told Lindsay that he was going to be together with Nora and Matthew again. Bo had a hunch where Troy had taken Lindsay and they found them inside a remote cabin, where Troy had once taken a kidnapped Matthew. Troy was about to inject a bound Nora with the same memory erasing drug that Lindsay had given Nora years earlier. Just before he could administer the injection, Lindsay burst into the room and claimed to have just killed Bo.
Nora was devastated but then stunned when Bo appeared and tried to get the jump on Troy. The two men fired shots and Troy fell to the ground, wounded. Nora was grateful to Lindsay and realized that she had changed while in prison. Bo gave Lindsay the keys to his vehicle and told her to send an ambulance for Troy. As soon as she left, Bo collapsed and Nora realized that he had been shot as well. Nora pleaded with Troy to save Bo's life, and he reluctantly agreed. Troy tried to revive Bo but when he couldn't get a pulse, he told Nora that Bo was dead and fled the cabin. Bo had an out-of-body experience and was reunited with former flame Gabrielle Medina, who urged him to stay with her in heaven. But Bo realized Nora still needed him and bid farewell to Gabrielle. As Nora sobbed over Bo's lifeless body, Bo suddenly stirred and awoke, telling Nora that she couldn't get rid of him that easy.
Bo and Nora were gathered at the Buchanan mansion for the final airing of soap opera "Fraternity Row" when Destiny suddenly went into labor. With no time to get to the hospital, Vivian began to deliver the baby in the Buchanan family living room as Matthew showed up, ready to take responsibility for the child he had helped create. Matthew raced to Destiny's side and helped her deliver a healthy baby boy, which they decided to name Drew after Bo's deceased son.
Much to Bo and Nora's dismay, Matthew did not take an active role in Drew's life and often pushed him to be a part of his son's life. Despite Matthew's lack of involvement, Nora and Bo welcomed Destiny and Drew into the family and enjoyed their role as grandparents. The title of grandfather did not slow Bo down as he continued to run the police department and remained a loving husband. When Bo discovered that Nora had doled out advice as a radio deejay in college, he created an internet radio call-in show for her.
While Bo's marriage remained strong, his relationship with his brother Clint was strained. Bo was forced to arrest his brother after Clint assaulted a bouncer outside a club while he was intoxicated. The incident went viral and Clint's award as "Man of the Year" from the Llanview Veterans' Organization was stripped. Bo was named in Clint's place but as he stepped up to accept the award during the "Man of the Year" gala, Clint ripped the award away and proceeded to embark on a drunken rant in front of the crowd. Bo was forced to instruct the paramedics to sedate Clint and take him to the psychiatric ward of the hospital.

Post a Comment

Share on Facebook

Tweet this

Submit Feedback