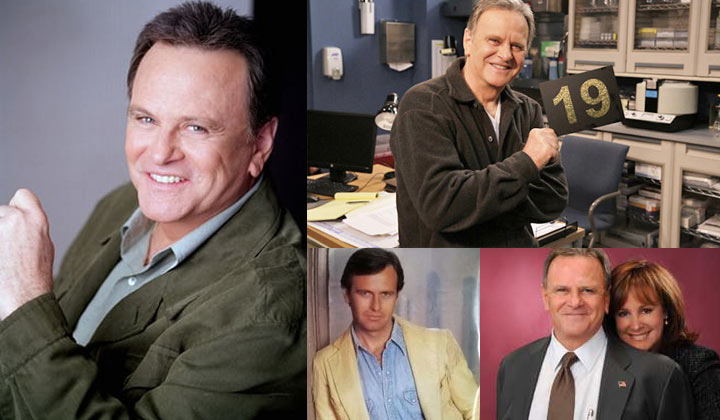 Robert S. Woods
Robert S. Woods created the role of Bo Buchanan, the handsome son of the rich and powerful Buchanan family, in 1979 and quickly skyrocketed to stardom, receiving an Emmy Award in 1983 as Outstanding Lead Actor, as well as five other nominations -- in 1986, 1993, 1994, 1999 and 2000. His recognition for his work as Llanview's Police Commissioner Bo Buchanan also includes multiple award nominations from
Soap Opera Digest
and
Soap Opera Update
. He won his fourth MVP trophy from
Soap Opera Update
in 1998.
After six years as Bo, Mr. Woods chose to take a hiatus from Daytime television and head to Los Angeles to spend time with his ailing mother, as well as to pursue other acting opportunities. During that time he portrayed Commander Eugene Lindsey in the acclaimed 1988 miniseries, War and Remembrance. He also starred in an award-winning Los Angeles production of Stitch and Eubie, the television movie Carly's Web and the pilot Changing Patterns.
In 1988 Mr. Woods decided to return to One Life to Live. Since then he has managed to juggle playing one of Daytime's most popular characters with other acting gigs. He guest-starred on Roseanne, on USA Network's Swamp Thing, and in the Lifetime movie, Deadly Love. Additionally Mr. Woods developed several television projects, including The Garth Ryland Mysteries, based on a series of popular novels by author John R. Riggs.
In 1971, when he returned home to his native California after 15 months as a Green Beret in Vietnam with the Army's Fifth Special Forces Group, Mr. Woods went to California State University at Long Beach to complete his broadcasting degree. It was there that he pursued his long-time interest in acting and directing. During school, and upon graduation, he studied at the Film Actors Workshop, The James Best Theatre Centre, The Directors Lab and The First Acting Company Workshop. In the mid-1970s he was starring in theater productions at Disneyland's Drama Workshop, where he did plays for the theme park's employees on evenings when Disneyland was closed to the public. He also spent time acting in U.S. Army training films and on stage in many theater productions, most notably a starring role with Dorothy Lamour in a Los Angeles dinner theater production of Barefoot in the Park. He then got his big television break on the series City of Angels.
In steady succession, Mr. Woods landed the recurring roles of Dr. David Spencer in The Waltons and Lt. Bob King in Project UFO, as well as guest-starring appearances on dozens of series, such as Family and Newhart, and made-for-television movies including Chase, Just a Little Inconvenience, The Night They Took Miss Beautiful, Police Story, and Fantasies. He also appeared in the feature films The China Syndrome and Big Wednesday.
Mr. Woods and his family -- his wife, actress Loyita Chapel, and their son, Tanner -- spend time between their Manhattan apartment and their Carpenter Gothic 1880 home in upstate New York.
All My Children
Bo Buchanan
January 2005
Deadly Love
Jim King
1995
Roseanne
Patrick London
May 17, 1994
War and Remembrance
Lt. Cmdr. Eugene Lindsey
1988
One Life to Live
Patrick London # 2
1988
Carly's Web
Donald Stevens
1987
Days of our Lives
Paul Stewart # 1
1986 to 1987
Newhart
Hal Foster
October 20, 1986
Chase
Sheriff Dean Hartley
1985
Fantasies
Clint
1982
One Life to Live
Bo Buchanan
1979 to 1986, 1988 to January 13, 2012
The Waltons
David Spenser 1976
Daytime Emmys: Winner, Outstanding Actor in a Daytime Drama Series (1983; for
One Life to Live
)
Daytime Emmys: Nomination, Outstanding Lead Actor in a Drama Series (1983, 1986, 1993, 1994, 1999, 2000, 2012; for
One Life to Live
)
Daytime Emmys: Pre-Nomination, Outstanding Lead Actor in a Drama Series (2004, 2005, 2006, 2008, 2009, 2010, 2011, 2012; for
One Life to Live
)
Soap Opera Digest Awards: Nominee, Outstanding Hero (1990)
Soap Opera Digest Awards: Nominee, Outstanding Lead Actor (1994)
Soap Opera Digest Awards: Nominated, Outstanding Supporting Actor (1999)
PLACE OF BIRTH: Maywood, California
DATE OF BIRTH: March 13, 1948
HEIGHT: 5'11"
HAIR: Brown
EYES: Blue
MARITAL STATUS: Married, Loyita Chapel [1985]
CHILDREN: Twin sons, Tanner and Dylan [1990; deceased]
News Archive
: A look at Bo's woes. [Jun 1, 1999]
News Archive: New contract to keep Woods planted in Llanview. [May 20, 2005]
News Archive: LISTEN: Robert S. Woods shares his reaction to Daytime Emmy nomination. [May 11, 2012]
News Archive: Woods, Erika Slezak close to signing with Prospect Park. [Jan 17, 2013]
News Archive: Woods one of more than a dozen OLTL stars signed on for return. [Jan 22, 2013]
News Archive: Woods, Smith discuss AMC and OLTL airing on television. [Jun 28, 2013]