Randall James "R.J." Gannon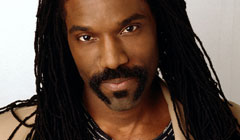 Owner of the Break Bar
Former owner of Club Indigo before it burned down
An apartment located at 17 Front Street
Single/Never Married
None

Janine Gannon (mother; deceased)
Hank Gannon (brother)
Rachel Gannon (niece)
Keri Reynolds (daughter; with Liz)
Jamie Reynolds Vega (granddaughter)
Nora Hanen (while she was married to Hank)
Jacara Principal
Hijacking trucks and selling their cargo
Kidnapping (Max's twins)
Blackmail (Sheila and Hank with a doctored VCR tape)
Loanshark
Aggravated assault and armed robbery (served 9 years in jail)
Helped Lindsay Rappaport escape from prison
Tried to frame Antonio Vega for his daughter's accident
Hid Keri's suicide note to frame Antonio for her "murder"
Blood type is O-negative (revealed January 30, 2004)
Randall James Gannon, the younger brother of Llantano County's District Attorney Hank Gannon, served nine years in Joliet State Prison for aggravated assault and armed robbery. His brother's wife, Nora represented him and lost the case, and R.J. has held a grudge against both Nora and his goody-good brother ever since. Despite his disdain for Hank and Nora, R.J. maintains a close relationship with their daughter, Rachel.
Calling himself Jimmy Glover, R.J. met up with Max Holden and Blair Daimler in Atlantic City in 1994, luring them into a high-stakes card game. After loaning Max ten thousand dollars, "Jimmy" followed Max and Blair back to Llanview, where using pressure, he collected his money, plus a two-thousand dollar late penalty.
R.J. tried to destroy Hank's career and reputation by producing a tampered videotape from Hank's college days, showing him standing by as a murder was committed. First he attempted to blackmail Hank with the doctored video, then tried to seduce Hank's fiancée, Sheila Price, in exchange for the tape. To preserve Hank's pristine reputation, Sheila nearly gave in to R.J.'s demands, but she was saved when he was arrested and detained on minor misdemeanor charges. R.J.'s vengeful mission was foiled when Bo Buchanan found the real video, exonerating Hank.
In 1995, R.J. set out to ruin Hank's wedding to Sheila Price by announcing that he (R.J.) slept with Hank's ex-wife Nora when Hank and Nora were married. The tale, which was true, did not deter Hank from marrying Sheila. Furious with R.J.'s admission, Hank refused to let the embarrassing news stop the wedding.
R.J., who sold drugs as a teenager but despises them now, tried to help his niece Rachel overcome her drug addiction in 1995. When she overdosed, he proved how much he cared for her by going to her parents. Together, they attempted an intervention and convinced Rachel to seek help for her problem.
In 1996, R.J. became the secret owner of Club Indigo, and formed a secret business alliance with Alex Olanov Buchanan. He joined forces with newly returned crime lord Carlo Hesser, who was murdered late in the year by Alex.
Tired of not getting respect, R.J. pledged to his family that he was going straight by entering the music industry. Seeking a fresh start, R.J. turned Club Indigo into a place to promote young musicians with talent. R.J. dated his partner, Jacara Principal, but she broke off the relationship when she learned he was involved with the kidnapping of Max's children.
After that, Club Indigo went downhill and was near bankruptcy. When R.J. accidentally started a fire at the Club, he let it burn and the Club was destroyed. R.J. became interested in Téa Delgado and they began dating after she broke up with John Sykes. Their romance didn't last very long however, because Todd Manning, Téa's former husband, returned to town briefly and convinced her to run away with him. Téa has never returned and R.J. hates Todd for this. In fact, when Todd returned to town months later without Téa, R.J. kidnapped Todd and tied him up with a bomb on his lap (which turned out to be fake) to get revenge. Antonio Vegan and Sophia Pelligrino rescued Todd from R.J., but there is still a great animosity between the two men.
R.J. next opened a new bar near Llanview University called "Break Bar." Cristian Vega, who could no longer be an artist since he hurt his hand, manages the bar for R.J. and wants to be involved in R.J.'s less legal activities. R.J. has let him sell fake ID's out of the club, but has not yet included him in the business of hijacking trucks and selling the cargo. What R.J. doesn't know is that Cristian is actually trying to collect evidence against him. Cristian wants revenge because he knows that R.J. tampered with Todd's brakes and caused the accident that injured Cris's hand (Cris had "borrowed" Todd's car and was driving it at the time).
R.J. was devastated when his daughter, Keri, died, leaving her own daughter, Jamie, motherless, which started the first in a long series of custody battles between R.J. and Jamie. He also engaged the services of Rex Balsom and Paul Cramer to steal a truckload full of paintings for him, which Natalie botched. He demanded repayment from the two, but Rex was able to blackmail R.J. into not only leaving him alone, but also into returning Ultraviolet, which R.J. had previously taken over. He also embarked on a short-lived relationship with Evangeline Williamson, which faltered when Evangeline broke things off with him and moved on with John. After Antonio finally finished his investigation into the Santis and came to get Jamie, R.J. refused to allow him to take her, and took Antonio to court for custody of the little girl.
R.J. and Lindsay Rappaport started dating soon after the first custody battle for Jamie. Even though Lindsay's daughter had just been murdered, she stood by R.J.'s side and testified that Antonio and Jessica would be unfit parents and that Jamie belonged with R.J. Sadly for R.J., Antonio got full custody of his daughter but R.J. was still a big part of her life. Although they seemed to have a strong relationship, R.J. and Lindsay's relationship began to suffer when Lindsay overheard R.J. tell Nora that he planned on proposing to Lindsay. Lindsay accepted the offer but R.J. confessed that he simply said it to wake Nora from her coma. When he finally did propose, Lindsay refused and they eventually broke up.

Post a Comment

Share on Facebook

Tweet this

Submit Feedback