Tina Lord Roberts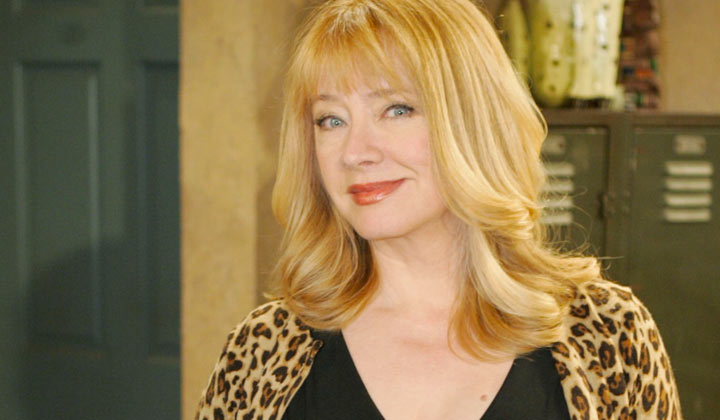 Kelli Maroney
May 1984 to December 1984
Marsha Clark
December 1984 to February 1985
Nancy Frangione
1985; temporary replacement for an ailing Andrea Evans
Karen Witter
May 10, 1990 to February 14, 1994
Krista Tesreau
Tina Clayton (name she was raised as)
Born off-screen Mar 14, 1962
Presumed dead after fall off Iguazu Falls (1987)
Former personal shopper at Logan's Department Store in Baltimore, MD
Former interior designer
Unknown
Formerly Llanfair (1177 Regency Drive)
Formerly Mendorra
Formerly Baltimore, Maryland
Formerly San Diego, California
Llanview, Pennsylvania (moved there in 1978, when she was 16)
Born and raised in Chicago, Illinois
Married to Cordero Roberts [Married: Nov 15, 2011]
Cordero "Cord" Roberts (Married: 1986; Divorced: 1987)
Cordero "Cord" Roberts (Married: 1988; Divorced: 1990)
Cordero "Cord" Roberts (Married: 1991; Divorced: 1993)
Cain Rogan (1994; invalid)
David Vickers (1995; annulled)
Victor Lord (father; deceased)
Irene Manning (mother; deceased)
Ted Clayton (step-father; deceased)
Victoria Lord (paternal half-sister)
Tony Lord (paternal half-brother; deceased)
Meredith Lord Wolek (paternal half-sister; deceased)
Todd Manning (brother)
Victor Lord, Jr. (brother)
Powell Lord Sr. (paternal uncle; deceased)
Gwendolyn Lord (paternal aunt; deceased)
Peter Manning (maternal cousin; deceased)
Powell Lord II (paternal cousin; deceased)
Richard Abbott (paternal cousin)
Dan Wolek (paternal half-nephew)
Megan Gordon (paternal half-niece; deceased)
Kevin Buchanan Sr. (paternal half-nephew)
Joey Buchanan (paternal half-nephew)
Natalie Buchanan (paternal half-niece)
Jessica Buchanan (paternal half-niece)
Brian Kendall (paternal half-nephew; deceased)
Starr Manning (biological niece)
Jack Cramer Manning (biological nephew)
Sam Manning (biological nephew)
Danielle Rayburn (biological niece)
Powell Lord, III (paternal first cousin once removed; deceased)
Duke Buchanan (paternal great-half-nephew; deceased)
Kevin Riley Buchanan, Jr. (paternal great-half-nephew; deceased)
Megan Buchanan (paternal great-half-niece; deceased)
Brennan "Bree" Buchanan (paternal great-niece)
Chloe Brennan (paternal great niece; deceased)
Liam Asa McBain (paternal great half-nephew)
Ryder Asa Lovett (paternal great half-nephew)
Zane Buchanan (paternal great-great-half-nephew)
Hope Manning Thornhart (great-niece; deceased)
Clinton James "C.J." Roberts (son; with Cord; born 1987)
Unnamed child (with Patrick London; miscarriage, 1988)
Sarah Roberts (daughter; with Cord; born 1991)
Greg Huddleston
Johnny Drummond
Mick Gordon
Richard Abbott
Johnny Dee Hesser (deceased)
Patrick London (impersonating Bo Buchanan; deceased)
Cain Rogan (2008)
Cord Roberts (2011)
Fraud with Mitch Laurence and David Vickers
Charged with murdering Maria Roberts (innocent)
Adultery
Charged with murdering Harry O'Neill (innocent)
Passed off another woman's son as her own [1987]
Faked being princess of Mendorra [2008]
Stole Crown Jewels of Mendorra [2008]
Failed to report imprisonment of Natalie and Jared by Jessica's alter Tess [2008]
Tina burst into town after her mother, Irene Clayton, realized she was going to die, so she left Tina to live with her good friend Victoria Lord. Soon after, Ted Clayton, Tina's supposed father came to Llanview, but he was actually Tom Clarkson and he'd come to town to con Tina and Viki out of their inheritance. He kidnapped Tina, but was caught and sent to jail. He then escaped and planned to kill Tina, but was shot down by Det. Ed Hall. After this, Tina decided to leave town.
Tina later returned searching for her real father. That led her to find a secret room at Llanfair where she found out Victor Lord was her father. Mitch Laurence convinced her to make Viki go crazy in order to gain all the inheritance. Mitch wanted to kill Clint and frame Niki for the crime to get her out of the way. But Tina wasn't going to allow that and a struggle ensued. Mitch shot and accidentally killed Harry O'Neill, but Tina was arrested for the crime. Later, thanks to testimony by Niki, Tina was cleared of all charges.
Tina then fell for Clint Buchanan and faked a pregnancy, but Dorian exposed her. Clint was not in love with Tina, he was just using her, hoping the shock of seeing them together would get Viki to take over Niki.
Tina then fell in love with Cord Roberts, Clint's long lost son. Tina married Cord, but Maria Roberts, Cord's mother, hired Max Holden to take Tina to Argentina, where she realized she was pregnant. Cord then followed her, but a fall down the Iguazu Falls led everyone to believe she had died. But Tina did survive and met Gabrielle Medina, who had just given birth to Max Holden's child. Tina let Gabrielle believe that she and Max were married, so Gabrielle agreed to give her the baby to be raised by Tina and Max. When Tina returned to Llanview, she pretended that the baby was hers with Cord. Maria found out the baby, named Al, was actually Max and Gabrielle's baby and blackmailed Tina into divorcing Cord. Maria then wanted to frame Tina with Viki's murder, but her plan backfired and Maria died instead. Tina was arrested, but later found innocent.
Tina and Max later learned Tina's son hadn't died when she fell over the waterfall. He was actually alive and being held captive by Rolo. The couple rescued him and named him Clinton James. Tina and Max were about to get married, but when Tina said Cord's name during the ceremony instead of Max's, Max called off the wedding.
Tina and Cord reconciled and remarried in a double ceremony with Asa and Renee. At the wedding, Tina's arch-nemesis, Ursula, planted a bomb in the wedding cake to kill her, but Max's brother, Steve Holden, became the victim instead. Cord and Tina's second wedding hit the rocks thanks to Tina's lies and deceptions. Tina realized she was pregnant and gave birth to Sarah during a blizzard. After this, Tina and Cord remarried for the third time.
Cord traveled to Java to rescue Jake Harrison, but General Gaza shot him and Cord was presumed dead. Tina moved on to Cain Rogan, but this marriage also hit the rocks.
After Dorian Lord was tried and convicted of killing Victor Lord in 1976, a man claiming to be Irene Manning's illegitimate son by Victor Lord turned up with Irene's diary, in which Irene admitted to having killed Victor. The man was David Vickers, and Tina found herself sexually attracted to him, even though he was supposedly her brother. The two even made love, after which David admitted he was only pretending to be the long-lost Lord heir. The two eloped in Las Vegas, but were later forced to divorce by Viki's alter Jean Randolph, who threatened to expose David as a fraud. David skipped town and Tina later got a job offer in Baltimore as a personal shopper at Logan's department store there, taking her children with her.
In 2003, Tina and Cord's grown daughter Sarah (now calling herself "Flash") returned to Llanview. Sarah revealed that during Tina's absence from Llanview, she had reconnected with Cain and forbidden her from pursuing her musical aspirations. She even claimed Tina's parenting had driven her and her brother CJ to run away. Sarah came back looking for her brother but later learned he had joined the Navy and was out to sea, unable to be reached.
In May 2008, the Crown Jewels of Mendorra were stolen when they arrived in Llanview for display at Lindsay Rappaport's art gallery. Dealing with this crisis, U.S. Ambassador to Mendorra Jonas Chamberlain arrived at the Llanview airport to greet the incoming crown princess of Mendorra, who turned out to be none other than Tina. Tina subsequently met with corrupt Llanview Police Commissioner Lee Ramsey, who had stolen the jewels at her request. While Tina was in Lee's penthouse, Ramsey was gunned down by people looking for the jewels, and Tina escaped unharmed with the jewels. It then turned out the men were hired by Jonas Chamberlain, who wanted the jewels for himself. Tina found refuge with her estranged daughter, Sarah, and Sarah's boyfriend Cristian Vega. Soon Cristian and his brother, Llanview Police Detective Antonio Vega, discovered that Jonas had abducted Sarah and her roommate Talia Sahid, Antonio's lover and fellow police officer. Tina and the Vegas agreed to accompany Jonas back to Mendorra in order to make an exchange: the women for the Crown Jewels.
In Mendorra, Tina got the royal treatment from her palace staff and was reunited with her husband, Crown Prince Helmut Krakoff, who turned out to really be Cain Rogan in yet another disguise. Meanwhile, the real mastermind behind the kidnappings revealed himself to be Carlo Hesser, who it turned out was Talia's birth father. Cain was anxious to keep the jewels they had worked so hard for, but Tina was desperate to exchange them for Sarah. Carlo, bent on revenge for Tina's part in Johnny Dee's death, exposed her and Cain's fraud publicly and revealed Jonas as the true heir to the throne. Carlo and his minions dragged Tina, Sarah and Cristian to the river above the treacherous Hohenstein Falls, where a horrified Tina watched as Carlo tied Sarah to a raft and sent her and Cristian over the falls, deliberately echoing Tina's own nearly-fatal plunge over the Iguazu Falls in 1987. Carlo then set out to behead Cain and Tina for treason. But Cristian, who managed to survive the plunge, returned to the palace and saved Tina and Cain. Sarah also reappeared alive, just in time to join the others in their escape. A duplicitous Cain later parachuted from the plane with the Crown Jewels - not knowing that Tina had already switched the gems with fakes. In Llanview, Tina was reunited with Viki at the airport and then with Cord at Llanfair. Tina hoped for a reconciliation with Cord, but after he heard about all the drama that had been going on, he told her she had not changed and that they could never be together again.
With Viki out of town for an extended trip to Africa, Tina moved back into Llanfair to look after Viki's daughters Jessica and Natalie. While Natalie welcomed her aunt, Jessica was cold and rude. Tina was unaware that Jessica actually was Tess, her dangerous alternate personality, who was plotting revenge against Natalie and her boyfriend, Jared Banks, for their part in the recent death of Nash Brennan, Jessica's husband and the love of Tess' life. Tina, who had stashed her jewels in the wall safe at Llanfair, soon became increasingly suspicious of Jessica's strange actions. She and her beloved Shih Tzu, which Tina had named David Vickers, went snooping in the basement and discovered that a lavish, soundproofed room had been built below the house. Tina reflected on her memories of stumbling upon Victor Lord's secret room all those years ago and how one of Viki's alters once had trapped Dorian in a similar room, and she soon realized that Tess was in control. Tess trapped Tina and her dog in the room but soon released her and trapped Natalie in the room instead, blackmailing Tina to keep quiet with the threat of exposing her theft of the jewels.
Jared also eventually figured out that Tess was in control and confronted Tina, who admitted the truth and gave him the key to gain access to the secret room. But as soon as Jared had gained access to the locked room, Tess showed up and trapped Jared in the room with Natalie. Tina, meanwhile, was shocked when Cain Rogan showed up at Llanfair intent on reclaiming the real jewels. Cain ate some dip that Tess had drugged and fell over unconscious. When Viki returned home unexpectedly, Tina and Tess dragged Cain onto the patio outside. When they returned, Cain was gone. Tina sent David Vickers after Cain, but then the dog disappeared too. Then Tina got a package in the mail: a photo of kidnapped David Vickers. Tina met the kidnapper in the park and realized it was Cain, who wanted the jewels in exchange for David Vickers. The pair went back to Cain's hotel room, where Tina tried to pass off fake jewels as the real thing. Cain called Tina on her duplicity, but they were sidetracked when David Vickers went into labor. It turned out Tina's dog was a female, and was pregnant. Tina and Cain delivered a liter of healthy puppies. The two bonded over their love for the dog, and they ended up having sex. Cain wanted Tina to run off with him, but she said she couldn't leave Llanview and her daughter yet again and allowed Cain to leave town without her.
Tina then realized that she needed to get back to helping Natalie and Jared escape from under Llanfair. She returned to Llanfair, only to discover Viki and Charlie frantically searching for Natalie and Jared. Tina led Viki and Charlie down to the secret room, where they found out that Tess had set a bomb to go off. Charlie managed to grab the bomb and got it outside just before it exploded, and Natalie and Jared were freed. Natalie confronted Tina and told her to leave town at once in exchange for keeping quiet about her role in keeping them captive. Tina instead admitted everything to Viki, hoping to gain her forgiveness. But Viki was furious and banished Tina from her life. Tina went to see daughter Sarah and told her she was leaving town. Sarah pressed her to explain why she was leaving so soon, but Tina was too embarrassed to admit that she had messed up yet again. In an attempt to console Sarah, Tina gave her one of David Vickers' puppies. Before leaving town, Tina went to the crypt where her father Victor Lord is buried. She cursed him for the damage he had done to Viki and the rest of the family, and vowed to return to Llanview someday.
Tina returned to Llanview in September 2011 after learning that the brother she never knew she had, Victor Lord Jr., had been murdered. Victor had lived for the past 8 years as Todd Manning, but when Todd resurfaced the truth came out that Tina's mother Irene had sired twin sons and had kept Victor for herself after giving Todd to her cousin Peter to raise. Tina hoped that Victor had left her money in his will and showed up just in time for the reading of the will. When she heard a familiar voice behind her, she turned around and was shocked to see her believed-dead mother Irene standing before her. Tina promptly passed out and later learned that Irene had faked her death and had been running a covert CIA operation for years in Louisiana. Everyone was shocked when Victor's will left everything to Irene. Tina tried to cozy up to Irene in a blatant attempt to get rewarded, and Irene handed over the ring that Victor Sr. had left for Todd all those years ago. When Todd saw his father's ring, he remembered having put a microchip inside the ring that Irene was now desperate to retrieve. Todd pried the ring from Tina's hands and went to meet Irene. But the encounter went sour and Todd ended up shooting and killing Irene after she led him to believe that she had just blown up his entire family.
Viki invited Tina to stay at Llanfair and both were shocked to discover that Cord was there as well, having just flown in from London to discuss Buchanan Enterprises matters with Clint. Cord was still upset at Tina for all the mischief she had gotten involved in the last time she was in town, but Tina pledged to make him see that she was a changed person. Tina shared a tense reunion with Natalie and convinced Natalie into letting her serve as Natalie's matron of honor and her wedding planner in her upcoming wedding to Brody as a way to make up for her past transgressions. During the engagement party for Natalie and Brody, Tina tried to talk Brody into letting Cord serve as best man. Cord dragged Tina into the stables to chew her out, accusing her of trying to get back together with him. Tina didn't deny it and challenged Cord to tell her that they didn't belong together. Cord pulled Tina into a passionate kiss and they fell to the ground, making love in the stables. Rex was embarrassed when he walked in and found them, but Cord and Tina laughed about it. Tina assumed this meant they were back together, but Cord still was reluctant to commit to her. During a court hearing to determine who would get Victor's assets now that Irene was dead, it was revealed that Irene's will left everything to Tina. Tina shocked Viki and Todd by handing over everything to Todd, saying it was rightfully his and that all she wanted was Cord. Cord realized that Tina had changed and agreed to begin seeing her again.
One day, Tina caught her dog, David Vickers, rifling through some of Victor's papers that had been brought over from his office. One of the documents had been damaged, so Tina grabbed the dog along with the document and returned to Llanfair. When the document fell out of the dog carrier bag, Jessica found it and realized that it was a DNA test proving that Natalie's son Liam was actually fathered by John McBain, not Brody Lovett as everyone believed. Jessica struggled over whether to tell Natalie the truth. Once Jessica decided to tell Natalie, the paper had vanished and Natalie refused to believe her without proof.
Tina questioned whether Natalie was really in love with Brody but Natalie insisted that she was over John. Tina's dog disappeared on Natalie's wedding day, so she told Natalie to go on without her as she searched for her dog. Tina found the dog at Llanfair in the nursery, and was surprised to discover the document that had gone missing lying on the floor. She read the paper and realized that it was a copy of baby Liam's DNA test results. Tina burst into the church during the middle of the wedding ceremony and handed the document to Natalie. Brody admitted that he had known he wasn't Liam's father since hearing Marty's tape recorded confession about changing the results, and Natalie called off the wedding and raced to tell John the news. Cord impulsively proposed to Tina and she agreed to get married. Viki called Dorian, who was now a U.S. senator, and arranged to get a marriage license so the wedding could occur then and there. Clint gave his blessing, and Tina and Cord were married for the fourth time.

Post a Comment

Share on Facebook

Tweet this

Submit Feedback