Victoria Lord Banks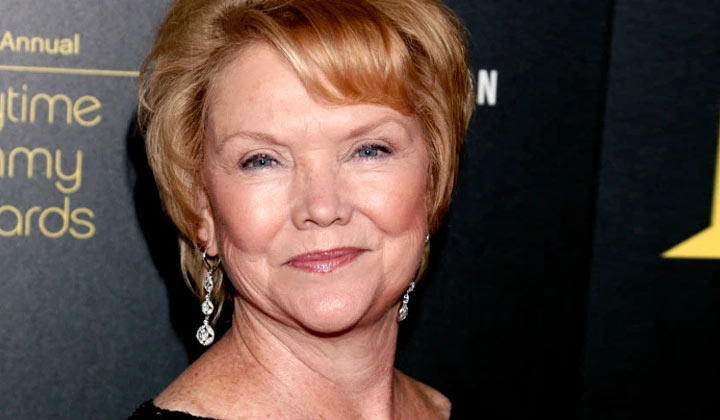 Gillian Spencer
1968 to 1971
Joanne Dorian
1971
Christine Jones
1981; temporary replacement
Judith Barcroft
1986; temporary replacement
Amanda Davies
2003, as teenager in flashbacks
Occasional appearances by other actresses during the 1970s for Slezak's time off
Originally said to have been born in 1943
Year of birth later revised to 1946 when it was revealed she was 17 when Megan was born in 1963
Died and went to heaven during operation [1987]
Died and went to heaven in a car accident [2008]
Died and went to heaven after being shot by Allison Perkins [Jan 2012]
Former waitress at the Bonjour Café in Paris, Texas
Owner and publisher of the Banner
Former president of Llanview University
Member of the board of directors of Llanview Hospital
Former mayor of Llanview (1990)
Former reporter and executive assistant to the editor at the Banner
Llanfair (1177 Regency Drive, Llanview, Pennsylvania 19100)
Single/Broken engagement to Clint Buchanan [Engaged January 13, 2012; Broke up: July 15, 2013]
Roger Gordon (pre-1968, annulled)
Joe Riley (1969-1970; presumed widowed)
Steve Burke (1972-1974; divorced)
Joe Riley (1974-1979; widowed)
Clint Buchanan (1982-1985; divorced)
Clint Buchanan (1986-1994; divorced)
Sloan Carpenter (Married: 1994; Deceased: 1995; deceased)
Ben Davidson (Married: 2000; Widowed: 2004; deceased)
Charlie Banks [Engaged: Jun 8, 2009; married: Aug 4, 2009; divorced: May 11, 2011]
Victor Lord (father; deceased)
Eugenia Randolph (mother; deceased)
Meredith Lord Wolek (half-sister; deceased)
Tony Lord (half-brother; deceased)
Tina Clayton Lord Roberts (half-sister)
Todd Manning (half-brother)
Victor Lord, Jr. (half-brother)
Brian Kendall (half-nephew; deceased)
Clinton James "C.J." Roberts (half-nephew)
Sarah Roberts (half-niece)
Starr Manning (half-niece)
Jack Cramer Manning (half-nephew)
Danielle Rayburn (half-niece)
Sam Manning (half-nephew)
Daniel Wolek (nephew)
Hope Manning Thornhart (great-half-niece; deceased)
Powell Lord Sr. (uncle; deceased)
Gwendolyn Lord (aunt; deceased)
Dorothy Randolph (aunt; deceased)
Powell Lord II (cousin; deceased)
Richard Abbott (cousin)
Powell Lord, III (first cousin once removed; deceased)
Megan Gordon (daughter; with Roger; born 1963; died 1992)
Kevin Lord Riley Buchanan Sr. (son; with Joe; born 1976; adopted by Clint)
Joseph Francis Riley Buchanan (son; with Joe; born 1980; adopted by Clint)
Jessica Buchanan (daughter; with Clint; born 1986)
Natalie Buchanan (daughter; with Clint; born 1986)
Demerest "Duke" Buchanan (grandson; deceased)
Kevin Riley Buchanan Jr. (grandson; deceased)
Megan Victoria Buchanan (granddaughter; deceased)
Brennan "Bree" Buchanan (granddaughter)
Chloe Brennan (granddaughter; deceased)
Liam Asa McBain (grandson)
Ryder Asa Lovett (grandson)
Zane Buchanan (great-grandson)
Ted Clayton
Tom Dennison
Harrison Brooks
Shot Victor Lord in the arm under influence of alter Niki Smith [1969]
Believed to have murdered her father under the influence of alter Tori [1976]
Arrested and charged with murdering Marco Dane, but later exonerated [1978]
Arrested for failing to reveal her source after publishing story about a baby switch at Llanview Hospital [1982]
Killed Johnny Dee Hesser under the influence of alter Niki Smith [1990]
Kidnapped Dorian and held her prisoner in the secret room at Llanfair under influence of alter, Jean Randolph [1995]
Set fire to Llanfair under influence of alter, Tori [1995]
Various crimes against Ben and Natalie, including pushing Ben out a window [as Niki, April to August 2002]
Niki Smith (carefree party girl, sexually promiscuous)
Tommy (angry teenage boy)
Jean Randolph (control freak and gatekeeper)
Princess (Young girl who suffered the abuse of Victor as a child)
Tori (a cunning, young adult version of Viki; tried to kill Victor in 1970s)
Victor Lord (a representation of Viki's father; tried to convince Viki to kill herself)
Diagnosed with dissociative identity disorder
Sexually assaulted by Mitch Laurence [1986]
Suffered memory loss [1987]
Developed a brain aneurysm [1987]
Shot and suffered a stroke [1990]
Donated a kidney to daughter Megan [1992]
Diagnosed with breast cancer and had a mastectomy [2000]
Suffered a mild heart attack [2004]
Received a heart transplant [2004]
Died in a car accident and was revived by Dorian Lord [2008]
Shot by Allison Perkins [2012]
Blood type is AB+ (revealed May 26, 2004).
Viki has been a central figure in Llanview since 1968. She lost her mother when she was five years old and was raised in a strict WASP home by a domineering father, who longed for a son but instead was saddled with two daughters, Viki and her sister Meredith. Viki spent her formative years trying to please her father and be everything he ever wanted. Victor groomed Viki to take over the family business, local newspaper the Banner. Then she became involved with Joe Riley, defying her father's wishes. Joe was from the wrong side of town, but he was an ace reporter. Viki loved Joe and planned to marry him, but she didn't realize that another personality lived inside of her: a rebellious creature named Niki Smith. Niki would emerge without Viki's knowledge and was carrying on her own life, including falling in love with Joe's best friend Vinnie Wolek. Viki eventually underwent psychiatric counseling and conquered Niki Smith, becoming whole again. Viki and Joe married, but shortly thereafter Joe went on assignment to California and was reported killed in an accident. Enter Steve Burke, a man her father approved of and encouraged her to marry. After the wedding, Joe Riley turned up alive, suffering from amnesia. After many twists and turns, Viki decided to divorce Steve and remarried Joe. Viki clashed with her father's young new wife, Dr. Dorian Lord, who was mostly interested in Victor's money. Dorian plotted to keep Victor from finding out the identity of his long-lost son, Tony, who was the product of an affair between Victor and his first wife Eugenia's sister, Dorothy. Dorian then turned Victor against his son, and when Victor found out what Dorian had done he had a heart attack. Dorian withheld Victor's medication and he soon died, and Viki was convinced Dorian had murdered her father. Viki soon gave birth to Joe's son, Kevin, and went through an agonizing period when Kevin was kidnapped. After many months, Kevin was discovered unharmed and returned to his grateful parents.
When her best friend Irene Manning Clayton learned she was dying, Viki agreed to take in Irene's teenage daughter, Tina. Viki then discovered that her brother-in-law Larry Wolek's wife Karen was a prostitute, and Karen tearfully admitted to Viki that she was being blackmailed by Marco Dane. Viki went to Marco and threatened to expose the truth in her newspaper if he didn't leave Karen alone. But Marco retaliated by presenting Viki with doctored photos of Tina in which she appeared to be posing naked. Viki agreed to pay Marco to leave town, but then Marco turned up dead and Viki was arrested after being spotted at the scene of the murder by Greg Huddleston, the son of one of Karen's johns, Talbot Huddleston. Joe feared that Viki's alter Niki Smith may have returned and killed Marco and Viki underwent psychiatric evaluation, where it was determined that Niki had not returned and Viki was found sane to stand trial. During the trial, under an intense cross examination by Herb Callison, Karen shocked everyone by admitting she was a prostitute and that Marco had been her pimp. Karen accused Talbot of being Marco's murderer, revealing that she and Talbot had run over and killed Tony Lord's young son Brian Kendall the previous year. Viki was acquitted.
Viki found out she was pregnant again. But Joe learned he was dying from brain cancer, and brought in an Arizona newspaper man named Clint Buchanan to help run the Banner and console his wife after he was gone. Joe died, and Viki then gave birth to a son she named after Joe.
Clint Buchanan and Viki had a rocky relationship at first but soon realized they were meant to be together. Clint and Viki married, and Clint adopted her two sons from Joe. Clint was a rock during her many life struggles. Niki Smith, Viki's wild child alternative personality, resurfaced after it was revealed that Victor had had an affair with Viki's college roommate Irene and had sired a daughter, Tina. Even after Niki Smith divorced Clint, Clint was there for her and helped bring Viki back to the surface. Just before remarrying, Viki announced to an overjoyed Clint that she was expecting their first child together. Jessica would soon be born, and despite a brief scare where she was kidnapped, the baby was returned and the Buchanans seemed to be settling into a comfortable existence. Viki then was diagnosed with a brain aneurysm and underwent complicated surgery. She died on the operating table and went on a fantastic journey to Heaven, where she was reunited with deceased family members and friends who encouraged her to return to Earth. Viki survived, but then Clint was shot and lost his eyesight. While recuperating at the Buchanan Ranch in Texas, Clint went horseback riding and was thrown from his horse. He woke up in 1888, and went through his own fantastic journey where he had to reunite Viki's great-grandparents, Eugenia and Randolph Lord. Viki managed to find her way to Clint in the past, and together they made the return trip to the present. Viki then was rocked with the revelation that she had given birth during her senior year of high school to a daughter, and that Victor and her brother-in-law Larry Wolek had covered up the incident. The baby turned out to be Megan Gordon, who was already known to the family through Megan's sister Sarah, who cared for Clint when he was blind. It even turned out that Viki and Megan's father, Roger Gordon, had been secretly married when they were teen-agers, the marriage had been annulled. As a teen-ager, Roger and his family had lived in a secret society underneath Llantano Mountain that was the brainchild of Victor Lord. The society was called Eterna. Viki, Tina, Roger and others got trapped down there and barely made it out alive. Viki and Megan soon forged a close mother and daughter bond, made all the more tragic when Megan contracted Lupus and died.
The strain of Megan's loss, and the years of heartache Viki had endured, began to wear on Viki and Clint's marriage. Viki got close to Sloan Carpenter, an Army general who was writing a book about Victor Lord, and Viki allowed herself to have an affair with Sloan. Viki's arch-nemesis Dorian Lord arranged Clint to discover Viki and Sloan together, and Clint and Viki soon divorced.
Viki became determined to prove that Dorian had killed her father some 20 years earlier. Dorian was convicted and incarcerated, but eventually won her freedom. During a bitter argument, Dorian revealed to Viki that she had been sexually abused as a child by Victor. Dorian believed Viki had known the abuse and suppressed it, but Viki was unaware of it and the revelation caused Viki's mind to fracture into a series of personalities heretofore unseen. The main gatekeeper, Jean Randolph, locked Dorian in a secret room beneath Llanfair and forced Dorian to break off her relationship with Viki's young son, Joey, before setting her free. When Viki finally realized that she had been the one to kill her father, she accepted her punishment and started a painful therapy in which all of her multiple personalities were integrated.
Viki finally decided that she wanted to marry Clint again, but it was too late, he had just married Lindsay Rappaport. Viki literally found herself at the Crossroads of her life. The Crossroads bar, that is. While out on a drive one night, Viki inexplicably felt herself drawn to the Crossroads and she ventured inside. Viki then met the handsome bartender Ben Davidson, who affectionately nicknamed her "Blondie." What Viki didn't know was that Ben was also the mysterious "Hamlet," a man who had very dangerous enemies.
As it turned out, a man named Hugo was after Ben and he wouldn't stop until Ben was dead! One night, gunfire erupted at the Crossroads and Viki forced a wounded Ben to return to Llanfair with her. Viki treated Ben's gunshot wound and learned that he was actually a very skilled surgeon who had gone into hiding. Ben then told Viki the truth about his mob connections and his past. At this same time, Dorian made a pact with Hugo in order to get revenge on Viki. Dorian blamed Viki for her husband Mel's death and didn't like seeing Viki happy with her new boyfriend, Ben. Dorian and Hugo kidnapped Viki and held her hostage as a way to get to Ben. Hugo then turned the tables on Dorian and ended up holding her hostage with Viki. In the end, Viki and Dorian escaped and Hugo was killed in a deadly confrontation with Ben on the roof of The Palace Hotel.
Viki and Ben were finally free to have an open and public relationship. Viki and Ben soon felt like soul mates, but it was interrupted when Skye Chandler came to town and announced she was still Ben's wife. Viki left Ben until he got divorced. After briefly leaving town, Ben retuned to Llanview for Christmas and shared a happy reunion with Viki. On New Year's Eve they got engaged.
In February of 2000, Viki was diagnosed with breast cancer and left Ben. After Viki's surgery and going through chemo, Ben and Viki reunited and married in November 2000. But there was trouble even on the couple's wedding day. Still pursuing his vendetta against the "Rappa-Davidsons", Asa had ordered a hit on Ben, which was carried out during the wedding reception while Ben and Viki were dancing. Fortunately, the bullet hit a coin that Renee had given Ben and he survived with barely a scratch. Worried about another attempt on his life, Ben went to his old girlfriend, Gina Russo, for help, but as Viki soon learned, Gina was really the head of the Russo mob family and wanted to get Ben back. Gina kidnapped Viki and held her hostage in a room in her basement, threatening to kill Viki's daughter, Jessica, if she didn't go along with Gina's plan to win back Ben. The stress of the situation caused Viki's alters to re-emerge and one of the alters, Jean, tried to make a deal with Gina to win her freedom. Viki's alters continued to toy with Gina, and when Gina was eventually captured, Viki revealed that she had faked her personalities in order to rattle Gina, who fell from a cliff to her death, but Viki's troubles were far from over.
Jessica had found love again with Seth Anderson, and a new friend in Natalie Balsom. Natalie even moved into the guest house. Then Viki learned that Natalie and Seth were working in tandem with Allison Perkins -- who had been recently been released from St. Anne's asylum against Viki's wishes-- to con Viki and her family out of money. Natalie then claimed that she was Viki's true daughter, not Jessica. Allison claimed that she had switched babies the night she kidnapped Jessica, and had given Natalie to a drunken floozy named Roxy Balsom. Viki and Natalie took DNA tests, and to Viki's horror, Natalie really was her daughter! Jessica was heartbroken, but Viki legally adopted her. Natalie was hell bent on revenge and caused constant turmoil in the mansion, which she had legal rights to stay in. Slowly, she and Viki began to grow closer, but for every step forward there were two steps back.
As Viki tried to deal with these headaches, she began having nightmares and visions of Niki Smith taunting her about a secret. Viki went to see her good friend Dr. Rae Cummings for help, not realizing Rae was a fraud and didn't have a medical degree. Rae hypnotized her to uncover the secret, briefly talking to Niki Smith. Rae found little, if anything, to help Viki, but she unknowingly unearthed a monster. Niki was back and she was going to do her best to never go away again! Niki faked being Viki, and over a period of months, tried to disrupt Viki's life. She eventually began to make Natalie think she had developed DID, and that her split personality was violent and untrustworthy. Ben saw Viki behaving suspiciously and realized she was really Niki. Niki pushed him out a window and framed Natalie for the crime. Within a few weeks Natalie and Cristian Vega had deduced that Niki was in control. Niki went on the run, and was then kidnapped by a vengeful Allison Perkins. In the ensuing chaos at the family's cabin, Allison held her hostage as the cops swarmed in. Ben raced into the room to try to get to his wife, and Antonio Vega inadvertently shot him while aiming for Allison. The sight of her husband critically wounded finally brought Viki back. Unfortunately, Ben fell into a permanent coma, and Viki traveled to Switzerland to set him up in a hospital and to visit her old therapist Susannah Hanen to help clear up her alter issues.
When Viki returned she hoped for a bit of peace and quiet, but instead she faced one of the ugliest chapters of her life. Natalie had been through constant emotional trauma for months on end and felt she had no one to turn to. She married a mysterious man named Michael Lazarus. One day Viki finally met him face to face. He was none other than Mitch Laurence, who had been presumed dead since 1986! Mitch, who had been responsible for Jessica's kidnapping, told a horrified Viki that he had drugged and raped her one night, resulting in Jessica's conception. He was Jessica's natural father, and Natalie was Clint's biological child! He had spirited Jessica away from Viki soon after she had given birth, and Viki, numb from hospital drugs, had been unable to stop him.
Viki sent Jessica out of town to keep the news from her, but within a few days she had come back on her own, and without Viki to protect her, Mitch quickly located her and filled her in on every nasty detail. Jessica confronted Viki and learned that every word was true. Even though Viki had had no way of stopping Mitch from stealing her as a baby, Jessica saw this as the ultimate betrayal and cut all ties with her mother. She soon left town to visit with Clint in London, and as Viki anxiously waited for her to return, she had to help rescue Natalie from nearly consummating her sham marriage to Mitch. Over a year after Ben had slipped into his coma, he suddenly awoke. Still weak, and knowing he had no right to have Viki wait until he fully recovered, he told her to go on with her life.
Viki received the shock of her life when she learned that not only did she not kill her father, but he was alive and well. She soon learned that Mitch had been secretly keeping Victor alive all these years. Mitch planned to transplant Natalie's healthy heart into Victor, allowing the Lord patriarch to live on. Viki managed to stop Mitch's plan, and saved her daughter. But when Victor died for real this time, a newfound will left everything to Mitch. Dorian Lord then showed up as Mitch's wife, and took over Llanfair. Mitch terrorized the citizens of Llanview for months until he was finally murdered, and Viki's one consolation was that her half-brother, Todd, was alive and well, pretending to be Mitch's long-lost brother Walker. She was named president of Llanview University and began to see Governor Brooks. But after spending some time marooned on an island with Dorian, Viki realized Brooks was corrupt and broke things off with him.
At the same time, Viki began having troubles with her heart. After seeing a doctor, she learned she was suffering from heart disease and needed a transplant. After the donor heart intended for Viki was contaminated by dirty chief of staff Dr. Long, her family realized they may have to say goodbye, until they heard that Ben, whose heart was a perfect genetic match for Viki, flat-lined after a conversation with Dorian. Her family begged her to accept his heart, which she finally did, knowing that now Ben would always be with her. After recovering from her surgery, Viki was forced to tell Dorian that she had been removed from the position of Chief of Staff at the hospital after the Paul Cramer murder, which again started up the feud they had decided to end while on the island. Dorian then framed Viki for embezzling funds from the university, and Viki was forced to resign as president, not long before she started feeling ill again, and was told that she had a mild infection in her heart.
As Viki rested to recover from her illness, Jessica began struggling with the secret of her DID. She kept it a secret until one day when Tess was pretending to be Jessica and yelled at Viki, causing her to have a heart attack. While at the hospital, Viki had an experimental procedure to get blood to her heart. It eventually came out that it was not Jessica who yelled at Viki but Tess. Viki was devastated when she learned that Jessica had DID. Later, Viki and Clint learned that Tess existed because of Niki's actions during Jessica's childhood. While struggling with Jessica's DID, Clint and Viki got closer and began dating again. Dorian got involved in breaking the two up and eventually Clint chose to be with Dorian over Viki, which added further fuel to their fiery rivalry. In an attempt to upset Dorian, Viki even invited David Vickers to stay at Llanfair with her. The two women continued to bicker and fight until Monte Carlo night when Viki lost $10 million against Dorian in a poker game (for charity). At Asa Buchanan's funeral, Viki and Dorian were trapped together in the wine cellar and Dorian taunted Viki for having an empty life. Dorian even made the startling claim that she had killed Victor Lord all those years ago, and that the man who showed up recently must have been an imposter. Viki ignored Dorian's confession, although Viki realized that her life was not as full as she thought and left Llanview right after Asa's funeral.
Viki turned up months later in Paris, Texas, a small town not far from the Buchanan family ranch. She was working as a waitress at a local diner. There she met Charlie Banks, a recovering alcoholic who was searching for the son he had lost contact with during his drinking days. Charlie and Viki soon began dating, although Viki knew Charlie only as "Charlie B." Charlie's son turned out to be Jared Banks, who was secretly dating Viki's daughter Natalie and masquerading as Asa's illegitimate son (who was really David Vickers). Charlie tracked Jared down in Llanview, although Jared rejected him in favor of pretending to be Asa's son. Charlie fell off the wagon, but Viki soon convinced him to get sober again.
In an effort to resume a relationship with Jared, Charlie agreed to protect Jared's true identity from everyone, including Viki. Dorian, however, knew the truth. Charlie was guilt ridden about lying to Viki, however, and confided to Dorian that he planned to tell Viki the truth. Knowing that this would get in the way of Dorian's plans to take over Buchanan Enterprises, Dorian drugged Charlie and brought him to her home. There she plied him with liquor and then dumped in the alley behind Rodi's Tavern. A bartender discovered Charlie and called Viki from the cell phone found in Charlie's pocket. Charlie was brought to the hospital, at the same time that Nash Brennan was rushed into the ER after falling through a skylight during an argument with Jared and Natalie following Dorian's announcement that Jared was a fraud. Jared rushed into Charlie's room and called him Dad, shocking Viki.
Charlie recovered but was unable to remember falling off the wagon or how he ended up in the alley. Disillusioned by his lies, Viki broke it off with Charlie. Following Nash's death, Jessica's alter Tess resurfaced and tampered with the brakes on Natalie's car in an attempt to kill her. Viki instead got behind the wheel and picked up a stranded Dorian on the road. While on the road the two got in a bitter argument about Charlie. Dorian claimed that she had slept with Charlie. Distraught, and with the brakes failing, Viki crashed the car and subsequently died. When David Vickers happened upon the accident, he convinced Dorian to save Viki's life in exchange for him divorcing Dorian's sister Addie. Dorian reluctantly complied and brought Viki back from the brink. Charlie visited her in the hospital and declared he would not stop fighting to get back in her life.
Viki went to Africa to promote heart transplants and when she returned, she discovered that Tess had been running around Llanfair for months. Natalie and Jared were missing, and Viki suspected that Tess had done something with them. Viki went to see Todd and discovered that Jessica's child Bree was there with Todd. Viki was livid at Todd for helping Tess, not realizing Todd kept quiet because Tess knew he was keeping Marty in his home. Viki and Clint tracked Jessica down at the cabin she shared with Nash, and were overjoyed to discover that Jessica was herself and had given birth to a healthy baby girl (not realizing that Jessica's baby had died and had been switched by Jessica's alter, Bess, with Starr Manning's baby). While at the hospital with Jessica and the baby, Viki was "visited" by her alter Jean Randolph and figured out that Tess had taken a page out of Jean's playbook and had locked Natalie and Jared in a secret room beneath Llanfair. Viki and Charlie raced to the home, where Tina (who had known all along what Tess had done) led them to the secret room. Charlie managed to grab the bomb that Tess had set to go off and got it outside, just before it exploded. Viki was overjoyed that Natalie and Jared were safe, but her joy turned to anger when Tina admitted she had helped Tess with her evil scheme. Viki banished Tina from the house and from her life. As Jessica struggled to understand what Tess had done and become whole again so she could return home to her daughters, Viki offered Jessica her understanding and support -- raising Natalie's ire.
Bonding over the problems with their children, Viki and Charlie grew close once again. Charlie surprised Viki by remodeling Carlotta's diner, which had been burned in a fire, into the spitting image of the Bon Jour Café from Paris, Texas. Viki and Charlie were shocked to learn from David Vickers, who had returned to town as a converted Buddhist, that Dorian had drugged Charlie and plied him with liquor to keep him from telling Viki about Jared pretending to be Asa's son. Viki and Charlie confronted Dorian, who admitted nothing.
Viki and the rest of the family were stunned when Jessica discovered Chloe had been kidnapped from Llanfair. Natalie and Jared ad admitted to Viki, Clint and Charlie that the baby Jessica delivered had died and had been switched with Starr and Cole's baby. When Jessica and Chloe were reunited at the hospital, Bess emerged and escaped with Chloe before Viki could tell Jessica that the baby wasn't hers. As the family searched for Jessica, Natalie and Jared revealed to Viki, Charlie and Clint that they had gotten married the night before. After Brody tracked Jessica and the baby down at the West Virginia home of Nash Brennan's parents, the family converged on the home. Viki pretended to be her alter, Jean Randolph, to gain access to Bess, who had barricaded herself and the baby in an upstairs bedroom. Viki eventually got through to Jessica, who painfully admitted that her baby had been born dead and returned the baby.
In the aftermath of Jessica returning the baby, Charlie stunned Viki by proposing to her, and Viki readily accepted. Later, while dining at the Palace with a newly engaged Nora and Clint, Viki and Charlie acknowledged that they were also engaged. When the couples realized that they had picked the same wedding date, Renee suggested a double wedding, and they hesitantly agreed. Viki and Charlie later reluctantly went to La Boulaie to help Dorian resolve a conflict between herself and Markko Rivera's parents that threatened to keep Markko and Langston apart. When Markko confronted his father and said he would move out rather than split up with Langston, Viki offered to take in Markko. Viki was delighted to become Mrs. Charlie Banks, as the couple wed during a double wedding with Clint and Nora. Not even a drunk Dorian and Blair crashing the wedding could mar Viki's special day. Viki raised the ire of Mayor Stanley Lowell when she refused to have the Banner endorse his re-election bid. Dorian, who aligned herself with the mayor in the hopes of getting her old job back as chief of staff at Llanview Hospital, told Viki she would love for her to run against the mayor, just so she could suffer a humiliating defeat. After discussing it with Charlie, Viki decided to do just that and in August 2009 announced she was running as an independent candidate for mayor. Viki and Mayor Lowell were in the middle of a televised debate when John McBain came into the room and announced he was placing the mayor under arrest for running a drug ring and ordering Cole Thornhart killed. After the mayor resigned in disgrace, Viki was sure she had the election in the bag. But then Dorian announced she was running as well, pitting the two bitter enemies against each other once again.
Family troubles marred Viki's mayoral candidacy when two dead bodies showed up, one at Llanfair and another at the Buchanan lodge, and the evidence pointed to Jared Banks as the prime suspect. Jared disappeared and later turned up in Napa Valley, California, where Jessica and Natalie had also gone. Viki and Charlie went there as well and were stunned to learn that a presumed-dead Mitch Laurence was behind the plot, including digging up Nash Brennan's body from his grave and shipping it to Napa Valley for Jessica to discover. When Viki and Charlie arrived, they learned that Jared had been shot by Mitch and was being taken to the hospital. Viki was devastated when Jared died, leaving behind her grieving husband and daughter. Even though she won the mayoral election, Viki quickly resigned so she could turn her full attention to her family, and Dorian was named mayor instead. Viki stood by Charlie as he struggled with Jared's death and his urge to drink. After finding an empty liquor bottle outside the house, Viki asked Charlie if he had been drinking and he lied and said he hadn't.
Viki was stunned when Charlie soon admitted that he had been drinking and that he had no plans to stop. Viki said she would stand by Charlie no matter what, but Charlie's erratic behavior soon made that impossible. Viki followed Charlie to a bar and assumed he was drinking, not realizing that he was really meeting Dorian as part of a plot to murder Mitch. After Jessica was kidnapped by one of Mitch Laurence's minions, Charlie showed up at Llanfair and tried to comfort Viki, telling her he would bring Jessica back to her. But Viki was unable to trust him and turned him away. When Jessica was shot while being rescued by Brody, Viki was devastated to learn that Charlie had accidentally shot Jessica while aiming for Mitch. Making matters worse, Jessica had undergone electroshock therapy while in Mitch's captivity and had reverted to being a 17-year-old girl. Faced with Charlie's betrayal and the knowledge that he intended to kill a man, even someone as loathsome as Mitch, Viki told Charlie that they were through and said she would be filing for divorce. After Dorian challenged Viki to forgive Charlie, arguing that she was acting more like Dorian than herself, Viki told Charlie she would hold off on filing the divorce papers but would be going to London with Kevin and Bree to think things over.
Viki returned about a month later ran into Charlie and Dorian at the Palace, where Dorian was gently caressing Charlie's hand. Viki and Charlie had a private conversation, and Viki admitted that she missed him terribly and wanted to give their marriage another shot. They kissed, as Dorian watched from afar. Viki then learned that Dorian had offered Charlie a lucrative job heading up development of a new civic center and encouraged Charlie to take the job, despite her reservations about Dorian's motives. Viki confided in David Vickers that she hated how close Dorian was becoming to Charlie, even though she trusted Charlie not do betray her. Then Todd sent Viki a picture Jack had taken of Dorian and Charlie in a close embrace, and Viki warned Dorian to keep her hands off her husband.
Viki hired David to be style consultant at the Banner, angering Dorian and irritating Charlie. Viki and Charlie then hatched a plan in which they pretended to fall for David and Dorian, in the hopes that Dorian and David would realize they belonged together. But the plan backfired after Dorian figured out what was going on when she caught Viki and David in bed together. Dorian was so angry she fired Charlie, which freed him to go on a long vacation with Viki.
Viki was pleased when she learned that David and Dorian had finally admitted their feelings for one another and planned to marry. But David disappeared on the wedding day, leaving Dorian at the altar for the second time. Dorian blamed Viki for pushing her and David to reunite in the first place. Viki said she had a hard time believing David really left her at the altar, but Dorian assured Viki that the note he left was in his own handwriting -- misspellings and all. Amidst the sadness regarding David, Viki was overjoyed to learn that her two twin daughters were both pregnant, unaware that neither Jessica nor Natalie were sure who had fathered their babies.
Viki got a jolt from the past when Echo DiSavoy showed up on her doorstep in October 2010. It turned out that Echo, who had slept with Viki's then-husband Clint nearly 30 years ago, had hooked up with Charlie after leaving Llanview. Echo claimed to have come back to say hello to Charlie and to apologize to Viki for nearly ruining her marriage, but Viki gave Echo an ice-cold reception and was suspicious of Echo's true motive for returning. Echo asked Viki to hire her as a photographer for the Banner, but Viki rejected the idea and urged Echo to leave town. When Viki realized Echo wasn't going anywhere, she hired Rex to investigate what Echo had been up to since leaving town. Rex found a speeding ticket that proved Echo had returned to Llanview less than a year after she had originally left for Atlantic City, where she had hooked up with Charlie, and Viki couldn't imagine what would have brought her back.
The investigation into Echo's past turned personal for Rex when he snuck into Echo's room at the Angel Square Motel and discovered the other half of the heart-shaped charm necklace that his mother Lili had supposedly given to his father, Rick. After Rex went to New Mexico and discovered that the half of the necklace he had left on his mother's grave had disappeared, he told Viki what he had learned. Viki and Rex questioned Echo about the necklace, but she evaded their questions. Rex read aloud a portion of a letter his father had written to his mother, and the wording seemed familiar to Viki. She later realized the passage came from an old book entitled "The Love Letters of Rick and Lili," which had been written by Asa's grandmother Blaize Pardee, and accused Echo of forging the letters to throw Rex off the trail. Viki realized Echo was likely Rex's mother after discovering that the date she got the speeding ticket corresponded to the date Rex was left at Llanview Hospital. Viki and Charlie questioned Echo in front of Clint, Dorian and other witnesses and she admitted that she was Rex's mother - just as Rex walked into the room. Echo claimed Charlie was the father but admitted to Bo that Clint could be the father too, so they all underwent DNA testing to determine Rex's true parentage. Dorian told Viki that she saw Clint with the half of the necklace Rex had left on Lili's grave and said she believed Clint was Rex's father and had forged the letters and gone to other lengths to keep the truth from coming out. When Viki confronted Clint, Clint gave her the necklace and said his private investigator had uncovered proof that Echo had made up the tale and hired people in Santa Fe to back up her story. Viki was dismayed when the DNA tests proved Charlie and Echo were Rex's parents, but Dorian told her she still believed Clint was hiding something.
Viki allowed Echo to stay at Llanfair temporarily after she was thrown out of the Angel Square Motel, but she quickly regretted the invitation as a one-night visit turned into a never-ending stay. Echo entrenched herself into Viki's life by playing on Charlie's sympathies about wanting to be close to Rex and Shane. Viki enlisted Dorian's help to try to get rid of Echo, but Dorian's plan backfired when Echo got plastered at brunch and then kissed Charlie. Dorian told Viki she had seen Charlie and Echo kissing, and Viki wanted to throw Echo out of the house right then and there. But Charlie told Viki that Echo was an alcoholic like him and Viki couldn't throw Echo out. Viki saw right through Echo's ploys, but a dubious Charlie refused to see the bad in Echo and chastised Viki for viewing Echo as the enemy. After Rex told Charlie that another DNA test proved he was Rex's father, Viki tried to keep her disappointment to herself. Viki finally threw Echo out of her house in February 2011 after she crossed over a line by going into Viki and Charlie's bedroom to check on Charlie, who had come down with the flu. Viki was floored when the truth about Rex's paternity came out at the double wedding of Jessica and Natalie. A devastated Charlie stormed out of the church and stayed gone all night, leaving Viki to deal with the aftermath of revelations surrounding who had fathered her daughters' babies. Charlie returned the next day, but Viki pushed him away.
Tess emerged after Jessica learned about Brody and Natalie's affair and convinced Ford that they should get married so he could have access to his son. Viki tried to reason with Ford and work out a deal so the baby could stay at Llanfair, but Ford refused because of his past dealings with Clint. Viki and Clint instead sued for custody. During the hearing, Tess taunted Viki with suggestions that Charlie was having an affair with Echo and urged her to talk to Dorian. Dorian assured Viki that Charlie would not cheat on her. But then Tess sent Viki a photo of Charlie and Echo kissing outside the door to her motel room. Viki barged into Echo's room and found Charlie and Echo in bed together. Viki lashed out at Echo for ensnaring another of her husbands, but Charlie let Viki know that this was more than a one-time affair. Charlie admitted to Viki that he was in love with Echo, and Viki said they were through and kicked him out of Llanfair.
Viki was humiliated when Tess leaked the photo to Access Llanview. Tess showed up at Llanfair to goad Viki, and Viki allowed Niki Smith to return. Tess convinced Niki to pretend to be Viki so Tess would win custody of Ryder. Once Viki returned, she listened to the tape and But during the hearing, Niki was outed as a fraud and Jean Randolph emerged briefly in a failed attempt to regain control of the proceedings. Viki eventually returned, but the damage was done: the judge denied custody to Viki and also denied custody to Tess and Ford. Aubrey and Joey were awarded temporary custody. While Niki was in control, Dorian turned over to Viki a tape recording of Echo admitting to Clint that she knew all along that Rex was Clint's son. Viki listened to the tape once she was back in control and was shocked at what she heard. She gave the tape to Charlie, telling him to listen to it if he wanted to know the truth about Echo. Later, Charlie told Viki that he had listened to the tape and broken up with Echo. Charlie moved back to Paris, Texas, to rebuild the Bon Jour Café, which had been destroyed by a tornado.
Viki was stunned when she overheard the doctors telling Clint that the heart attack he had recently suffered had caused severe damage and that he would die without a heart transplant. Clint admitted it was true but made Viki promise to tell no one. Over Viki's objections, Clint agreed to pay Cutter Wentworth one million dollars and turn over the deed to the Buchanan mansion in exchange for having Tess, whom he had recently married, committed to St. Anne's.
Viki made the difficult decision to allow doctors to administer electroshock therapy on Tess in the hopes that Jessica would emerge. But when the first round of treatment failed, Viki refused to continue the treatment and told a devastated Brody that Jessica may be lost to them forever. Viki was stunned when Clint confessed to all of his crimes, including killing Eddie Ford. Viki knew Clint wasn't a murderer and eventually realized that Clint was covering for Matthew. Viki offered her support to Bo and Nora when Matthew suffered a near-fatal brain injury and was not expected to recover. They breathed a sigh of relief when Matthew showed signs of recovery. Jessica eventually reemerged but she and Natalie began feuding after Natalie began pursuing a relationship with Brody, and Viki felt torn between her two daughters.
Echo informed Viki that Dorian had let Clint nearly die after his heart attack. Viki confronted Dorian, who defended her actions and said she was trying to help her get information about Charlie and Echo's relationship. Viki was elated when the doctors informed Clint that they had found a suitable heart donor, but she was stunned to learn that the donor was none other than Gigi Morasco, who had been declared brain dead after carbon monoxide poisoning. Viki said goodbye to Gigi, vowing to watch over Shane and make sure he went to college using the money she had set aside from all the rent Gigi had paid for staying in the carriage house. Rex at first refused to allow the operation, but he later reconsidered when he realized he could use Clint's power and wealth to get even with Todd and Jack. Clint's surgery was successful and he began a slow recovery, and Viki stood by him as he appeared in court to answer for his criminal actions.
In August 2011, Viki was stunned to come face to face with a man who looked exactly like her brother Todd prior to his plastic surgery. The man swore he was actually her brother, and Viki vowed to get to the bottom of it. DNA tests performed on both men showed they had identical DNA, which only further confused matters. Then Viki was stunned to answer the door on day to find Todd and Tina's presumed-dead mother, Irene Manning, on her doorstep. The police had found Irene while raiding a secret CIA facility in Louisiana where the man with Todd's original face had been held captive.
Irene explained that she had lied to Viki about dying from cancer in the 1970s because she wanted her daughter to have a better life, and to reunite Tina with her sister. Irene then stated that two brothers had also been reunited, revealing that both men were identical twins. Irene had given the boy she named Todd to Peter Manning and raised the other child, named Victor Jr., by herself. She explained she got involved in the CIA and, after learning of Todd's inheritance in Victor Lord's will, decided to launch an elaborate plan to ensure her other son Victor Jr. was also provided for. She had Todd kidnapped and brought to the secret CIA facility, where she had Victor Jr. brainwashed into believing he was Todd so he could take over Todd's life. But realizing that Mitch was still after Todd, Irene gave Victor plastic surgery so he would appear to be Mitch's long-lost brother Walker Laurence. Victor came to Llanview in May 2003, introduced himself as Walker and quickly became ensconced in Todd's former life before revealing that he was Todd - a lie that even he believed.
Viki was repulsed at what Irene had done and brushed off Irene's efforts to rekindle their friendship. Things took a tragic turn when Victor Jr. was found shot to death in his home by an unknown assailant. Irene was killed by Todd shortly thereafter, after Todd believed that Irene had set off a bomb and killed his children. Victor Jr.'s will left everything to Irene, who in turn left everything to Tina. Tina shocked Viki and Todd by handing over everything to Todd, saying it was rightfully his.
Viki, meanwhile, found herself getting closer to Clint again. To prevent Clint from going to Statesville for DNA tampering and imprisoning David, Viki offered to have Clint stay at Llanfair under house arrest. Clint seemed to soften under Viki's care and even accepted Rex as his son. In November, Viki turned to Dorian, who had been appointed a U.S. senator, for help in allowing Clint to attend Natalie's wedding to Brody. The wedding turned into another Buchanan fiasco, however, when Tina showed up with baby Liam's real paternity test, which proved that John was the father of Natalie's child, not Brody. Natalie was devastated when Brody admitted that he had known all along and broke things off with him. Cord impulsively proposed to Tina and she agreed to get married. Viki turned to Dorian yet again to get a quickly marriage license so the wedding could occur then and there.
Clint began hinting that he wanted to pursue a relationship with Viki again and one day pulled Viki into a passionate kiss. But Viki was furious when Clint explained that nothing was standing in their way since he had received a letter from Kim breaking things off with him. Viki felt like Clint had chosen her only after Kim was off the market and impulsively decided to join Noelle, Rex and Shane in a trip down to Paris, Texas, where Noelle was participating in a pie contest with a new creation in honor of Gigi. When the restaurant found itself short staffed, Viki donned her old uniform and pitched in as a waitress again. Charlie showed up and wondered if Viki was running away from her problems back in Llanview once again. Viki acknowledged that Clint wanted to pursue a relationship with her again, and Charlie encouraged Viki to give Clint a chance. Viki returned home to find Clint and Kim kissing in the living room. An angry Viki confronted Clint once Kim was gone, but Clint explained that it was a goodbye kiss and that he had told Kim that there was only one woman for him - Viki. Clint and Viki shared a tender reunion.
Clint and Viki were shocked when Rex and Shane arrived from Paris, Texas, and revealed that Gigi was actually alive, explaining that Gigi's sister Stacy was the one who had died and donated her heart to Clint. Rex proposed to Gigi at Llanfair, and they were married on New Year's Eve 2011. As a new year dawned, a massive power failure occurred and Llanview soon was overrun with inmates who had escaped from Statesville Prison. When the lights came to, Viki found Clint collapsed in the living room and was horrified when he told her that Mitch had taken Natalie at gunpoint. Mitch called Viki to demand that she hand over Jessica in exchange for Natalie. Over Viki and Clint's objections, Jessica agreed to go with John to the church where Mitch was holding Natalie. Clint and Viki waited at Llanfair and soon were cornered by Allison Perkins, who had escaped as well. Armed with a gun, Allison informed Viki and Clint that she no longer took orders from anyone and was taking advice from Oprah to empower herself. Allison claimed that she'd arranged the prison escape and complained that everyone else got credit for her work. Allison appeared ready to kill Viki and Clint but instead fired into a vase.
Allison then began rambling on about the time she kidnapped Natalie at birth and replaced her with Jessica, and how she felt obligated to please Mitch and tell him what he wanted to hear even if it wasn't exactly true. As Viki and Clint struggled to understand what Allison was trying to say, Allison suddenly announced that Natalie and Jessica were both Clint's biological daughters. Allison said she felt forced to tell Mitch that he was father to one of Viki's unborn babies because it's what he wanted to hear and he would have killed her if he learned the truth. Allison said she faked the DNA test to show Mitch as Jessica's father. Allison said she tried to tell Jessica the truth several years earlier but Jessica refused to listen to her. Frustrated that Viki and Clint were skeptical about her story, Allison impulsively shot Viki. As Clint tended to Viki, Allison began chanting her name around the room and declared, "My aim is true!" before escaping. Clint then collapsed from heart failure.
Viki took an out-of-body trip to a location somewhere between Heaven and Hell, where she was reunited with her deceased daughter Megan. Megan told Viki that her daughters were safe and Viki prepared to let go when Clint appeared, declaring that their children needed them and that they had just found each other again. Viki announced she was not ready to give up, and Megan sent them both back to Earth, where they awoke to find Natalie and John trying to revive them. While recovering in the hospital, Clint paid Vimal to run a DNA test to determine if Jessica was his biological daughter. Vimal presented Clint and Viki with the results at Llanfair, and Clint told Viki to read them first. She showed the results to Clint as Jessica and Natalie entered the room. Clint explained what Allison had told them and told Jessica that that he was her biological father after all. Jessica couldn't believe her good fortune. Alone in the living room, Clint told Viki that he had wasted too much time and got down on one knee to propose to Viki.
Clint was eager to marry Viki but she preferred to wait until the Banner and its future were stable. Clint was willing to supply Viki with the funds necessary to save the paper but Viki chose to find her own solution. She worked with freelance writer Jeffrey King to help her transition the paper to an online format and he wrote an article for the Banner which accused Dorian of possessing CIA documents on illegal black sites. Dorian was forced to resign from her position as a Senator although she maintained her innocence.
Unbeknownst to Viki, Dorian was aware of her rival's financial troubles and arranged for Viki to invest her money into a fund that was about to be frozen by the government. As Dorian had planned, Viki lost her investment. Clint tried to cover Viki's loss with his own money and lied to Viki about the investment. She also learned that Clint had interfered in Natalie's life by filing a restraining order on her behalf against the father of her child. Clint had acted without Natalie's consent and caused her heartache. Viki wondered if Clint could be trusted and a rift formed in their relationship.
Viki learned of Clint's deception regarding her investment and she ended their engagement. Clint was devastated over the break up and turned to alcohol. Meanwhile, Viki worked with Dorian to put together a fundraiser gala on behalf of the Llanview Veterans' Organization to honor Clint as their "Man of the Year." However, Clint's distinction was revoked after he was arrested for an assault he had committed while intoxicated. Viki struggled with how to handle the news reporting of Clint's arrest and she was shocked by Clint's decision to crash the gala and make a scene.

Post a Comment

Share on Facebook

Tweet this

Submit Feedback