Danielle Manning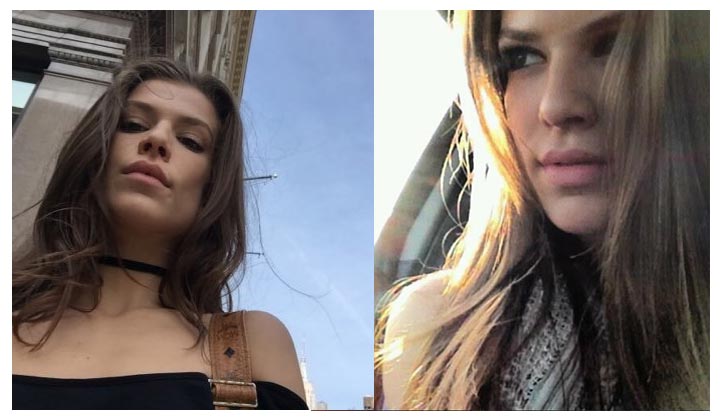 Conceived in 2002, Danielle was 15 years old when she first appeared on screen in October 2009
Danielle was said to be 17 years old in February 2011
Born October 20, 1993 [revealed on-screen Oct 17, 2011]
Was said to be 21 years old in May 2013
Daniella (name her mother calls her)
Dani (name her step-father calls her)
Danielle Rayburn (last name Danielle used until she found out Todd was her father; name was officially changed in credits in August 2011)
Student
Apartment in Llanview with Matthew and Jeffrey
Formerly a cCollege outside of Llanview, Pennsylvania
1970 Lindbrook, Llanview, Pennsylvania (whenever Danielle is not in college)
Formerly 437 Jackson Hill Road, Llanview, Pennsylvania
Formerly Palace Hotel: Room #432, Llanview, Pennsylvania
Formerly an apartment with Starr Manning and friends
Formerly International Warwick Academy, London, England
Born and raised in Tahiti
Single/Never Been Married
None
Téa Delgado (mother)
Todd Manning (father)
Ross Rayburn (step-father; deceased)
Starr Manning (paternal half-sister)
Jack Cramer Manning (half-brother)
Victor Lord, III (maternal half-brother / paternal cousin; deceased)
Hope Manning Thornhart (half-niece; deceased)
Victor Lord, Sr. (paternal grandfather; deceased)
Irene Manning (paternal grandmother)
Leon Delgado (maternal grandfather; deceased)
Anna Delgado (maternal grandmother; deceased)
Maria Delgado (maternal great-grandmother; deceased)
Victoria Lord (paternal half-aunt)
Tony Lord (paternal half-uncle; deceased)
Meredith Lord Wolek (paternal half-aunt; deceased)
Tina Lord Roberts (paternal aunt)
Victor Lord, Jr. (paternal uncle)
Anna Rosa Delgado (maternal aunt; deceased)
Jose "Del" Delgado (maternal uncle)
Tomas Delgado (maternal uncle)
Elijah Clarke (step-uncle; deceased)
Clinton James "C.J." Roberts (paternal first cousin)
Sarah Victoria Roberts (paternal first cousin)
Roseanne Delgado (maternal first cousin)
Megan Gordon (paternal first cousin; deceased)
Kevin Buchanan Sr. (paternal first cousin)
Joey Buchanan (paternal first cousin)
Jessica Brennan (paternal first cousin)
Natalie Buchanan (paternal first cousin)
Brian Kendall (paternal first cousin; deceased)
Daniel Wolek (paternal first cousin)
Duke Buchanan (paternal first cousin once removed; deceased)
Sam Manning (paternal cousin)
Kevin Buchanan Jr. (paternal first half-cousin once removed; deceased)
Megan Buchanan (paternal first half-cousin once removed; deceased)
Brennan "Bree" Buchanan (paternal first half-cousin once removed)
Chloe Brennan (paternal first half-cousin once removed; deceased)
Ryder Asa Lovett (paternal first half-cousin once removed)
Liam Asa McBain (paternal first half-cousin once removed)
Zane Buchanan (paternal first half-cousin once removed)
Delmonico Delgado (maternal second cousin)
Enrique Delgado (maternal second cousin)
None
Matthew Buchanan (dated)
Nate Salinger (dated)
Arturo Bandini (lovers; assumed)
Ran away from boarding school with Matthew Buchanan [Nov 2009]
Ran away from child protective services in Seattle [Dec 2009]
Stole Bo Buchanan's gun from safe and held Todd at gunpoint [Dec 2009]
Failed to turn in $50,000 she found with Nate Salinger [2010]
Evaded court order to leave town with Ross Rayburn by running away [2010]
Taking prescription medication without a prescription [2013]
Hospitalized after overdosing on oxycodone [Apr 2013]
Danielle Rayburn grew up in Tahiti believing she was the daughter of Téa Delgado and Ross Rayburn, but in fact her real father was Todd Manning. When Téa asked Ross for a divorce and Ross threatened to take Dani away, Téa had Danielle shipped off to a boarding school in London and refused to tell Ross where she was. When Matthew Buchanan was enrolled in the same school by his parents, who were desperate to keep him from having a dangerous operation that could restore the use of his legs, Matthew met Danielle and took an immediate liking to her. Danielle and Matthew both bonded over their anger at their parents for locking them in the school and they hatched a plan to escape so Matthew could go back to the U.S. for his surgery.
Téa tracked Danielle down in Seattle and admonished her for running away. Ross appeared in Téa's hotel room and, after she told him that Todd was Danielle's father, he went crazy and started strangling her until Todd appeared and saved her. When Danielle walked in on the scene, she failed to believe Téa's story that Ross had gotten violent and called the cops. Todd quickly realized that Danielle was his child and told Dani that Ross wasn't her father, but Danielle was too angry at Téa to hear the truth. After Ross broke out of police custody, he kidnapped Danielle at gunpoint and threatened to take her out of the country. In a police standoff at the Canadian border, an armed Ross tried to convince Danielle to jump off a bridge with him. Todd grabbed a gun and shot Ross, who plunged into the icy water below and was presumed dead. Danielle was furious at Téa and Todd and vowed never to forgive Todd for killing her father. Back in Llanview, Danielle saw Matthew's father Bo putting his gun in a locked safe and later stole the gun. She held Todd at gunpoint on New Year's Eve and threatened to shoot him before Blair appeared and talked her out of it.
Téa decided to take Dani back to Tahiti. Dani said goodbye to Matthew, and they kissed. In Tahiti, Dani discovered Ross was actually alive. After learning that Dani had nearly killed Todd, Ross told Dani that Todd was her biological father. Ross encouraged Dani to return to Llanview to get to know Todd, but Danielle said she could never consider anyone other than Ross her father. Dani agreed to return to Llanview only after Téa said she wouldn't reveal that Ross was alive and wouldn't press charges against him. After returning to Llanview, Danielle researched Todd's past on the internet and learned about all of his crimes. Matthew tried to console her and took her to meet her sister, Starr. Starr said it would take time but maybe she would one day get to know Todd like she does, and she invited Dani to stay with her at Cole and Markko's apartment.
Matthew and Danielle began dating, and eventually Danielle became a good friend to Destiny as well. When the school began casting for a musical centered on Starr and Cole's lives, Destiny and Matthew agreed to try out. Danielle came along to watch and ended up trying out as well, stunning everyone with her lovely voice. Dani was cast in the lead role of Starr, while Destiny and Matthew were cast as second bananas Langston and Markko. Matthew was jealous of the new kid in town, Nate, who was cast as Cole and had to spend a lot of time rehearsing with Danielle. While rehearsing their lines one day in Danielle's hotel room, Nate and Danielle kissed for the scene and got uncomfortable when they realized they both liked it. As Dani continued to rehearse the play, she began to empathize with Todd and invited him to watch them perform. Then Cole stormed in and began to beat Todd to a bloody pump, convinced that Todd had pushed Marty down the stairs, causing her to lose her unborn baby. Dani was horrified and expressed her frustration during a chance meeting with Nate in the park. Dani and Nate then kissed. Dani struggled with her feelings for Nate. She accepted Matthew's invitation to be his prom date only after overhearing Nate accept an invitation from another girl. Matthew confronted Danielle after sensing from Nate that something had occurred between them, and Dani admitted she had kissed Nate but told Matthew it meant nothing. Matthew told Dani that he loved her after the prom, but Dani couldn't say it back. Nate impulsively kissed Dani one day at Carlotta's diner, and Destiny saw them. She told Dani that she would tell Matthew if Dani didn't. Dani tried to break the news to Matthew before his parents' wedding, but kept getting interrupted. After Matthew's parents were remarried, Danielle told him she only wanted to be friends and wasn't ready to date anyone, but Matthew knew she was really interested in Nate.
Having dumped Matthew, Danielle began spending more time with Nate. While hanging out at the quarry one day, Nate and Danielle stumbled upon a metal briefcase that had been hidden in the woods. Inside the briefcase was $50,000 in cash. Nate and Dani took the money but left the briefcase behind. When Nate told Dani that his mother had lost her job months ago and was about to be evicted from her house, Dani said he should give the money to her. Dani took the money to the bank and got a check that Nate then gave to his grateful mother. Dani was horrified when Nate called her and said that he was being held at gunpoint by a man named Bull who was searching for the cash. Dani told Todd everything and asked him for his help, which Todd readily agreed to do because it was the first time Dani had asked him for anything. When Todd went to exchange the cash for Nate, Dani showed up and helped free Nate before a shootout occurred that left Bull dead. Dani told Todd how grateful she was to him for saving Nate's life.
After Dani accidentally overheard that Téa was in the hospital, she went to her mother and was devastated when Téa admitted that she had been diagnosed with an inoperable brain tumor and only had months to live. Dani tried to convince Dr. Greg Evans to pursue other remedies, but Greg said there was nothing more that could be done. Dani and Nate accompanied Todd and Téa to New York, where Téa showed Dani the apartment building where she grew up and the park where Téa would come with her mother to throw pennies into the fountain. Back in Llanview, Dani served as maid of honor when Téa married Todd for the third time. Dani and Todd were both devastated when Téa announced the next day that her condition was worsening and she only had weeks to live. Their sadness turned to anger when Téa said she was going away to a private hospice to spend her final weeks. Dani pleaded with Téa not to leave, but Téa insisted on leaving before her illness got any worse and bid Todd and Dani a final goodbye.
Todd learned Shaun Evans knew where Téa had gone, but Shaun refused Todd's demands to tell him where she was. Dani appealed to Shaun's softer side, however, and eventually Shaun agreed to take Todd and Dani to see Téa. When they arrived at the hospice, on the Caribbean island of St. Kitts, Greg informed them that Téa had died the previous evening. Dani couldn't believe her mother was gone, cycling through a range of emotions from sadness to anger to apathy.
Dani was further shocked when she learned that her step-uncle, Elijah Clarke, was a murderer who was living a double life and was presumed dead. Dani overheard Todd telling John McBain that he believed Ross Rayburn was involved in Eli's schemes. When Dani got a text message from an unknown caller, saying "I'm coming for you," she lied and told Todd it was a message from Nate. Dani later told Nate she believed the message was from Ross, since it was a phrase he would use when they played in the water. Nate told Dani he thought the message was threatening, but Dani told Nate not to worry since Ross couldn't come back into the country since he was a wanted man. But as Dani talked to Todd outside Todd's home, someone spied on them from the bushes.
Dani admitted to Todd that the text message was probably from Ross, just as Ross showed up at Todd's house with a signed copy of Téa's will that named him as Dani's legal guardian. Dani was confused and didn't know whether to believe Todd or Ross. During a heated custody hearing in court, Dani told the judge she couldn't decide between Todd and Ross and didn't know what her mother would have wanted. Later, Dani admitted to Destiny that she would rather stay with Todd. Dani was devastated when the judge awarded custody to Ross and ordered Dani to move to Tahiti. When James and Nate showed up at Todd's house, Dani snuck off with James and hid out at his apartment while the cops searched for her. Once Starr learned where Dani was, she told Dani to go onto Todd's boat. But when Dani showed up on the docks, she was horrified to find Todd with a gun hunched over Ross' dead body. Dani assumed Todd had shot Ross and didn't believe Todd's story that Eli was alive and had killed Ross. Dani bolted and later was taken hostage by Eli, along with Starr and Hope. While Dani was inside Cherryvale Clinic stealing medical supplies for a wounded Eli, Starr and Hope escaped. Eli took Dani to an abandoned warehouse and called Todd to demand $50 million in exchange for Dani. While Eli was out, Dani busted down a nearby door and was stunned to find her mother alive and well. Eli returned before Téa and Dani could escape. Eli took Dani outside to exchange her for Blair, while Téa remained bound and gagged inside. Eli freed Dani and she ran into Todd's arms. But before Dani could tell Todd about Téa, Eli set off an explosion and the warehouse burst into flames. Dani was relieved when her parents escaped the explosion unharmed and reunited.
Following the ordeal with Eli, Dani tried to resume a normal teenage life. She and her boyfriend Nate got closer, but Dani was unsure how far to go in their relationship. Dani pulled away while making out with Nate one day and told him that she was still a virgin. Nate, meanwhile, confessed that he wasn't and thought about being with her constantly. Téa urged Dani not to rush into anything.
On Valentine's Day 2011, Dani told Nate that she wanted to make love to him and invited him over to her parents' house, since they were supposed to be in New York City. But Todd arrived home early and caught Nate and Dani in a state of undress. Todd began threatening Nate, while Dani called Starr in a panic. Starr and James arrived and got Todd to ease up, but Dani was furious and stormed off with Nate. They holed up at Viki's cabin in the woods, and Dani called Téa to let her know she was OK. Starr and James soon arrived, but Dani refused to leave. That night, Dani and Nate nearly made love but Dani realized she still wasn't ready. The next morning, the foursome prepared to leave when an enraged Todd showed up and threatened them with a gun that turned out to be a fake. Todd forbid Dani from seeing Nate again and even threatened to send her back to the London boarding school, but Dani stood firm and told Todd that he couldn't control her life.
Dani made peace with her father, but soon she was devastated when Todd was shot by a sniper and went into a coma. Dani caught Téa snooping through her uncle's room, but Téa said she was just looking for mementos from her childhood. Dani and Nate went to visit Todd when they found Tomas in the hospital room, standing over Todd's bed. Tomas quickly left, and Dani and Nate then found a syringe on the floor that they learned wasn't issued by the hospital. Dani got angry with Nate when he questioned whether Tomas had dropped it. Todd awoke after about six weeks and named Tomas as his shooter. When Tomas' fingerprints were found on the syringe, he was arrested. Later, however, Todd recanted his story and said he was mistaken when he named Tomas as his shooter.
Dani felt threatened when Nate offered to let James' former girlfriend, Deanna Forbes, stay in the apartment Nate shared with his mother. Nate and Deanna had an instant rapport, and Dani was worried that Nate would sleep with Deanna since they hadn't slept together yet. Nate assured Dani that he was only interested in her however. Dani was shocked with Destiny confided in her that Matthew Buchanan had shot and killed Nate's father Eddie and reluctantly agreed to keep the truth from Nate. Later, Dani was horrified when she learned Matthew had been rushed to the hospital with a serious head injury. She comforted Destiny, who confided in Dani that she and Matthew had had sex shortly before his accident. Destiny overheard Nate and Deanna talking about going to the Minuteman Motel and told Dani, who went to the hotel but didn't find Nate and Deanna. When she confronted them, Nate and Deanna admitted they were at the hotel and said they were there so Deanna could get information on her mother from an attorney. Dani was relieved when she learned Deanna had left for California to search for her mom.
Dani's world fell apart during the premiere of David Vickers Buchanan's new movie, Vickerman. Sleazy porn producer Rick Powers switched out the film with his own movie, Hold the Diploma, featuring Nate and Deanna. As Nate watched in horror, everyone in town saw his movie debut on the big screen. Dani lashed out at Nate, who told Dani that Rick had blackmailed him into doing the film because he had learned that Nate was the one who caused Matthew's injury. Dani was shocked but ultimately forgave Nate and sought his comfort when she found out that the man she thought was her father was actually her father's twin brother, Victor Lord Jr., and that her actual father had returned to town to reclaim his life. Dani told Victor that she would always think of him as her father. Dani was devastated when she came home to learn that someone had shot and killed Victor.
As Dani adjusted to life without Victor, her mother revealed that she was pregnant with Victor's child. However, the infant died at birth and Téa withdrew from Dani while she mourned. Téa then left town for an extended period of time in search of Tomas. Dani felt abandoned and turned to drugs. Her family became aware of her drug usage after she collapsed at the opening of Shelter and was hospitalized. When Dani awoke, she was shocked to learn that Victor was alive. Dani moved out of her mom's house and into an apartment with Matthew and Jeffrey, a mutual friend from London. Matthew and Jeffrey promised Téa that they would watch after her, but Dani continued to drink heavily and party at Shelter.
After Dani moved in with Jeffrey and Matthew, she flirted with Matthew but he was interested in a woman he had met online. Dani and Jeffrey teased Matthew about Michelle, his new girlfriend, and doubted Michelle's honesty after they discovered several discrepancies in her story. Dani resented the important place Michelle quickly occupied in Matthew's life and found herself drawn to an older man named Arturo Bandini. Dani met Arturo after his girlfriend, an acquaintance of Dani's, passed away. As Matthew's relationship with Michelle became more serious, Dani spent more time with Arturo. She was uncomfortable with the lavish gifts Arturo offered her but agreed to accompany him to the "Man of the Year" gala. Téa saw Dani with Arturo at the gala and made her disapproval apparent, as did some of Dani's friends. Dani left the gala with Arturo and they became lovers.

Post a Comment

Share on Facebook

Tweet this

Submit Feedback