Dorian Cramer Lord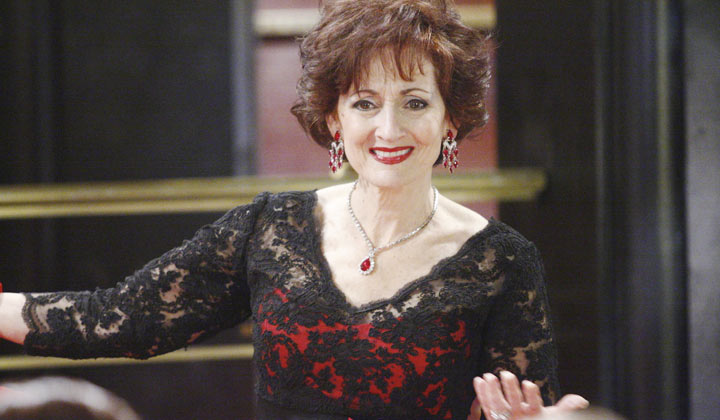 Nancy Pinkerton
1973 to 1977
Clair Malis
1977 to 1979
Elaine Princi
December 1989 to February 1993
Dixie Carter
1974; temporary replacement for Pinkerton, who was out on maternity leave
Former U.S. senator (temporary appointment; Aug 2011 to May 2013)
Mayor of Llanview (2009 to Aug 2011)
Physician (non-practicing)
Board member at Llanview Hospital
Formerly owned a controlling interest in Buchanan Enterprises (renamed Cramer Enterprises)
Former owner of Lord Enterprises, whose assets include The Banner, WVLE-TV, and life interest in Llanfair
Former chief of staff at Llanview Hospital
Former events coordinator at Llanview Hospital
Former co-owner of the Buchanan-Lord Art Gallery (with Lindsay Rappaport)
Former CEO/director of Marketing at Melador Cosmetics
Former owner and publisher of the Intruder
Former U.S. ambassador to Mendorra
Former host of The View on Llanview
Former cashier at Logan's Department Stores
La Boulaie (56 Lincoln Street, Llanview, Pennsylvania)Washington, D.C.
Formerly Washington, D.C.
Formerly La Boulaie (56 Lincoln Street, Llanview, Pennsylvania)
Formerly Buchanan Mansion (2009)
Dorian purchased the manse from Marty Saybrooke, but later sold it to repay a debt to Asa Buchanan. Todd bought the mansion in Starr's name and struck a deal with Dorian -- she can live there as long as she wants if she is willing to pay Starr $1 a year in rent.
Formerly Llanfair (after being widowed by Victor Lord in 1970s)
Married to David Vickers [Married: March 28, 2011]
Victor Lord [1975; widowed; deceased]
Herb Callison [1982-1985; divorced]
Manuel Santi [1980s; annulled; deceased]
David Vickers [1995; divorced]
Mel Hayes [May 1998 to Jan 1999; widowed; deceased]
Mitch Laurence [Married April 9, 2003; dissolved by his supposed death in 2003]
David Vickers [Married: Feb 9, 2009; Annulled: Apr 23, 2009]
Amelia Bennett [Commitment ceremony Nov. 2, 2009; dissolved amicably Dec. 17, 2009]
Lou Cramer (father; deceased)
Sonya Roskova (mother; deceased)
Melinda Cramer (sister; deceased)
Addie Cramer (sister)
Betsy Cramer (aunt; deceased)
Kelly Cramer (niece)
Paul Cramer (nephew; deceased)
Blair Cramer (niece)
Kevin Buchanan, Jr. (great-nephew; deceased)
Zane Buchanan (great-nephew)
Starr Manning (great-niece)
Jack Cramer Manning (great-nephew)
Sam Manning (great-step-nephew)
Hope Manning Thornhart (great-great-niece; deceased)
Cassie Callison (daughter; with David Renaldi)
Adriana Cramer (daughter; with Manuel Santi)
Langston Wilde (adopted daughter)
William Sloan Carpenter (grandson; deceased)
William Sloan "River" Carpenter (grandson; via adoption)
David Renaldi (pre-1973)
Mark Toland (dated, 1973-1974)
Peter Janssen (1978)
Marco Dane (1970s)
Clint Buchanan (flirted, 1980; dated, 2006-2007)
Daniel Wolek (flirted, 1984)
Asa Buchanan (flirted, 1985)
Harry O'Neill (romanced, 1984)
Jon Russell (dated, 1986-1987)
Jason Webb (dated, 1991-1993)
Joey Buchanan (dated, 1994-1996)
Drake Faraday (dated, 2000-2003)
Harrison Brooks (early 2000s)
Ray Montez (romanced, 2009)
Cutter Wentworth (flirtation, 2011)
Fired from Llanview Hospital for covering up the death of Rachel Wilson
Withheld medication from a dying Victor Lord
Convicted of Mitch Laurence's alleged murder in the 1980s and sent to prison; an audio tape was later found proving Dorian had supposedly killed Mitch in self-defense
Attempted to lock Viki in the secret room at Llanfair until she convinced Sloan Carpenter not to publish his book about Victor Lord
Persuaded a girl to lie and say that Sloan Carpenter had sexually harassed her
Scammed the jury in her Victor Lord murder trial by getting David Vickers to produce a forged diary allegedly written by Irene Clayton saying Irene killed Victor
Served time on death row for the murder of Victor Lord but was later exonerated
Framed Viki Davidson for embezzling funds from the university
Felony hit and run /manslaughter for hitting expecting mom, Jessica Buchanan, with her car and killing Jessie's baby, Megan; served no jail time thanks to R.J. Gannon bribing the judge
Accidentally killed her mother, Sonya, after Sonya assaulted Cassie
Kidnapped Viki and locked her in cellar after Mel's death [1999]
Committed insurance fraud by lying about the theft of the Badhra necklace [2003]
Arrested for the Murder of Mitch Laurence; charges dropped [Jul 2003]
Held a mystery Frenchman at gunpoint [Aug 7, 2003]
Framed Rex as a heroin addict and Adriana's stalker [2007]
Arrested for hiring a man to stalk her daughter and have her kidnapped [2007]
Paid Brody Lovett $1 million to come to Llanview and pretend to be Shane Morasco's father, to preserve her daughter Adriana's marriage to Rex Balsom [2008]
Drugged Charlie Banks and plied him with alcohol to keep him from revealing his true identity to Viki [2008]
Cited for contempt of court after losing custody of Langston Wilde [2008]
Hired mobster Jackie McNaughton to take out Ray Montez [2008]
Arrested for breaking Pennsylvania law by legalizing same-sex marriages [2009]
Conspired with Charlie Banks to kill Mitch Laurence [2010]
Delayed calling an ambulance for Clint Buchanan after he had a heart attack [Apr 2011]
Accused of possessing classified CIA documents about illegal black sites and was forced to resign from the U.S. senate [Apr 2013]
Knowingly supplied financial advisor Frank Baker false information about the Pellegrino fund garnered from her position on the Senate Finance Committee [May 2013]
Abused by mother as a child
Fell down stairs and went into coma [1970s]
Thrown down stairs by Viki's alter Tommy and locked up by another alter, Jean [1995]
Shot in a bodega holdup and went into coma [1998]
Dr. Dorian Cramer and her neurotic sister, Melinda, arrived in Llanview in 1973. Dorian was very devoted to her sister's care. Melinda, once a piano prodigy, saw her budding career end when a fall from a horse paralyzed her arm.
Dorian became a doctor in Llanview Hospital, where she quickly started an affair with Dr. Mark Toland. Melinda, her sister, wanted Mark for herself and schemed to make sure Dorian did not have him. After attacking Mark, Melinda was sent to a mental institution. Dorian and Mark continued their affair, but after an intense fight, Dorian made a careless mistake on patient Rachel Wilson's chart and the patient died as a result. Fearing for her career, Dorian covered up the crime and Dr. Larry Wolek was arrested instead. With the guilt on her shoulders, she accidentally fell down some stairs and went into a coma. Upon waking, Dorian confessed and was immediately fired by the hospital board; she blamed Victoria Lord, a prominent member, for her termination. This started a rivalry that would last for decades. What Dorian didn't know, and finally learned in 2003, was that Viki cast the lone vote against her termination.
Dorian later married and cared for Viki's father, Victor Lord, who was bedridden by heart problems. Dorian loved Victor's family fortune more than she loved her husband. After Dorian got Victor to change his will, he suffered a stroke and died.
As the widow of Victor Lord, Dorian had been blissfully living at Llanfair. However, a clause in the will stated that the house was supposed to revert to Viki upon Dorian's remarriage. So, when Dorian married Herb Callison, Viki and her husband Clint Buchanan evicted her. When a teen-age girl named Cassie Reynolds appeared in Llanview, it was revealed that the girl was Dorian's daughter. Cassie's biological father, classical pianist David Renaldi, had taken Cassie and left without a word, and Dorian didn't know for years where her daughter was. Dorian took Cassie in, and Herb adopted her. In 1986, Dorian walked in on evil cult leader Mitch Laurence trying to rape Cassie and hit him over the head, apparently killing him. Dorian was convicted of Mitch's murder and sent to Statesville, but was eventually exonerated when a tape surfaced that proved the killing had been in self-defense. In 1987, Dorian left Llanview to become the U.S. Ambassador to Mendorra after discovering that Cassie was having an affair with Dorian's boyfriend, private detective Jon Russell. Dorian returned to Llanview several years later and briefly took up with a much younger man, Jason Webb.
For years after Victor's death, Viki persisted in thinking that Dorian murdered him. Some twenty years later, Viki went to the D.A. with enough facts to prove Dorian murdered her father. Dorian was convicted of murder and sentenced to death. Dorian served time on death row but was eventually freed. It was later revealed that one of Viki's multiple-personalities committed the murder, although this revelation was later brought into question when a seemingly alive Victor resurfaced briefly in 2003.
Out of revenge for Viki accusing her of murdering Victor, Dorian began seducing Viki's young son, Joey. In the process, she developed true feelings for Joey and fell in love with him. However, Dorian was forced to break up with Joey while being held captive by one of Viki's alters, Jean Randolph.
Dorian's next love interest was Mel Hayes. Dorian and Mel met in Washington, D.C., while she was there on a business trip. A drunken Mel literally fell over her when they met in a hotel bar. The sparks between them were instantaneous, and their feelings for one another continued to grow. Dorian convinced Mel to move to Llanview and take a job as a news reporter at the Banner.
It soon became clear to Mel that Dorian was hiding something from her past, something she would do anything to keep hidden, even tamper with her sister, Melinda's medication. It was eventually revealed that Dorian had been abused by her mother as a child and had seen her mother kill her father. Dorian went back to Canton, where she had lived as a child, and found that her mother was still alive, but insane. Dorian saved Cassie when her mother, Sonya, attacked her, but ended up killing Sonya in the process.
After returning to Llanview, Dorian was shot and very seriously wounded in a bodega holdup. She hovered on the verge of death and went to "Hell", where she was met by Carlo Hesser. Dorian wrestled with her demons and in the end was able to come to peace with her mother and herself, and when Dorian woke up, she declared that she would be a new, better person. It lasted for a while, and Dorian even was friendly with Viki for a time. Dorian married Mel in the City Room of the Banner, but the honeymoon ended and Dorian once again began interfering in the lives of 'her girls', despite Mel's best efforts to stop her from meddling.
After Cassie suffered a nervous breakdown, Dorian tried to sneak Cassie away from Kevin Buchanan to a mental institution in Switzerland. Mel disagreed and walked out on Dorian. After she realized what she had done to her marriage, she tried to stop him from going on a business trip with Viki. She sent a note on the plane, but Viki got it instead and got off. After the plane took off there was an explosion and Mel was killed. From this point on she vowed revenge on Viki for Mel's death. Soon after, she kidnapped Viki with Hugo Monroe's help and locked her in the cellar. Hugo decided he didn't need help and locked Dorian in there, too. Needless to say, they called a truce after that.
Dorian often called on the services of Madame Delphina to channel Mel's spirit, who urged her to make full peace with Viki. Ironically, on her way to Viki's she hit a pregnant Jessica Buchanan with her car. Jess's baby Megan was born and died soon after. Dorian and R.J. Gannon covered her tracks because she didn't think anyone would believe it was just an accident. Dorian was prepared to let her friend, Lindsay take the rap when suddenly Jess remembered who hit her. Dorian then confessed. She served no jail time because R.J. had bribed the judge.
Someone then started to torment Dorian and drive her crazy. It turned out to be Jessica. Jessica was prepared to mow down Dorian, who was on her knees, but ultimately decided to forgive her. Next, an old friend of Mel's, Drake Faraday, came to town to meet Dorian and put the moves on her. Dorian agreed to leave town with Drake and threw a party to announce her departure to her family and friends. Soon after, Dorian quietly left Llanview to travel around the world with Drake.
In 2003, Dorian returned to town with plans to strike it rich. Learning that a back-from-the-dead Mitch Laurence had just inherited Victor Lord's estate, she cozied up to him and soon the pair got married. Unfortunately, Dorian quickly saw how evil Mitch was when she ended up saving his own daughter from him. By this time, Dorian had the Bahdra diamond in her possession and she hid that from Mitch while at the same time haunting him. In the end, Mitch wound up dead. However Dorian wound up the loser when she learned that he changed his will to make Jessica his sole heir. Initially arrested for his murder, she was found innocent, then lost the Lord fortune when a judge determined Viki was the rightful heir, and Dorian moved back to La Boulaie. Later, Dorian initiated David Vickers' help in ending Kelly's marriage to Kevin Buchanan. However, Dorian would find herself falling for David herself. Although they made plans to marry, it was becoming obvious that Dorian wasn't about to marry him. In the meantime, Dorian, in an attempt to secure an inheritance from her Aunt Betsy, suddenly announced to everyone that a newcomer named Adriana Colon was her biological daughter.
Dorian told David that she couldn't marry him, and David couldn't understand why until Dorian revealed she was already married, to Manuel Santi -- Adriana's father. After Manuel died, Dorian had the marriage annulled, but she still kept putting off her marriage to David. Once Aunt Betsy's supposed millions (which were left to Adriana) proved to be nothing, Dorian, David and Paul Cramer went after the Santi fortune, but never got their hands on it, either. They returned to Llanview, where Dorian and David were both soon suspects in Paul Cramer's murder. They were cleared, but their relationship suffered because of Dorian's obsession with her family. David moved out, even though he continued to support her in framing Viki for embezzling from the university.
Once Dorian and Manuel's marriage was a thing of the past, David and Dorian made their own plans to marry, but on their wedding day, David shocked Dorian when he told her he could not marry her. Although he later admitted that Spencer had forced him to jilt her, Dorian couldn't forgive him for not telling her what was going on, and found herself attracted to a recently-returned Clint Buchanan. Dorian juggled her attraction to Clint with her remaining attraction to David, which resurfaced after David confessed to having shot Thomas McBain. But her main worry became Adriana after she learned that someone was stalking her daughter, and she reluctantly accepted Adriana's relationship with Rex when she saw how the young man protected her.
The truth finally came out that Dorian had actually hired a man to "stalk" her daughter and set Rex up to look like the stalker. Unfortunately, things went sour when Adriana was kidnapped and not returned to Dorian like planned. Adriana's stalker was keeping her hostage for money and Dorian panicked. Rex came to the rescue again and saved Adriana but this brought her relationship with Dorian to a halt. Adriana was extremely angry when she found out that Dorian was behind the stalking and had her arrested. Dorian stood by her story that she had nothing to do with the stalking but by doing so, she lost Clint's trust and their relationships also fell apart.
Eventually, Rex and Viki helped guide Adriana and Dorian back together.. Clint also gave Dorian another chance and they became friends. Clint started to date Viki again, which made Dorian jealous. Viki told Clint to choose either her or Dorian, and Clint chose an overjoyed Dorian. As their relationship grew stronger, Viki and David's friendship grew stronger and eventually David moved in with Viki when Dorian refused to allow him to stay at La Boulaie.
In August 2007, during the funeral for Asa Buchanan, Dorian and Viki got trapped in the wine cellar at the Buchanan mansion. There, Dorian made the startling claim that she was the one who actually had killed Victor Lord all those years ago and questioned whether the man who resurfaced in 2003 was actually Victor or an imposter.
Clint and Dorian's relationship came to an end in August 2007, when Dorian falsely believed that Clint was having an affair with Nora and slept with David Vickers. Clint walked in on Dorian and David and called it quits. Soon thereafter, Clint and Nora actually began dating. Dorian, as revenge for being dumped by Clint, orchestrated a hostile takeover of Buchanan Enterprises. Dorian announced the takeover at a BE shareholders meeting, and at the same time revealed that the man Clint believed was his half-brother, Jared Banks, was in fact an imposter and was dating Clint's daughter Natalie. Clint nearly strangled Dorian to death at the meeting.
Following Nash's death, Jessica's alter Tess resurfaced and tampered with the brakes on Natalie's car in an attempt to kill her. Viki instead got behind the wheel and picked up a stranded Dorian on the road. While on the road the two got in a bitter argument about Charlie Banks, the man Viki had been seeing until it was revealed that he was lying to her about being Jared's father. Dorian claimed that she had slept with Charlie, although the truth was that she had drugged him and plied him with alcohol in an attempt to keep Charlie from admitting to Viki that he was Jared's father. Distraught, and with the brakes failing, Viki crashed the car and subsequently died. When David happened upon the accident, he convinced Dorian to save Viki's life in exchange for him divorcing Dorian's sister Addie. Dorian reluctantly complied and brought Viki back from the brink.
Clint then hatched a plan to win BE back from Dorian by threatening to take away her foster daughter, Langston Wilde. Clint paid off Columbian officials to release Langston's uncle, Ray Montez, from a prison where he was serving time for murder. While at the courthouse to make her adoption of Langston official, Dorian was stunned when Ray entered the courtroom and demanded legal custody of his niece. The judge sided with Ray and Dorian became livid, overturning a table and threatening to get even with the judge. The judge then cited her for contempt of court and threw her into jail for the night, where she summoned mobster Jackie McNaughton and hatched a plan to make Ray go away -- permanently.
After apologizing to the court for her actions the night before, Dorian was released and quickly learned from Cole that Clint was behind bringing Ray to town. She marched over to the Buchanan mansion, where she told a shocked Clint that she had no intention of giving over the company. She secretly paid Jackie and told him to kill Ray before he could take Langston out of the country. Her family was livid that Dorian refused to give up the company in exchange for Langston's freedom, but Langston said she understood and admired Dorian for not backing down. A tearful Langston then prepared to leave behind the life and family she had come to love in Llanview.
The situation came to a head at the airport, as Ray and Langston prepared to depart. Dorian had second thoughts about ordering a hit on Ray and told Jackie to call it off, but he said it was too late. She spied the hit man, who was dressed as an airplane pilot, moments before he was about to fire and shouted that he had a gun. John McBain, who had been tipped off by Addie Cramer that Dorian had hired an "exterminator," showed up in the nick of time and shot the gun out of the hit man's hand. Ray's wife Vanessa, however, who had just arrived at the airport from Columbia with Ray's daughter Lola, picked up the gun and shot Ray. Ray ended up being sent back to Columbia, and Langston was able to stay in Llanview. Nora, meanwhile, bluffed Dorian into thinking she had evidence that Dorian was behind Ray's attempted assassination. In exchange for dropping the case, Dorian agreed to give up control of Buchanan Enterprises.
In December 2008, David Vickers returned to Llanview and professed to have converted to Buddhism. In an effort to clear his conscience, David told Viki and Charlie that Dorian had drugged Charlie and plied him with alcohol to keep him from telling Viki that he was Jared's father. Viki and Charlie marched over to Dorian's and told her that they knew the truth. Dorian, afraid that she was about to be arrested, left town and ended up at St. Blaze's, the island formerly owned by Asa Buchanan that Buchanan butler Nigel had given Alex Olanov in exchange for her keeping silent about David Vickers being Asa's son. Dorian ran into Alex there, and learned from her that David was in fact Asa's son. Back in Llanview, Dorian pretended to have converted to Buddhism herself so David would agree to marry her. She even signed over control of La Boulaie and all her possessions to her cook, Moe Stubbs, and his wife Noelle. The plan worked, and Dorian and David were wed in February 2009. Dorian revealed the marriage to the Buchanans during the Go Red Ball, and David soon learned that he was Asa's long-lost heir. David at first was unsure whether to accept his birthright, but quickly got over his religious conversion and marched over to the Buchanan mansion with Dorian and kicked out his newfound relatives.
But Dorian's joy at finally getting even with Clint was short-lived, because new DNA tests revealed that David wasn't Asa's son at all but was in fact the product of a one-night fling between his mother Emma Bradley and Bo! David decided he had too much respect for Bo to take over the Buchanan empire and asked Dorian to move away with him to Hollywood so David could pursue an acting career. Dorian said she couldn't leave her family, but wished him good luck in following his dreams. Dorian, meanwhile, returned to La Boulaie to find Ray Montez back in town and promptly clocked him over the head with a cut glass vase. She soon learned that Ray's conviction for killing his first wife had been overturned after Vanessa confessed to setting him up. Ray told Dorian he would be staying in Llanview to get to know his daughter again and to get closer to his niece Langston. Moe invited Ray and Lola to stay at La Boulaie, and Dorian moved back in as well. That very night, Dorian was shocked to discover Blair in the bathroom, nearly stabbed to death by an unknown intruder. Todd soon came on the scene, and Dorian was convinced he was responsible for stabbing Blair. But after overhearing Todd tell Starr that he could never kill the mother of his children, Dorian knew Todd wasn't guilty. She briefly suspected Ray of the crime, since he had just moved into her home, but Moe and Noelle vouched for his alibi.
Dorian slowly warmed to Ray, saying she no longer thought of him as a killer, and Ray responded by kissing her. Dorian slapped him across the face, protesting that she was a married woman, but then she allowed him to kiss her again. Dorian was jealous when Ray accepted Tea's offer of a date, following them to Capricorn and kissing Jackie McNaughton in an effort to make Ray jealous. Soon after, Dorian got a call from David, who was excited about a new television commercial he had just filmed. But when Dorian watched the commercial with Ray, she was embarrassed to learn that it was for a hemorrhoid cream called Hav-A-Seat. Dorian and Ray shared a passionate kiss, and Jack snapped the picture with Dorian's cell phone. Dorian later sent the photo to David, hoping to make David jealous enough to either break it off with her or come back to Llanview. David indeed returned, and suspected that Dorian was attracted to Ray. They both agreed that they had grown apart and ended their short-lived marriage amicably. Dorian promptly took Ray up on his offer of a date.
When Dorian learned Langston and Markko planned to have sex for the first time on prom night, she at first forbid them from doing it but later told Langston that she was mature enough to make her own decisions. Dorian even supplied Langston with a package of French condoms for her special night. Alone in the house, Ray serenaded Dorian on his acoustic guitar and the two ended up in bed. Lola barged into the bedroom as they were making love and was obviously high on drugs. She admitted to poking holes in the condoms Dorian had given Langston, and stunned Ray and Dorian when she admitted to having killed her mother many years ago when she found out she was cheating on her father. Ray was devastated and stayed with her as Lola was taken to St. Anne's psychiatric hospital for evaluation. Dorian planned a big feast for Ray, but when Ray arrived he told Dorian he was taking Lola out of state so she could recover. Dorian felt betrayed, and lashed out after Ray left by trashing the dinner table. The next day, Dorian ruined Markko's high school graduation party by getting drunk and telling Markko's conservative parents about their prom night activities. She then kicked Moe and Noelle out of the house and fired bodyguard Shaun Evans. Later, a remorseful Dorian tried to make amends by making a good impression on Markko's parents, although her efforts failed and Marrko's father kicked Markko out of his house. Dorian continued to wallow in self pity and, during the double wedding between Viki and Charlie and Clint and Nora, a drunk Dorian showed up at the wedding with Blair and caused a scene before passing out.
Dorian cozied up to Mayor Stanley Lowell in the hopes that, by supporting his re-election campaign, he would help her assume her former position as chief of staff at Llanview Hospital. Mayor Lowell instead offered Dorian the chance to be his campaign manager, which she accepted. Dorian goaded Viki into running against the mayor, since Dorian was convinced that Viki would suffer a humiliating defeat. When Mayor Lowell's son Justin was arrested for purchasing drugs, Dorian discovered that Justin was nabbed as part of an undercover drug operation that involved Cole Thornhart. She told Mayor Lowell about Cole's participation, unaware that the mayor was actually behind the drug ring. Lowell ordered Cole killed, and when that didn't work he had his goons kidnap Starr and Hope. John McBain caught the mayor confessing to his participation through a wiretap, and he arrested the mayor during a campaign debate between the mayor and Viki. Dorian convinced Mayor Lowell to resign, and quickly announced that she would be running against Viki herself. When David returned to town and found himself in need of a job, Viki pushed Dorian into hiring David as her campaign manager, convinced that the two would be at each other's throats and give her a better chance of being elected.
Frustrated by Viki's rising poll numbers and David's ineptness, Dorian found a new campaign manager in Amelia Bennett, a black lesbian who looked like the guardian angel inhabiting Mel Hayes' body that Dorian occasionally saw. Amelia pushed Dorian to make gay rights, and specifically same sex marriage equality, a key platform of her mayoral campaign. Dorian shocked all of her relatives, including Amelia, by announcing on live television that she was a lesbian and was in a relationship with Amelia. Then Amelia suggested holding a mass gay wedding ceremony in Llanview to gain international attention to the cause and to Dorian's mayoral campaign. Dorian agreed to the plan wholeheartedly, and even said she would make the ceremonial unions legal if she was elected mayor. David was humiliated and eventually relocated to London, where he watched the mass wedding ceremony take place on live television. Dorian lost the election by one vote, however, and was on the verge of flying to London to reunite with David when Viki announced she was withdrawing as mayor to tend to family matters, which meant Dorian won by default. Dorian was sworn in and vowed to make the gay marriages legal, including her own to Amelia, when someone from the state attorney general's office arrived and had her arrested for breaking Pennsylvania's law. In jail, Dorian came face to face with her supposedly dead former husband Mitch Laurence, who threatened to harm her girls.
After getting released from jail, Dorian planned to make her wedding legal when psychic Delphina showed up and Dorian learned that Delphina and Amelia were former lovers. Amelia and Delphina reunited, and Dorian tore up their marriage license. Delphina warned Dorian that the Cramer women were in danger and correctly predicted that she would be getting a package from Satan himself, which turned out to be a family photo in which every face had a red X through it except for Dorian's. Dorian knew Mitch was behind it and paid him a visit, where he unnerved Dorian by detailing the location of each of her girls. Mitch said he wanted Dorian to fire Bo as police commissioner and put in someone of his choosing. At first Dorian refused, but she relented after discovering Mitch had poisoned the eggnog her girls were about to drink and had arranged for other accidents that kept Cassie, Kelly and Adriana from coming home for Christmas. Dorian told Mitch that Bo would be fired by New Year's. Armed with a photo of Bo and Nora kissing outside the cabin, Dorian went to Clint and he agreed to help her get rid of Bo while keeping her hands clean. At the mayor's ball on New Year's Eve, Dorian pretended to be endorsing Bo and Nora when a reporter brought up their affair and produced the photo. Dorian fired Bo on the spot, saying she would run a clean administration.
Mitch ordered Dorian to hire as Bo's replacement disgraced ex-mayor Stanley Lowell. Dorian complied, convinced that Mitch would harm her family, who in turn moved out of her home when they learned the news. Dorian decided she had to take drastic action to get rid of Mitch and went to a bar outside of town where she ran into Charlie, who had fallen off the wagon after Jared's death. Dorian talked Charlie out of drinking the drink he had ordered, but instead convinced him that the only way to get past his problems would be to kill Mitch. Dorian even gave Charlie a gun to do the deed and said she would arrange for Charlie to get a clean shot at Mitch. After Dorian learned that Mitch was after Stacy because she was supposedly carrying his grandchild, Dorian decided she and Charlie would kidnap Stacy and use her to lure Mitch out of hiding. The plan went haywire when Stacy was kidnapped for real by one of Mitch's minions and Dorian got injured while trying to track them down. She showed up at Mitch's hideout just as Charlie was about to shoot Mitch; startled, Charlie misfired and ended up shooting Jessica, who had been kidnapped by Mitch. Even as he was being taken into custody, Mitch threatened to hurt one of Dorian's daughters, just as Jessica had been injured. Dorian quickly fired Stanley and offered Bo his old job back. Dorian made contact with Cassie, Adriana, Langston and Kelly and urged them all to watch out for Mitch. When Dorian's sister and Kelly's mother, Melinda, died of an apparent heart attack, Dorian suspected foul play but Mitch denied having any part in Melinda's death. After she learned that Viki had decided to divorce Charlie over his actions, Dorian went to Llanfair and challenged Viki to forgive Charlie, arguing that she was acting more like Dorian than herself. Viki decided to hold off on filing for divorce until she could think things through.
While Viki was away in London, Dorian asked Charlie to take on a new job for her: head up development and construction of a new civic center to revitalize East Llanview. Dorian told Charlie the job would be good for him, and was caressing his hand when Viki appeared, fresh from London. Dorian eavesdropped as Viki and Charlie discussed their future together and Viki told Charlie she missed him terribly and wanted to give their marriage another shot. Dorian congratulated the couple and then reminded Charlie about her job offer. Viki encouraged Charlie to take the job, despite her reservations about Dorian's motives. Dorian and Charlie got closer as they worked on the project, and during a tender moment Dorian took Charlie into a close embrace, appearing ready to kiss him. Then Jack snapped their picture. Charlie warned Dorian that nothing like that could happen again, but the damage was done when Todd sent the incriminating photo to Viki. An angry Viki assured Charlie that she trusted him but warned Dorian to keep her hands off her husband.
Viki got under Dorian's skin when she hired David to be style consultant at the Banner, but Dorian insisted to anyone who would listen that she was no longer romantically interested in David. Dorian was shocked when Charlie came onto her and then caught Viki and David in bed together, but Viki quickly admitted they were only trying to get Dorian and David to realize they belonged together. Dorian was so angry she fired Charlie and began sparring with David over their MyFace accounts. When David claimed to be dating a gorgeous model, Dorian claimed to have reunited with Clint. Clint went along with the ruse on the condition that Dorian make sure he got the winning bid to have the new sports stadium named after the Buchanans.
Dorian bribed David's hooker friend with jewelry and cash in exchange for her admission that she wasn't dating David. David, meanwhile, had gotten a similar confession from Clint in exchange for a thumb drive containing all of the information he had dug up on Kim. Dorian and David confronted each other in front of Rodi's and admitted their love for each other. They hastily arranged to get married at the country club. But just as Dorian was preparing to walk down the aisle, Nora handed her a note from David telling Dorian he was leaving town because he couldn't commit to just one woman. Dorian was devastated to be dumped at the altar for a second time by David. Making matters worse, Dorian kept tabs on David's lavish sexcapades via constant updates to his MyFace page. Little did she realize that David actually had been kidnapped and was being held in a Moroccan jail under orders from Clint, who was trying to get back at all the people who had wronged him.
Dorian got an unwelcome visitor in October 2010 when Echo DiSavoy returned to Llanview. Echo wanted Dorian to convince Viki to hire her as a photographer at the Banner, but Dorian realized Echo was up to no good and kicked her out. When Echo revealed that she was Rex Balsom's mother, she pulled out a half-heart necklace that proved she was Rex's mother. Dorian recalled seeing Clint with the other half and later saw Clint and Echo having an intense conversation after Echo claimed that Charlie Banks was Rex's father. Dorian confronted Clint about the necklace, but Clint tried to convince Dorian that she was mistaken. Dorian got caught by Matthew while snooping in Clint's office and paid him off. She then told Viki that Clint had the other half of the necklace, which supposedly had been left at the gravesite of the woman who Rex believed was his mother. When Viki told Dorian that Echo had duped Rex into thinking his parents were Lili and Rick, two characters from a book written by Asa's grandmother, Dorian pointed out that Clint was in a better position than Echo to have access to that book. Viki told Dorian they were wrong about Clint after DNA tests proved Charlie was Rex's father. But Dorian maintained that Clint was hiding something.
Viki enlisted Dorian's help after Echo wormed her way further into Viki's life by taking up residence at Llanfair. Dorian lured Echo to LaBoulaie on Christmas Eve under the pretense of a photography assignment and locked her on the roof, forcing Echo to tumble down the fireplace in a Santa suit. Echo later demanded that Dorian pay her for the damages she incurred as a result of the stunt, but Dorian cancelled the check as soon as she wrote it. Dorian then followed Echo to an AA meeting, convinced that Echo was pretending to be a recovering alcoholic to get closer to Charlie. Echo nearly spilled the truth about Rex's father until she spotted a disguised Dorian in the audience and called her out. Dorian pressed Echo to admit that Clint was Rex's father, but Echo blew off Dorian's accusations and promised to get back at her.
Dorian got a surprise call from David Vickers in January 2011. David told Dorian he still loved her, but Dorian said she was no longer interested in him. David shouted that he was in jail, but Dorian said she wouldn't bail him out and hung up.
Viki enlisted Dorian's help after Echo wormed her way further into Viki's life by taking up residence at Llanfair. Dorian got Echo drunk at brunch in an unsuccessful attempt to get the truth out of her about Rex, and later Dorian spied Echo kissing Charlie at Llanfair. Dorian told Viki what had happened and urged Viki to kick Echo out of the house, but Viki backed down after Charlie interjected. Dorian lured Echo to LaBoulaie on Christmas Eve under the pretense of a photography assignment and locked her on the roof, forcing Echo to tumble down the fireplace in a Santa suit. Echo later demanded that Dorian pay her for the damages she incurred as a result of the stunt, but Dorian cancelled the check as soon as she wrote it. Dorian then followed Echo to an AA meeting, convinced that Echo was pretending to be a recovering alcoholic to get closer to Charlie. Echo nearly spilled the truth about Rex's father until she spotted a disguised Dorian in the audience and called her out. Dorian pressed Echo to admit that Clint was Rex's father, but Echo blew off Dorian's accusations and promised to get back at her.
Dorian got a surprise call from David Vickers in January 2011. David told Dorian he still loved her, but Dorian said she was no longer interested in him. David shouted that he was in jail, but Dorian said she wouldn't bail him out and hung up.
After getting nowhere with Echo, Dorian decided to come clean to Rex and told him that Clint was his father, not Charlie. She encouraged Rex to get another DNA test but was disbelieving when Rex said the test proved Charlie was his father. Dorian applauded when Viki finally kicked Echo out of the house in February 2011. After learning that the truth about Rex's parentage had come out at the double wedding of Jessica and Natalie, Dorian went to Echo's room at the Minute Man Hotel and found Echo wearing a man's watch that she later identified as Charlie's. Dorian went to tell Viki but stopped herself after learning that Jessica had disappeared after learning that Ford was the father of her baby, not Brody, and that Brody was the father of Natalie's baby. Instead, Dorian told Charlie she would tell Viki about the affair unless he broke up with Echo, and Charlie told Dorian that they were through. After Jessica's alter, Tess, told Viki that Dorian knew about an affair between Charlie and Echo, Dorian assured Viki that her husband was devoted to her and that Tess didn't know what she was talking about.
Dorian was tempted briefly by the flirtations of a much younger man, Cutter Wentworth. Even though she knew he was a con artist only interested in her money, Dorian decided that she could use Cutter to get over her painful breakup with David. Dorian was about to have sex with Cutter when David burst into her bedroom, having just been rescued from captivity by Bo and Rex. Dorian welcomed David back with open arms after he explained what had happened. They quickly picked up where they left off and decided to get married. Before the ceremony, however, David got a call from his publicist with an offer to star in a movie about his ordeal in the Moroccan jail. David wanted to postpone the wedding until he returned from the shoot, but Dorian insisted they get married at once. With Bo and Viki standing by as witnesses, David and Dorian finally exchanged vows and were pronounced husband and wife.
Dorian and David took over production of the movie after firing the director. They hired Markko Rivera to direct and convinced Langston to move to Los Angeles so she could write the screenplay. Dorian was outraged to learn that Charlie had left Viki for Echo. Dorian told Charlie that Echo knew all along that Rex was not his son but Echo assured Charlie that Clint would back up her story. Dorian went to confront Clint and found him having a heart attack. As Clint begged for her to call the hospital, Dorian forced Clint to confess that Echo knew all along that Rex was his son. Clint gave Dorian a tape recording in which Echo confessed the truth. Dorian then gave Clint an aspirin and called the ambulance. Dorian gave the tape to Viki, unaware that Niki Smith was really in control. Once Viki had regained control, Dorian told her about the tape and encouraged Viki to hand it over to Charlie, which she did. Dorian gloated to Echo after learning that Charlie had dumped her and left town.
Dorian showed up at the hospital to pay her respects to Clint, who was near death following a second heart attack, and Viki told Dorian she knew that she had nearly let Clint die when he had his first heart attack. Dorian reminded Viki that she was able to get tape recording of Echo's confession from Clint, but Viki was livid at Dorian's actions.
Dorian and David returned from their movie shoot and were immediately thrown into chaos when the actress who played Dorian in the movie, Ionia Masters, showed up and began throwing herself at David. Ionia insisted that she and David were an item, but David told Dorian that there was nothing going on. When photos began emerging showing David and Ionia in compromising positions, Dorian feared the worse. Dorian opened a package addressed to David and found a gun and a note from Ionia urging David to kill Dorian so they could be together. Dorian pulled the gun on David and ordered him out of the house. When Echo showed up, Dorian realized that Echo had set her up and the two got into a fight. Echo hit Dorian over the head with a potted plant and dragged her to the Minute Man Motel, where she bound and gagged Dorian. Echo decided the only thing she could do was make it appear that Dorian had killed herself, but Dorian's young nephew Sam came to the rescue by ensnaring Echo in a Spiderman web. Echo was arrested and held in jail, but Dorian dropped the charges after a recovered Clint -- acting on behest of Rex -- threatened to tell everyone that Dorian had nearly let him die.
Dorian and David's movie premiere turned into a fiasco when porn producer Rick Powers switched out Vicker Man with his own movie, Hold the Diploma, featuring Nate Salinger and Deanna Forbes. Soon after, Dorian got a surprise call from the governor with an offer to replace the U.S. senator from Pennsylvania, who had to resign after a sex scandal. Dorian excitedly told David the news, only to learn that David had just been offered the starring role in another movie that would take him to Sweden for several months. Dorian would move to Washington and wait for David to join her once he finished filming his movie. Dorian broke the news to the Cramer girls, who gave her a warm sendoff before arranging for her to have one last meeting with Viki. Viki and Dorian sparred verbally before getting trapped in Dorian's office and coming to a truce. David arrived and freed the women, and escorted Dorian to her waiting car.
Dorian's time in Washington was over soon after it began when she was accused of possessing classified CIA documents about illegal black sites. Dorian was forced to resign from the senate and she blamed Viki and her newspaper for the negative publicity. As Dorian transitioned back to life in Llanview, she found an opportunity to quietly seek revenge against Viki. Dorian used information garnered from her former position on the Senate Finance Committee. She fed false information to the financial advisor that she and Viki both used, knowing that the money Viki invested in a particular fund would soon be lost.
Dorian sat and back and waited for Viki's financial demise but was disappointed with the results. Clint stepped in and bailed Viki out before she could be ruined publically. However, the loss and recovery of Viki's funds did contribute to the end of her engagement to Clint. Meanwhile, Dorian and Viki worked together as co-chairs of the Veteran's Foundation, which planned to honor Clint as their "Man of the Year" at an upcoming gala. As Dorian remained ensconced in the drama between Clint and Viki, her husband David continued to seek reality television fame. A rift formed between David and Dorian as they each pursued separate interests and David kissed another woman. Dorian witnessed the kiss and she threw David out. She and David made plans to divorce while allowing a reality show to film the end of their marriage. Dorian allowed philanthropist Carl Peterson to escort her to the "Man of the Year" gala and she enjoyed spending time with another man in front of David.

Post a Comment

Share on Facebook

Tweet this

Submit Feedback