Contrary to previous reports, the role of Will Rappaport will be recast.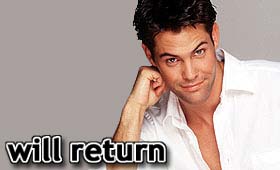 The role of Will Rapport debuted on July 22, 1998. Earlier this year, Jason-Shane Scott reportedly told a fan gathering that he planned to leave One Life to Live by year's end. On August 27, Scott exited the role when Will decided that he needs to move on with his life and leave Llanview.
In published interviews, OLTL executive producer Gary Tomlin has stated that he did not envision Will returning to the OLTL canvas any time soon.
According to a set-side source the recently-vacated role will appear on-screen as early as mid-October.
--->
---
.
--->
---