After just two years at the helm, Gary Tomlin has been replaced as executive producer of One Life to Live. Effective immediately, Frank Valentini has taken over Tomlin's duties.
The decision to replace Tomlin was handed down by ABC Daytime President Brian Frons. Tomlin's ouster comes almost one month to the day after Frons replaced the show's head writing team.
Valentini is no stranger to One Life to Live. For nearly two decades, Valentini has served in various capacities within the soap, including stage manager, associate director, coordinating producer and, most recently, senior supervising producer and director.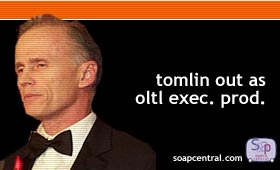 "Frank's extensive history with the show and his collaborative relationship with the actors, writers and production team will make him an ideal leader in building on the core strengths of OLTL," said Frons in a statement. "Frank has literally lived in Llanview for 17 years and has the past, present and future of the town and characters in his heart and soul."
"I would also like to thank departing executive producer Gary Tomlin for all his hard work and innovation during his two years at OLTL," Frons added.
The move to replace Tomlin is seen by some as unexpected. This past May, under Tomlin, One Life to Live earned its very first Daytime Emmy as Outstanding Drama Series. Tomlin has also been credited with rejuvenating life in Llanview; it was Tomlin's brainchild to air special stand-alone episodes on July 4. Tomlin was also the driving force behind the show's weeklong live broadcasts this past May.
While Tomlin's innovative ideas drew much media attention, the show failed to capitalize on these ideas in the ratings department. One Life to Live routinely ranks sixth or seventh in the Nielsen ratings.
"I have thoroughly enjoyed my time with the incredibly talented people at One Life to Live," Tomlin said in a statement. "The 'Live Week' and the Emmy were certainly highlights. [New head writer] Josh Griffith has wonderful stories set up for the show to move in an exciting new direction. And Frank Valentini is going to do a great job helping everyone execute those stories. I thank the people at ABC for the opportunity they gave me."
What are your thoughts on this story? We want to hear from you -- and there are many ways you can share your thoughts.