OLTL's Executive Producer, Jill Farren Phelps, will be stepping down at the end of this year to take over the Executive Producer position at General Hospital in January 2001. Wendy Riche, who has been the executive producer at General Hospital since 1992, recently announced she will be leaving the position.
Since Jill Farren Phelps(JFP) joined OLTL in December of 1997, her tenure has been a controversial one. While some fans have enjoyed the direction she has taken the show, many fans, especially long-time ones, have not been as pleased. Phelps' style was more event-driven than character-driven, and tended towards sensationalism in storyline cliffhangers and developments without regard for whether or not the actions of characters involved in that storyline were typical of their past actions. That, combined with the fact that she fired several popular actors (Stephen Markle, Mel; Kevin Stapleton, Kevin; Laura Koffman, Cassie) and replaced them with actors she had worked with on Another World (Timothy Gibbs, Kevin; Kale Brown, Sam; John Bolger, Sykes; Robin Christopher, Skye), sent the fans into an uproar. A boycott of May Sweeps was even organized in 1999 and there were also protests at the OLTL Fan Club Luncheon that year.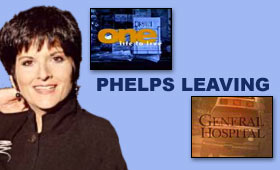 In addition to her current stint on One Life to Live, Phelps worked on Guiding Light, where she started her career in 1974. She also served as executive producer on Santa Barbara. Her work on the now-defunct soap earned three consecutive Daytime Emmy Awards. Phelps is no stranger to General Hospital. From 1977 to 1984, Phelps worked as music director for the show. Phelps later became executive producer of Guiding Light and then finally Another World, before joining OLTL.
Jill Farren Phelps' replacement at OLTL will be Gary Tomlin, former Executive Producer at Sunset Beach. Tomlin, who recently worked as a director on Passions, was a director at OLTL from 1992 to 1995. He has also been the head writer for Days of our Lives, Search for Tomorrow, and Another World.