General Hospital's executive producer, Wendy Riche, has decided to end her tenure atop ABC's highest-rated daytime drama after eight years. She will depart in January 2001.
With Riche at the helm, General Hospital has won six Daytime Emmys for Outstanding Daytime Drama. With the exception of 1997, the show has won top honors every year from 1994 through 2000. Under Riche, General Hospital's storylines have included memorable stories such as Stone's death from AIDS and BJ's death and subsequent organ donation.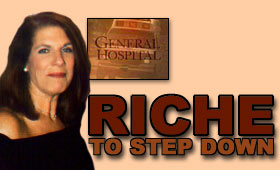 Earlier this year, Wendy Riche decided to cut back on her duties by ending her role as executive producer for General Hospital spinoff, Port Charles. Riche was also co-creator of the show.
When Riche departs in January, she will be succeeded by current One Life to Live executive producer Jill Farren Phelps. Phelps isn't exactly a stranger to life in Port Charles; she served as music director from 1977 to 1984.
For those unfamiliar with Phelps and her work, there is assurance that she's proven in the industry. Phelps earned three consecutive Daytime Emmy awards for her role as executive producer on Santa Barbara.