After less than a year with One Life to Live, Bruce Michael Hall (Joey Buchanan) has been let go. The actor becomes the latest in a relatively long line of actors to have played the role in recent years.
Hall joined One Life to Live in February after a three-year run on NBC's Passions. After being downgraded to recurring status, Hall quickly jumped networks (and coasts) to appear on the ABC soap.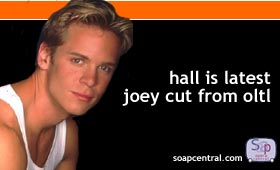 "I'm disappointed," Hall says of his release. However, the actor believes that his character was painted into a corner because of his "nice-guy" status.
Hall plans to return to Los Angeles, where he lived prior to accepting his gig on One Life to Live. However, don't expect him to return to his former stomping grounds at Passions. Hall's twin brother -- Seth Hall -- took over his former role and is quite happy at the show.
As previously mentioned, Hall is just the latest actor to be cut as One Life to Live's Joey. In late 2000, Don Jeffcoat's contract with the show as not renewed and he subsequently exited the show in January 2001; he'd been with OLTL since 1997. Before Jeffcoat, Nathan Fillion held the role from 1994 to 1997. Rounding out the final two are Chris McKenna from 1990 to 1993 and the first Joey, John Paul Learn, who has the distinction of playing Joey longer -- from 1982 to 1990 -- than any other actor.
A final airdate for Hall has not yet been released.
Browse our News Archive for information on Don Jeffcoat's firing.