The days of Linda Dano's (Gretel Rae Cummings) ABC soap hopping are just about at an end. The veteran soap opera actress will exit One Life to Live in early 2004.
Upon the cancellation of NBC's Another World in 1999, Dano rejoined the cast of One Life to Live. It marked a return to the network for Dano, who had previously appeared on One Life to Live from 1978 to 1980.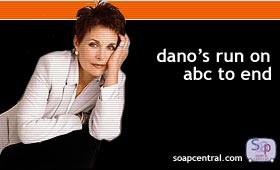 In April 2000, Dano's character embarked on an unprecedented trip that saw Rae visit ABC's three other daytime dramas - All My Children, General Hospital and Port Charles. The storyline was an attempt to strengthen the network's lineup and lure viewers to soaps that they might not usually watch. While there has always been a synergy among the ABC soaps - when one soap's character visits another soap's canvas - this was the first time that any daytime character had appeared on four different programs.
But in recent months, Dano's character has seen little airtime. And now comes official word that the actress will soon be on her way out.
"I will not be at ABC after my contract expires in June," states Dano in an official statement.
An official statement from an ABC spokesperson confirms Dano's departure. "Linda Dano is an extraordinary actress whose contributions to the industry are unrivaled," the network stated. "Storyline dictates her departure from the ABC Daytime lineup in early 2004. We wish her the very best in all of her future endeavors."
After her daytime engagement ends, Dano expects to explore other opportunities in television. In the late 1980s, Dano co-hosted the daytime talk show Attitudes. Dano also has a line of signature jewelry, clothing and accessories that she sells through cable shopping channel QVC.
--->
---

RELATED STORY
2000: Dano to visit all four ABC soaps.
---