With the exception of NBC, both CBS and ABC broadcast four daytime drama per day; three full-hour soaps and one half-hour program. As with any network lineup, some shows get more viewers than others. For CBS, The Young and the Restless is --- and has been for the past ten years --- the top daytime serial on the network. ABC's shows are a bit closer in the ratings, with General Hospital usually leading the way for the network. So if you're a network executive looking for a way to increase the ratings all across the board, what do you do? If you're the folks at ABC, you take some of your fan-favorite characters from one show and transplant them on another.
The first of the many ABC crossovers started in July 1997, when Robin Christopher reprised the role of Skye Chandler, a role she'd played on All My Children from 1987 to 1991. The only hitch was that this time Skye wasn't making the rounds on All My Children --- she was on One Life to Live.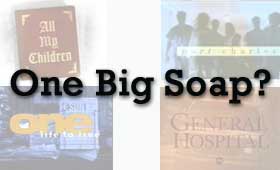 Though Christopher's cross-soap appearance may have been the first, it was Linda Dano's addition to the ABC Daytime lineup really got the ball rolling. Her character, Rae Cummings, debuted on One Life to Live in June of 1999. After her stint in the fictional town of Llanview, Pennsylvania was complete in October, Dano joined the cast of All My Children and the make-believe town of Pine Valley. It wasn't a far trip either in real life or on the small screen. AMC's studios are virtually around the corner from OLTL and Pine Valley is just up the road from Llanview. On AMC, Dano's character established ties to a long-time Pine Valley Resident; she is the daughter that Myrtle Fargate gave up for adoption. From there, Rae completed the quadrafecta and skipped to Upstate New York and the final two ABC soaps --- General Hospital and GH spinoff, Port Charles. In Port Charles, the fictional town where both GH and PC are set, Rae continued her search for her missing daughter, a daughter that was stolen from her shortly after birth. Cummings found some longtime friends, among them Alan Quartermaine, and several more clues to her daughter's whereabouts.
Recently, Thorsten Kaye signed to appear on Port Charles. Kaye was a regular on One Life to Live from October 1995 to September 1997. He'll now portray Patrick's brother, Ian Thornhart. Up until this point, it had never been revealed that Patrick has a brother.
The biggest mystery, though, in all of this character hopping is Alexandra Devane Marick played by Emmy winner Finola Hughes. Hughes joined the cast of All My Children with much fanfare last summer. Fans were particularly curious because Hughes had previously played Anna Devane on General Hospital. Since Anna and Alex share the same last name, many wondered if they were long-lost sister... or perhaps the same person. Since January of this year, more and more clues have been dropped about Alex's identity. The character has a large gap in her memories, but slowly the pieces are starting to fall together. Alex had visions of a girl --- perhaps her daughter --- named Robin. GH's Anna had a daughter named Robin. Alex purchased a horse and for some inexplicable reason decided to call it Scorpio. Back on GH, Anna Devane married a man by the name of Robert Scorpio, Robin's father. Just in case that wasn't enough evidence for viewers, a housekeeper at a Welsh sanitarium saw Alex and called her "Anna."
Many industry insiders and fans of the ABC daytime dramas are wondering what ABC hopes to accomplish by the character swapping. Critics accuse the network executives of trying to force them into watching all four soaps. Those defending ABC's actions say that the writers are merely using established and well-liked characters to bolster storylines. At a time when fans have thumbed their noses at newly introduced characters who lack the depth and history of other established characters, ABC may have found a way to keep their programs fresh and interesting while appeasing fans.
Perhaps the biggest challenge to these cross-soap storylines is coordinating what a character does on each soap. For example, Rae Cummings appeared on all four ABC soaps. Each show has a different set of writers and the writers must pay excruciating close attention to detail and make sure that they do not have Rae do something that would compromise her appearances on each of the other three programs. If a news bulletin pre-empts a program, there's always the possibility that the timeline on other shows will be altered. Let's say that Rae hit the lottery on a Monday installment of General Hospital and on Tuesday phoned All My Children's Myrtle to tell her the good news. What if Monday's GH was bumped back? Tuesday when AMC airs, Rae would be phoning home --- when her lottery win hadn't been shown on GH!
To date, Dano's many appearances haven't equated into improved ratings for any of the soaps. However, AMC did receive a bump up when Myrtle and Rae learned that they were mother and daughter.
A recent Soap Opera Central poll, found that the majority of All My Children fans were uninterested in whether or not Alexandra Devane was actually Anna Devane. If she was, fans said that they'd be fine with it --- but they would not tune into GH just to find out more about her past. The same applied for General Hospital fans.
There are few soaps left to bridge: AMC and OLTL were tied by Skye Chandler, OLTL and PC by Ian Thornhart, AMC and GH by Alex Devane, PC and GH are linked by virtue of PC's spinoff status and all four soaps were linked by Rae Cummings.
Fan reaction hasn't been overly outspoken for or against the ties, but the failure to raise all of the soaps ratings may be a sign of failure. CBS and NBC were both reported to have been considering similar tie-ins, but to date neither has mad a move in that direction.