Emmy winner David Tom (ex-Billy Abbott, The Young and the Restless) will join the cast of One Life to Live later this year in the role of Paul Cramer.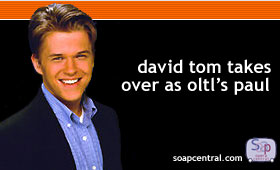 Tom is the real-life brother of actress Heather Tom (Kelly Cramer). Ironically, Heather Tom hopped from CBS's The Young and the Restless to ABC's One Life to Live last year.
With the return of his character's former on-screen love, there had been speculation recently that David Tom might return to The Young and the Restless and reprise the role of Billy Abbott. Tom appeared on Y&R from June 1999 through August 2002. A spokesperson for The Young and the Restless declined to comment on whether or not the show has been in contact with Tom - or even if the show planned to bring back the character of Billy.
With Tom's addition to the cast, Brock Cuchna is left as the odd man out. Cuchna has been a part of the One Life to Live cast since October 2003.
For his One Life to Live role, Tom will relocate from Los Angeles to New York, where One Life to Live is filmed.
A One Life to Live spokesperson could not be reached for comment. A first airdate for Tom and a final airdate for Cuchna have not been released.