There is rampant speculation among setside sources that The Young and the Restless may recast the role of Billy Abbott when David Tom (Billy Abbott) exits the role later this year.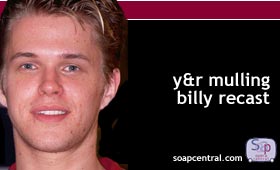 The Emmy nominated Tom announced in April that he would leave the show when is contract expired. After talks with show executives, Tom agreed to extend his contract for a few months in order to allow the writers to wrap up his character's storyline.
The initial belief was that Billy would be sent out of town to attend college. Now, however, a recent casting call for young actors has prompted some to wonder if the show might reconsider.
A spokesperson for The Young and the Restless declined to comment on whether or not the role of Billy would be recast.
Tom's final airdate has not been released.