As previously reported by Soap Central, talk of Phil Carey's (Asa Buchanan) exit from One Life to Live has been greatly exaggerated. Though unconfirmed by the network at "post time," Soap Central has learned that Carey and the show have come to terms on a new contract.

Because of the ongoing contract talks, Carey's character was temporarily removed from all scenes taping after February 24th. This led to reports that Carey was out -- and that he wasn't coming back. But this wasn't the first time that the proverbial fork had been put in Carey's long career by some media outlets. News of Carey's possible exit first emerged around the first of the year when the actor revealed that he had not yet been approached by anyone to re-sign his contract. When Carey and network execs were unable to reach an immediate deal, ABC reportedly approached Carey with a plan to have him remain with the show on a recurring basis.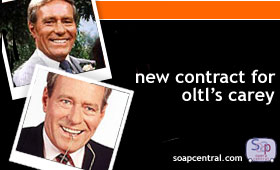 "Phil Carey is an extremely valuable member of One Life to Live, and we sincerely hope we can come to an agreement with him," said an ABC spokesperson while negotiations were ongoing.

The terms of Carey's deal were not released, however, long-time One Life to Live fans should be pleased that the 25-year veteran isn't going anywhere.

Carey will return to the screen in May.