Kamar de los Reyes (Antonio Vega) has signed a contract that will extend his stay in Llanview. While the terms of the contract were not released, the deal is believed to be a typical four-year deal.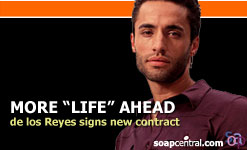 De los Reyes originated the role of Antonio Vega in 1995, but left the show in 1997. Though de los Reyes returned to the ABC soap for a brief stint in 1998, it wasn't until February 2000 that the actor returned on a full-time basis.
In addition to his work on One Life to Live, de los Reyes has made several guest starring appearances in primetime, including the medical drama ER and Touched By An Angel. De los Reyes also starred in the VH1 tele-movie, The Way She Moves.
In 2005, the actor was named one of People en Espa˝ol's 25 Sexiest Bachelors.
His work on One Life to Live earned him an ALMA Awards nomination in 2002 in the Outstanding Actor in a Daytime Drama category.
ABC does not comment on contracts.