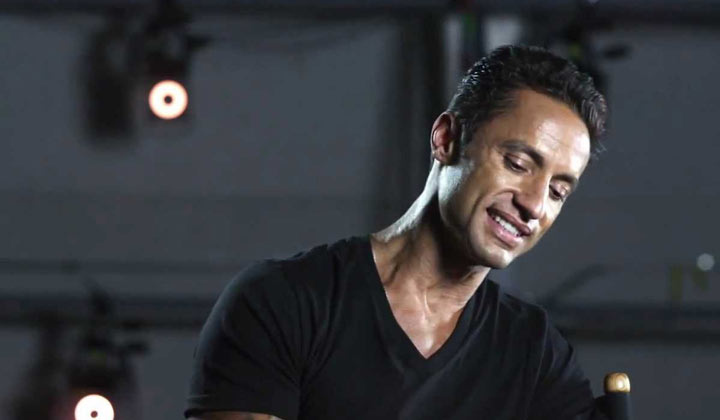 Kamar de los Reyes
Born in San Juan, Puerto Rico, Mr. de los Reyes moved to the United States at age two. He grew up in Las Vegas, surrounded by a family of professional musicians. No stranger to the spotlight, he began playing the trumpet at age four, playing on stage alongside Dizzy Gillespie and Harry James, and recently joined his family to play percussion and sing backup vocals on his brother Daniel's debut album, San Rafael 560.
In March 2002, de los Reyes appeared in the City Center Encores! production of Golden Boy. In 1994 he made his off-Broadway debut in Blade to the Heat, and in 1995 he played opposite Patrick Stewart in the Shakespeare in the Park production of The Tempest in New York City. His television credits include recurring roles in such television series as New York Undercover, Promised Land, ER and the Showtime science fiction drama Total Recall 2070. He appeared in Touched by an Angel and co-starred in the television movie Blood on Her Hands, opposite Susan Lucci.
de los Reyes starred in the VH1 made-for-television film, The Way She Moves, opposite Annabeth Gish, in which he displayed his considerable dancing talent. He also co-starred with singing sensation Toni Braxton in her music video, Spanish Guitar. In July 2003, he appeared as boxer Jose Beveagua in the HBO original movie Undefeated. The following year, he traveled to Puerto Rico to shoot the feature film Cayo.
When he is not working, de los Reyes enjoys reading, writing, basketball, rollerblading, boxing and working out. His favorite pursuit, however, is spending time with his son.
Law & Order
Aberto Moretti
2005
Undefeated
Jose Beveagua
2003
The Way She Moves
Nicholas
2001
Early Edition
Ramon Archiletta
1999
Touched by an Angel
Eddie Testaverde
1999
Total Recall 2070
Jack Brant
1999
Promised Land
Leon Flores
1998 to 1999
Blood on Her Hands
Gavin Kendrick
1998
Four Corners
Tomas Alvarez
1998
New York Undercover
Luis
1996
June 26, 1998 to October 28, 2003; November 5, 2004 to February 14, 2005; September 1, 2005 to April 22, 2009
ER
Hernandez
1995
ER Paramedic
1995
Valley of the Dolls
Ray Ariaz
1994
The Corpse Had a Familiar Face
Puerto Rican
1994
Salt
Secret Service Agent
2010
Cayo
Young Ivan
2005
The Cell
Officer Alexander
2000
Mambo Café
Manny
2000
Search of a Dream
Marcos
1997
Daedalus Is Dead
Wilson Ortiz
1996
Nixon
Eugenio Martinez, Watergate Burglar
1995
Da Vinci's War
Latin Dancer
1993
Father Hood
1993 Kickboxer Coldfire
Nick
1990
Ghetto Blaster
Chato
1989
Guerrero del Este de Los Angeles
Paulo
1989
Salsa
Dancer
1988
Daytime Emmys Pre-Nomination, Outstanding Lead Actor (2005)
ALMA Awards Winner, Outstanding Actor in a Daytime Drama (2008)
ALMA Awards Nominee, Outstanding Actor in a Daytime Drama (1998, 2001, 2002, 2006, 2008)
Image Awards Nominee, Outstanding Actor in a Daytime Drama Series (2008)
PLACE OF BIRTH: San Juan, PR
DATE OF BIRTH: November 8, 1967
HEIGHT: 5'10"
HAIR: Dark Brown
EYES: Brown
MARITAL STATUS: Married, Sherrie Saum [May 19, 2007]