Kamar de los Reyes
(
Antonio Vega
) will leave One Life to Live when the new year rolls around. The actor, who has appeared off-and-on on the ABC soap since 1995, has opted not to renew his contract.
Hints that de los Reyes might exit One Life to Live surfaced earlier this year, when, in several interviews, the actor had expressed concerns over his character's story. Still, throughout each published interview, the ALMA-winning actor expressed his desire to remain a part of the OLTL family.
"I don't see myself doing anything else," de los Reyes said in an interview with Soap Opera Digest earlier this year. "I hope I can continue [...] as Antonio [but] who knows where my future is going to take me."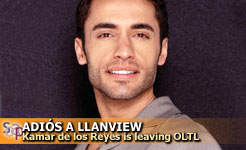 During his decade-long run as Antonio Vega, de los Reyes has tallied five ALMA Awards nominations. This year, he picked up his very first win. In 2005, de los Reyes was "pre-nominated" for a Daytime Emmy by his fellow One Life to Live cast members.
When news of de los Reyes' impending exit first started to pick up traction, many speculated that the actor's on-screen love interest, BethAnn Bonner (Talia Sahid) would also be exiting. After all, the last time Antonio bolted from Llanview, he took with him then-lover Andy Harrison (played by Wendee Pratt). Show snitches tell soapcentral.com that Bonner isn't going anywhere.
A final airdate has not yet been announced for de los Reyes, but it's unlikely the show would recast the role. An official comment from ABC was not available due to the holiday break. de los Reyes will continue taping scenes through the end of January, so it's a safe bet that his departure will be featured prominently in February.
Meanwhile, there are whispers that The Young and the Restless is very interested in signing the actor.