What should be the end result of Carey and OLTL's contract flap?


OLTL needs to keep Carey on as a contract player. He's very important.
89%
Asa isn't that vital any more, so I think having Carey on recurring is okay
6%
I don't see a need for Asa at all. Write off the character permanently.
2%
Roles are recast all the time. If Carey wants out, bring in a new Asa.
1%
I don't really have an opinion about how OLTL should handle Carey/Asa.
0%
Other
0%
Poll Posted: March 28, 2007
One Life to Live is poised to lose another veteran performer.
Phil Carey
(
Asa Buchanan
), who has appeared as OLTL's Asa for nearly three decades, will exit the show when his contract expires. The actor and the show were unable to come to terms on an agreement that would keep Carey in Llanview.
The situation is eerie similar to one that had played out a few years back. In 2005, it was widely believed that Carey had been axed when the show made no overture to the actor about signing a new contract. This time around, however, Carey has been approached - but it was to be informed that he would be dropped to recurring status.
"Phil Carey and Asa Buchanan have always been an important part of One Life to Live," a One Life to Live spokesperson tells Soap Central. "At this time, Mr. Carey has decided not to accept the recent offer to appear on a recurring basis."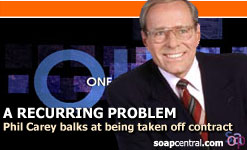 During the last contract impasse with ABC, the network issued a similar statement expressing its desire to keep Carey on board.
"Phil Carey is an extremely valuable member of One Life to Live, and we sincerely hope we can come to an agreement with him," an ABC spokesperson said in a statement at the time.
The past year has been a very difficult year for the accomplished actor. Carey was diagnosed with lung cancer in January 2006 and underwent chemotherapy.
Carey joined the cast of One Life to Live since 1979. Prior to making the transition to daytime television, Carey had a successful career in film. He appeared in over a dozen Westerns in a two-year period from1953 to 1955. However accomplished Carey was in film, he was also known for numerous primetime television roles as well. He appeared in such notable programs as "The Ford Television Theatre," "Little House on the Prairie" and "Laredo."
A spokesperson for One Life to Live was not immediately available for comment.
Carey made his final One Life to Live appearance on April 26th.