Former Days of our Lives star Kevin Spirtas (ex-Craig Wesley) is returning to daytime television. The actor has signed on to play a mysterious role on ABC's One Life to Live.
The details of Spirtas' One Life to Live stint are still being closely guarded by the network. However, Soap Central has learned that Spirtas will play the newly-created role of Jonas Chamberlain, a diplomat who blows into town with Tina -- but just because he's by her side doesn't mean that they're romantically involved. Jonas will be very much involved in the storyline that brings Tina Lord back to Llanview.
When he joined NBC's Days of our Lives in 1997, Spirtas had already appeared in several motion pictures, a handful of which were horror flicks. There was nothing scary about Spirtas' first acting engagement with Days of our Lives. He first appeared in a week-long guest spot in August 1997. Fans took to the actor and the show's writers crafted a meatier story for his character. Spirtas was signed to a contract in March 1998 and remained with the show through May 2003. After exiting the show, Spirtas made several guest appearances in 2005.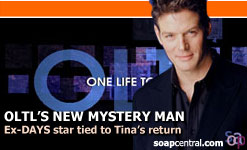 Spirtas also appeared as Les on The Young and the Restless in 1997.
In addition to his television work, Spirtas is an accomplished stage actor. At age 18, Spirtas landed a role as Mike Costa in the Broadway production of A Chorus Line. He would later appear on Broadway in Meet Me In St. Louis. Other theater credits include Damn Yankees, Bye-Bye Birdie and Into the Woods.
Spirtas began taping on May 5th and makes his One Life to Live debut in June. The network has not yet released an exact first airdate.