Emmy-winning actor A Martinez will join the cast of One Life to Live in the upcoming weeks. The actor has been tapped for the role of Ray Montez, a newly created role that may bring about the addition of a lot of new faces into the Llanview scene. It's been nearly six years since Martinez's last soap appearance on General Hospital.
Born Adolph Larrue Martinez, Martinez got his start in television playing bit roles in some of the biggest series of the 1970s. His diverse ethnic background allowed him to play both Latino and Native American characters. After guest spots on Adam 12, Ironside, and Bonanza, Martinez scored recurring roles on All In the Family and Whiz Kids. In 1984, he received what could have been his biggest break since landing his first television role.
From 1984 to 1992, Martinez appeared as Cruz Castillo on the now-cancelled soap, Santa Barbara. During that time he amassed seven Daytime Emmy nominations for his work. In 1990, he transformed one of those nominations into a win for Outstanding Lead Actor. After bidding farewell to Santa Barbara, Martinez moved to NBC's primetime lineup as Daniel Morales in L.A. Law. Martinez would end up exiting L.A. Law in 1994.
In 1999, Martinez returned to daytime television as the not-so-dead Roy DiLucca. Despite the high-profile addition of Martinez to the GH roster, the writers seemed unable to devise a meaningful story for his character. In 2002, Roy DiLucca accepted a job in sunny Miami, Florida and left Port Charles behind. For his work on General Hospital, Martinez was awarded three consecutive ALMA Awards.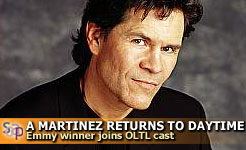 Earlier this year, One Life to Live put out a casting call for what sounded like plans for a new Latino family. Martinez's addition to OLTL comes just as the casting process for that initial call would be wrapping up. There is, so far, no confirmation on any other performers that may have been cast as part of this wide-ranging casting call.
Fans have mixed emotions about Martinez's new gig in Llanview. Some are wondering why the show would be developing a new Latino family when the Vega family is still alive and well. Others hint that the new family could bring about a resurgence in storytelling for the Vegas. Meanwhile, Soap Central has learned that Ray will turn out to be Langston's uncle and an ex-con.
A first airdate for Martinez is slated for September 10th. A One Life to Live spokesperson did not respond to a request for comment.