A career as a profession actor wasn't something that was supposed to be in the cards for Nathan Fillion. The Edmonton native wanted to be a high school teacher and was studying at the University of Alberta when he received a call that turned out to be his first big break. It was a call telling him that ABC wanted him to audition for one of its soaps, One Life to Live.
"It's hard for me to believe that I got that job," Fillion recalls. "I was going to school to be a teacher. I come from a family of teachers. It's a very noble profession. A reel that I had done somehow went from Edmonton to Vancouver to L.A. to New York and I got a call to ask if I wanted to audition for One Life to Live. Three weeks later I was on the show."
It wasn't as though Fillion had no previous acting experience. In fact, he'd done a lot of theater acting. But transitioning from the stage to television isn't as easy as you'd think. The biggest difference, he soon learned, was that acting on television lacked the immediacy of reaction he'd gotten used to as a theater performer.
"I always thought that was a thrill," Fillion says of performing on stage. "The audience is right there. You hear them gasp, or the laugh, or clap. Acting for television... it's a bit of a machine. The difference is that it became about the acting challenges that were present. Taking away the audience allowed for just the cameras, the lighting, and the actors -- it's really a team effort."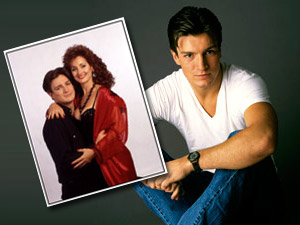 Though it's been 15 years since he first stepped foot in Llanview, Fillion still vividly recalls his first day on the set.
"They told me, you come in at this point, then you walk over to this point, then you're just going to hold here while there's a voiceover: 'The part of Joey Buchanan is now being played by Nathan Fillion,'" Fillion says with a laugh. "I was nervous -- I'm not going to lie. Everyone was looking at me like who is this new guy? While I was there, there were four Kevin Buchanans -- and one lasted just two weeks."
In 2009, it seems every television show has a storyline featuring what is now playfully called "a cougar," or an older woman who is romantically involved with a younger man. When Fillion's Joey Buchanan was involved with Emmy winner Robin Strasser's Dorian Lord in 1994, it created quite a bit of controversy among the viewers. Maybe it was because Dorian initially sought to use Joey as a pawn in her never-ending rivalry with Joey's mother, Victoria Buchanan -- but the two did eventually fall in love.


"Yes, it was somewhat controversial," Fillion cedes, "but at the same time, it was really well handled. Working with Robin Strasser was one of the smoothest times I had on the show. Here I was, the brand new guy, but working besides Robin made it very hard for me to fail. Not everyone I've spoken to has had as positive an experience working on the soaps."
Unlike some stars who've gone on to fame outside of daytime, Fillion makes no attempts to hide the fact that he appeared on a soap opera. In fact, he considers himself "pro-soap -- especially pro-One Life to Live."
"If you want to see hard work done by professionals who know what they're doing, watch the soaps," Fillion says with conviction. "Anyone who says different has never watched a soap opera. I learned a lot of things both professional and personally from that show."
In having been on a soap opera for several years, Fillion is also able to see the challenges that soaps face. One of the biggest, he says, is the fact that soap operas have to put out a new episode five days a week.
"You can't put out a solid gold show every day of the week," the actor admits.
Fillion has fond memories of his former co-stars, two of whom recently passed away -- Clint Ritchie, who played Joey's adoptive father, Clint, and Phil Carey, who played his adoptive grandfather, Asa.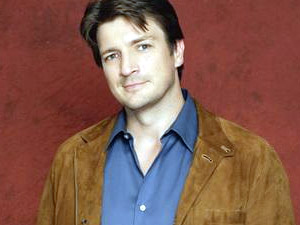 "Having known these guys for a long time," Fillion starts, his voice trailing off. "If you just knew them personally, they were strong as steel. When I met Clint Ritchie he was recovering from an accident where he had somehow run himself over with a tractor and walked [to the next farm over] with a broken back to get [help from] his neighbor."
The first encounter with Carey was a little more intimidating.
"I was getting a getting a doughnut and he was getting a cup of coffee. I said hello to him, and in his gruff voice he said, 'Yeah, how are you?' I replied, 'I'm living in New York, I'm on a soap -- things couldn't be better. Then Phil said, 'That's what the last Joey said.'"
Fillion says that Carey must have realized that his comments sounded a little harsh, but after that initial meeting Fillion and Carey became close.
"Phil always had a chair on the set and no one was allowed to sit in it. One day I was stretching on the set and Phil told me to sit in his chair. I told him that no one was supposed to sit in his chair and he said, 'I'm Phil Carey! You can sit in my chair!' So I sat down and he said, 'What the hell are you doing sitting in my chair?'"
» CONTINUE READING TO PART TWO: FILLION DISCUSSES CASTLE AND JOKING AROUND ON THE SET