During a stint last season as Dr. Adam Mayfair on ABC's Desperate Housewives, Fillion had a second chance to work with on one of his former co-stars again. It had been over ten years since Fillion and Tuc Watkins (David Vickers) had shared a scene together one One Life to Live, but the two men found themselves together again on Wisteria Lane. They didn't get to interact on camera, but considering some of the comical mischief that transpired during their days in Llanview, that may not have been a bad thing.
"Tuc Watkins and I would challenge each other," Fillion fondly recalled of his scenes with his then-One Life to Live co-star. "I would say something like, 'Today, I challenge you to openly drool on camera.'"
"I remember a dream sequence that we filmed and [Kevin] stabbed [David] with a sword. Tuc looked into the camera and said 'You killed me!,'" Fillion says which a chuckle, his voice trailing off like one of the Munchkin's falling into a bottomless cavern.
With an obviously well-developed sense of humor, it was easy for Fillion to transition from the seriousness of daytime to primetime's Castle, a detective show with an edgy sense of humor.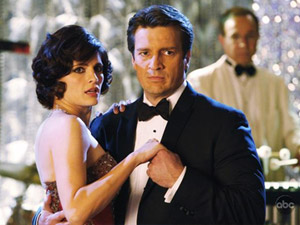 "ABC hates it when I say this, but Castle is kind of like Moonlighting meets Murder, She Wrote," Fillion says in explaining his new series. "If you lived around or knew Jessica Fletcher, you would never invite her anywhere or someone would die -- and it could be you!"
Murders don't follow Castle, though. He follows them. Popular mystery novelist Richard Castle finds himself becoming bored with life as a successful writer. When he learns that a real-world copycat killer has started staging murders that played in his novels, Castle finds himself stepping in to help track down the killer. Some of the murders are downright odd.
"While we were filing the pilot for Castle I was trying to track down unusual cases. There was this one story from British Columbia, where a woman was jogging and found a shoe with a foot still in it. And then they started finding all these left shoes with their feet in them, but no one knew any missing people or people who'd lost their feet," Fillion reflects. "These are cases that obviously have a story. Castle would never invest time in an armed robbery where someone got shot and the robber got away and had to be tracked down. He loves story, he loves to read, he's got tons of books -- he's into it."
For his part, Fillion says that he's very much in love with his job -- as are his co-stars. No one shows up at work unhappy to be there -- and that translates well to what viewers see on-screen. What viewers won't see -- at least until the first season of Castle is released on DVD later this year -- are the bloopers and outtakes from the show.
In the episode that airs this week, Seamus Dever (Detective Kevin Ryan) was to have had the last line. This week's murder case involves a woman who is found dead in a bathtub full of motor oil. Dever's character is asked what he learned from the investigation, to which he replies, "Reduce, reuse, recycle."
"It didn't quite work, so someone said, 'how about this?' and started pitching out lines and he'd say the line," Fillion explains. "Then from behind the wall, the producer yells, how about 'Oil's well that ends well...' Seamus said the line and I slapped him. 'That's for the pun,' I said."
Fillion doesn't know which line made the final cut, so viewers will have to tune in to see. Anyone who's missed an episode of Castle can watch them for free at ABC.com or pick up the complete first season on DVD when it's released in September. When Fillion spoke to Soap Central in April, it was still too soon to know if Castle would be back for a second season -- it has since been renewed -- but Fillion wasn't stressed out over the waiting.
"I've learned in my years of experience to just kick back. Everything that I have control over I can worry about. Everything else is out of my hands," Fillion offers sagely.
» BACK TO PART ONE: NATHAN FILLION RECALLS HIS DAYS AT OLTL'S JOEY BUCHANAN