Over the past few years, many in the television industry have lamented the rise of reality television, saying that the non-scripted programming has brought about the demise of quality dramas and sitcoms. This week, One Life to Live embraces the concept of reality television for a new storyline featuring the inimitable David Vickers.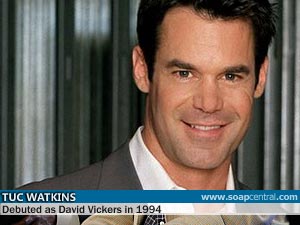 Tuc Watkins (David Vickers) returns to One Life to Live as David devises another of his get rich quick schemes. Apparently, the success of his hemorrhoid commercial has given David the idea to film a reality show featuring all the residents of Llanview.
Unfortunately for David, not everyone in town is on board with his idea. David faces rejection from Viki, Dorian, and even members of his own family.
In an interview with Soap Opera Digest, Watkins muses that David's show could be called The Real Lords of Llantano County.
Outside of daytime, Watkins is back at work on ABC's primetime soap, Desperate Housewives, where he is in his third season of portraying Bob, one-half of Wisteria Lane's resident gay couple. Earlier this year, Watkins also starred in The Sentimentalist, an online spoof of procedural crime dramas. Watkins also wrote and produced the five-minute production, which can be viewed here.
Watkins' short-term return begins on August 10.