In a week where shocking soap opera news has appeared to be the norm, a report that One Life to Live is in its final year on the air seemed to catch everyone by surprise. Daytime viewers, still reeling from the cancellation of the 72-year-old Guiding Light, went into panic mode.
The shockwaves started with a report in this week's Soapgeist, written by TVGuide Canada columnist Nelson Branco. In the column, Branco cited a network insider as having revealed that Brian Frons, president of the Daytime division of the Disney/ABC Television Group, "had to make a Sophie's Choice, and he chose to save All My Children by moving it to L.A." The implication, referencing the 1982 Meryl Streep movie, was that saving All My Children meant sending One Life to Live to its death.
As previously reported, after All My Children packs up production and heads to Los Angeles at the end of the year, One Life to Live will move across the street and down the block to AMC's old studio. While AMC's old studios are too small for it, the space is still about 40% bigger than One Life to Live's current studio.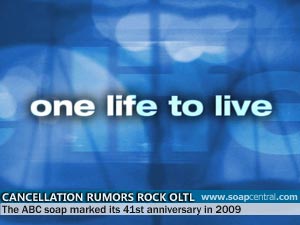 Branco went on to say that the reason the network didn't announce One Life to Live's cancellation when it announced AMC's relocation is that the network didn't have a replacement show ready at the time. Once a replacement show is available, Branco states that several key One Life to Live stars will be relocated to the West Coast and become part of the All My Children cast. The rest of the cast -- and One Life to Live itself -- will be cancelled.
"One Life will be cancelled next year barring a ratings miracle," Branco added. "Frons will most likely move Trevor St. John, Kassie DePaiva, Michael Easton, the Kish boys, and maybe Brandon Buddy and Kristen Alderson to become a part of AMC. He will not merge both shows into two half-hour soaps."
Alderson, meanwhile, tells fans that she doesn't know anything more than they do.
"From what I've heard, the cancellation of the show is pure rumor...but they wouldn't tell us anyway I'm sure," Kristen Alderson (Starr Manning) told fans on her Twitter page.
This isn't the first time that Branco's sources have reported that an ABC soap was close to cancellation. In January, Branco reported that All My Children had been "Real close. Scary close." to cancellation, a claim the network vehemently denies. Earlier this month, Branco also reported that ABC was mulling the possibility of chopping All My Children and One Life to Live's running times to 30 minutes each.
Though the network initially declined comment, as talk of One Life to Live's possible demise began to spread, ABC released a statement hoping to calm fans' jittery nerves.
"The only upcoming move One Life To Live is making is to the All My Children stage after that series relocates to Los Angeles," a network spokesperson tells Soap Central "This will give One Life To Live more room and increase their production value."
Some fans, however, remain worried, noting that the ABC statement doesn't deny that One Life to Live is on the chopping block. If fans are concerned about the fate of One Life to Live, the easiest thing to do to help save the show is to tune into the show every day. Encourage a friend or family member to watch. Support the products and companies that advertise during the show. Fans do still have power, but tuning out or badmouthing the show definitely won't keep the show on the air.
--->
---
---