Nancy St. Alban (ex-Michelle Bauer) is returning to Guiding Light after all. Visitors to Soap Central may remember an article posted earlier this year in which it was reported that the show was bringing in a new actress to play Michelle. In light of the show's cancellation by CBS, show execs have reconsidered their decision to recast.
"I can confirm that Michelle Bauer is coming home to Springfield," a Guiding Light spokesperson told Soap Central earlier this year. "Fans will see her on air in late April/early May."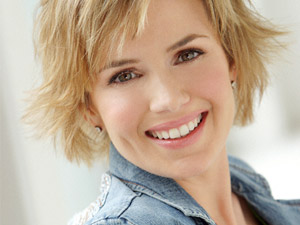 In February, the show put out a casting call for the role of Michelle Bauer. In a somewhat surprising move, the show made no effort to cloak their recasting efforts. The role was then described as that of a "good girl who has gone through many struggles."
It was unclear at the time if St. Alban had been approached about reprising the role she'd last played in 2005. Since then, it's been reported that the show had not contacted St. Alban. Former Days of our Lives star Martha Madison (ex-Belle Black) is said to be one of the actresses who tested for the role.
Four actresses have portrayed Michelle since her debut in 1985. Anna Tendler originated the role before Rachel Miner took over in 1989. Rebecca Budig appeared from 1995 to 1998 and Joie Lenz (now known as Bethany Joy Galeotti of One Tree Hill fame) took over the role next, appearing from November 1998 through October 2000. St. Alban debuted as Michelle in October 2000.
St. Alban's return will coincide with the return of her former on-screen love interest, Paul Anthony Stewart (Danny Santos). She will first air Thursday, July 2.






Paul Anthony Stewart back as Danny Santos. [May 5, 2009]