Guiding Light is preparing for another established character's return to the canvas later this year. Soap Central has learned that the long-running CBS soap is writing a story that will bring Michelle Bauer back to the canvas.
A casting call went out earlier this month for actress between the age of 28 and 30 for the role of Michelle Bauer. The show made no effort to disguise the role that was being cast with a false name. The casting call goes on to describe Michelle as "the good girl who has gone through many struggles."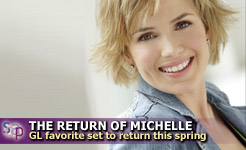 "I can confirm that Michelle Bauer is coming home to Springfield," a Guiding Light spokesperson tells Soap Central. "Fans will see her on air in late April/early May."
There have been five actresses to hold down the role of Michelle since 1985, beginning with Anna Tendler. Tendler remained with the show for two years before Michelle was sent off-screen for a two-year period. Rachel Miner assumed the role in 1989 and stayed in Springfield for more than six years. To date, Miner has the longevity record for playing Michelle. Next up was Rebecca Budig from 1995 to 1998. Budig is now best-known for her Emmy-nominated work as All My Children's Greenlee Smythe. Budig exited the ABC soap last week. Joie Lenz (now known as Bethany Joy Galeotti of One Tree Hill fame) took over the role next, appearing from November 1998 through October 2000. In October 2000, Nancy St. Alban began a five-year run as Michelle. The actress quickly won over fans and became one of the show's most popular actresses. The actress was taken off contract in 2005 and Michelle was written out.
It is unclear if any of the previous actresses were approached about a possible return to Guiding Light. Online reports have hinted that former Days of our Lives star Martha Madison (ex-Belle Black) tested for the role.
The role will be a contract role, but to date an actress has not been placed in the role.