Kim Zimmer is headed back to Llanview. The four-time Emmy-winning actress will reprise the role of Echo DiSavoy this fall.
Talk of Zimmer's possible return to Llanview first surfaced about a year ago, when Zimmer shared a flight bound for the Daytime Emmys in Los Angeles with One Life to Live's executive producer, Frank Valentini. Zimmer told Soap Central at the time that during the five hours in the sky, she pitched Valentini a few different ideas about how to incorporate her into the show.
"I'm so excited," Zimmer told Soap Opera Digest of her One Life to Live return. "I feel like it's all come full circle."
This will be Zimmer's third appearance in Llanview. In 1978, Zimmer started off as Bonnie Harmer. She returned to the show five years later as Echo DiSavoy -- but her time on OLTL didn't last long.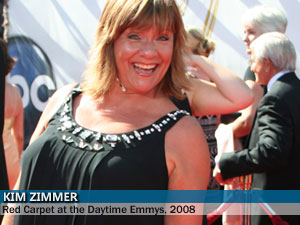 "[T]hey fired me!" Zimmer said with a laugh. "[Echo] was asked to leave town, and it was the best thing that could have happened to everyone involved. I went to Guiding Light and had a wonderful 27 years there and now I'm happy to be back at One Life."
Zimmer is, of course, best known for the time she spent as Reva Shayne -- the self-proclaimed "Slut of Springfield" -- on the now-cancelled CBS soap, Guiding Light. Zimmer won four Daytime Emmys in the Outstanding Lead Actress field during her run on GL. She also earned an additional seven Emmy nominations.
In addition to her work on One Life to Live and Guiding Light, Zimmer also appeared as Nola on the soap, The Doctors and Santa Barbara.
Since Guiding Light's end in September 2009, Zimmer has been carefully planning her next move. In January, Zimmer revealed that she'd had talks with The Bold and the Beautiful's Bradley Bell -- and speculation mounted about her possible addition to the 30-minute soap.
"I did meet with [B&B head writer and executive producer] Bradley Bell and we had a wonderful conversation about many things," Zimmer said in a message on her official web site, without commenting further on the details of the discussion.
Zimmer's name had also been linked to The Young and the Restless, where the actress was reportedly considered for a recurring role.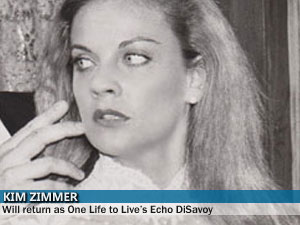 In the midst of all the soap chatter, Zimmer has been working on a book. When Zimmer sat down with Soap Central last fall, she explained that the book will focus on the time between learning that Guiding Light would be going off the air and the date of the iconic series' final broadcast.
"I'm having fun putting my feelings down... I wanted it to be about the morning of April 1, 2009, through September 18. I wanted it to be a journey through that and have little things trigger memories. Between what I remember and what I am getting from fans since the show was canceled, I'm being reminded of a lot of different stuff."
Though originally pegged for a Christmastime release, Zimmer now says that the still-untitled book won't be out until early 2011.
Echo resurfaces on October 1, and the character will be featured heavily in story with Clint, Dorian, and Viki.
Photo Credit: Dan J Kroll/Soap Central