Daytime newcomer Josh Kelly has landed the role of Joey Buchanan on ABC's One Life to Live, according to ABC Soaps In Depth. Though Kelly has never before appeared on a soap, the actor has quite a few primetime and movie roles under his belt.
A casting call released this summer referred to Joey as "mid to late 30s, extremely good-looking, successful, warm, kind, charming, finance guy." By all accounts, Kelly appears to fit the bill quite nicely.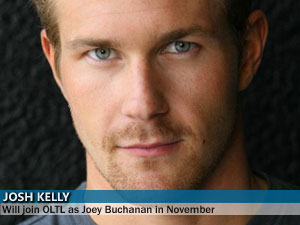 Kelly recently guest starred in the primetime series True Blood, Ugly Betty, and NCIS: Los Angeles. On the silver screen, he's appeared in Transformers: Revenge of the Fallen and The Portal.
According to his IMDB.com profile, in addition to being an actor, Kelly is also an American hero. As a member of the United States Armed Forces, Kelly served in three tours in Afghanistan. He also served as an Army Ranger in Iraq.
Kelly becomes the eighth actor to play the part. When Joey was last seen on-screen for two episodes in 2007, Nathan Fillion appeared in the role. Fillion had previously appeared on One Life to Live from 1994 to 1997. The actor now stars in the ABC drama series, Castle.
In landing the part of Joey, Kelly beat out several veteran soap stars who also auditioned for the role. Matt Borlenghi (ex-Brian Bodine, All My Children), Brody Hutzler (ex-Patrick Lockhart, Days of our Lives), and Austin Peck (ex-Brad, As the World Turns; ex-Austin Reed, DAYS) all tried out during OLTL's casting call.
It is believed that Joey is slated as a love interest for Kelly. The couple was involved previously -- they were married in 2000, but they divorced a year later.
Kelly first airs on Wednesday, November 24.
---