Kathy Brier (ex-Marcie McBain) and Chris Stack (Michael McBain) will return to One Life to Live this fall. Brier announced her return to Llanview at this past week's Divas of Daytime concert.
It's been nearly two years since Brier and Stack were last seen on-screen. The pair was written off the canvas in June 2009 after Michael received a job offer in Seattle. They returned briefly in November of the same year when Marcie gave birth to their son, Gabriel.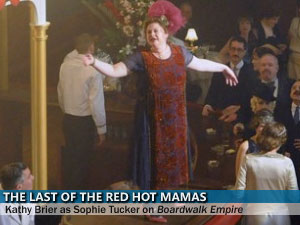 Brier appeared on One Life to Live from 2002 to 2009. During that nearly seven-year run, she received a 2004 Daytime Emmy nomination in the Outstanding Supporting Actress category. For a period of time in 2003 and 2004, Brier pulled double duty; in addition to her OLTL work, Brier appeared as Tracy Turnblad in the Broadway production of Hairspray. Last year, Brier appeared as Sophie Tucker, a sometimes bawdy woman known as "The Last of the Red Hot Mamas," in the HBO series Boardwalk Empire.
In her personal life, Brier is expecting her first child -- a boy -- with husband Jason Munt. Brier and Munt were married in September 2010.
Brier made a surprise guest appearance on Soap Central Live in November 2010 to talk about her role on Boardwalk Empire and her wedding. To listen to her segment on SCL, please click here.
Stack assumed the role of Michael in December 2007. Since exiting OLTL, Stack has made several guest-starring spots in primetime.
The pair will first air on October 25.