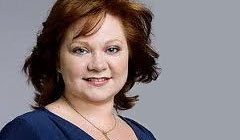 Kathy Brier
Kathy Brier created the role of One Life to Live's Marcie Walsh in October 2002. Originally slated for a recurring role, Ms. Brier was soon put on contract in December 2002. In 2004 she received her first Daytime Emmy nomination in the Supporting Actress category.
From August 12, 2003 through May 2, 2004, Ms. Brier took on two jobs: one with OLTL, the other as Tracy Turnblad in the Broadway production of Hairspray, where she had been the standby since Spring 2003.
Brier was born and raised on Staten Island, NY. She attended Moore Catholic High School and then went on to study theatre and business at Wagner College, where she received a BS in Arts Administration. One Life to Live marks her first major television role.
She began acting in the theatre, with regional credits that include Fanny Brice in Funny Girl, Libby Tucker in I Oughta Be in Pictures, Joy in Cinderella, and Rizzo In Grease. Her Off-Broadway credits include Ron Taylor and Mayor Maggie in Bat Boy The Musical at Union Square Theatre, The Prince and the Pauper at The Lamb's Theatre, O'Casey Knock at The John Houseman Theatre, and Tango Ballad at The Actor's Studio.
Brier currently resides in Manhattan. In addition to acting, she loves to read and swim.
Law & Order: Special Victims Unit
Charlotte Jones
2011
Boardwalk Empire
Sophie Tucker
2010
Law & Order: Criminal Intent
Chia Bisman
2008

JoJo's Circus
Babalulu
2003
October 18, 2002 to June 17, 2009; November 6, 2009; November 12 and 13, 2009
Hairspray
Broadway
2004
Daytime Emmys: Nomination, Outstanding Supporting Actress (2004)
Daytime Emmys: Pre-Nomination, Outstanding Supporting Actress (2004, 2008, 2009)
DATE OF BIRTH: March 10, 1975
PLACE OF BIRTH: Staten Island, NY
HAIR: Blonde