Should Passions recast Miguel upon Metcalfe's exit?

Yes. I think Miguel is too valuable to just disappear.
35%
No, I think that Miguel can safely be written out for now.
27%
No. They need to do whatever it takes to get Jesse back.
24%
To be honest, it doesn't matter one way or another to me.
9%
I'm not entirely sure what should happen to Miguel.
4%
Other
1%
Poll Posted: March 12, 2004
Original cast member
Jesse Metcalfe
(
Miguel Lopez-Fitzgerald
) had opted to leave NBC's Passions upon the expiration of his contract.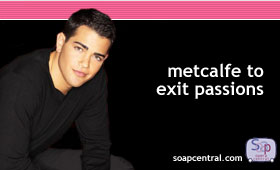 "Jesse's decided not to renew his contract," a show spokesperson said in a statement. "He's going to pursue other projects and we wish him the best of luck."
During his nearly five-year run on Passions, Metcalfe has also found time to film special guest appearances on the series Smallville, where he played the character Van McNulty. Metcalfe also had a small part in the tele-movie 44 Minutes: The North Hollywood Shoot-Out .
Show execs have not yet decided if the role of Miguel will be recast or simply written out. A decision on the character's future is expected at a later date.
A final airdate for Metcalfe comes on July 26th.
Galen Gering (Luis) re-signs his contract with Passions.