Which of these departed or soon-to-be departed Passions characters will you most miss?

Miguel Lopez-Fitzgerald
41%
Edna Wallace
18%
Charity Standish
13%
Beth Wallace
11%
Antonio Lopez-Fitzgerald
7%
Hank Bennett
6%
Other
4%
Poll Posted: August 9, 2004
There are more changes headed to the Passions canvas later this month. As previously reported,
Ryan McPartlin
(
Hank Bennett
) has left the show. Now comes word that two contract stars have been downgraded from contract status to recurring. (
Click here for more
)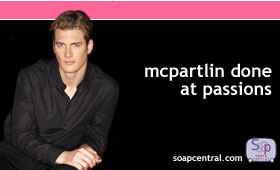 Soap veteran and Emmy winner
Kathleen Noone
(
Edna Wallace
) and
Kelli McCarty
(
Beth Wallace
) will be dropped from contract status beginning September 1st.
McCarty is an original Passions cast member, having joined the show during its premiere episode in July 1999. Prior to joining the cast of Passions, McCarty appeared on primetime soaps Melrose Place and Beverly Hills, 90210.
Noone, meanwhile, has only been with Passions for two years. For much of her time with the show, Noone's character had no first name. Show execs said that they wanted to find just the right name for her character. Despite roles on Sunset Beach and Knots Landing, Noone is best known to daytime viewers for her Emmy winning role of Ellen Chandler on ABC's
All My Children
.
Ryan McPartlin to leave Passions for primetime series.