David Bailey, who recently assumed the role of Passions' Alistair Crane, has died. The Passions star drowned in what authorities are calling a "pool accident" at his Los Angeles home. He was 71.

Bailey was spotted submerged in his apartment pool at around 2:20pm on November 25th. He was later pronounced dead at Cedars-Sinai Medical Center. A neighbor reported hearing a splash about an hour before Bailey's body was found. Reports say the actor swam daily. An autopsy performed on Sunday, November 28th, determined that drowning was the cause of death, corner Lt. Cheryl MacWillie said.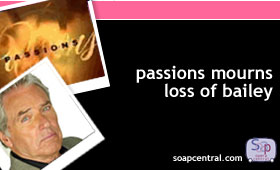 Bailey joined the cast of Passions in September 2004, finally giving a face to the Crane family patriarch. Since the show's debut in 1999, Alistair had "appeared," as it was, as only an unseen voice.

"It is with great sadness that we learned of the sudden passing of David Bailey," said Executive Producer Lisa de Cazotte. "He was a man of great compassion and kindness as well as an extraordinary actor. "

"David Bailey made an immediate and indelible impression in his role as patriarch of the Crane family on Passions," NBC Universal Television's Senior Vice President of Daytime, Sheraton Kalouria, said in a statement.

Born in Newark, New Jersey on October 27th, 1933, Bailey quickly discovered that he wanted a career in acting. His career spanned five decades and included all forms of entertainment - including television, film and stage work.

Bailey was no stranger to daytime television - or to NBC daytime. For most of the 1970s and portions of the 1990s, Bailey appeared as Dr. Russell Matthews on Another World. For a brief time in 1988 and 1989, Bailey appeared on the ABC soap Ryan's Hope as Teddy Malcolm.

On stage he appeared in productions of "Pal Joey," "Thief River," "Camping with Henry and Tom," "The Sisters Rosensweig," "Shadowlands," "A Hatful of Rain," "Orphans," "Light up the Sky," "The Price," "Death Trap" and "I Ought to Be in Pictures."

Behind the scenes, Bailey was a founding member of The Black Book Theatre Company, for which he wrote and directed plays. His most recent were "Are You Listening?" and "Your Place or Mine?" which were produced at the Creative Place Theatre in New York City.

He is survived by his wife, Yvonne Bailey of Philadelphia, and a son, Xander Bailey, of Los Angeles.