How do you feeling about Galen Gering's possible exit from Passions?

This is horrible. I can't imagine Passions without Gering.
65%
Losing Gering is bad, but I think Passions can recast Luis.
14%
Luis doesn't do much for me. I'd like to see him written out
11%
Gering isn't going anywhere. I think he'll re-sign.
6%
I'm not really moved one way or another by a possible exit.
4%
Other
1%
Poll Posted: April 8, 2005
According to an inside source, Passions original cast member
Galen Gering
(
Luis Lopez-Fitzgerald
) will be exiting the show when his contract expires later this year.
Gering has often been the subject of exit talk. In fact,
just last year Soap Opera Central featured an article
about the possibility that the actor would exit. However, as the hours ticked down to the expiration of his contract with the NBC soap, the actor and the network were able to reach a deal. In form true to most daytime television deals, the terms of Gering's contract were not revealed.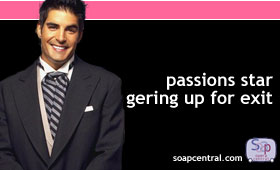 Now, Soap Central has learned that Gering only renewed his contract with Passions for an additional year. That means that the actor's new contract is drawing to a close. While the network is hopeful that Gering will again re-up at the last minute, an insider tells Soap Opera Central that Gering has made up his mind and truly wants to exit the show.
Some fans on Soap Opera Central's message boards wonder if Gering is trying to put the pressure on the network to make a better contract offer. Other fans are critical of the network, hinting that this may be nothing more than a publicity stunt.
Neither the show nor Gering's agent are talking. Both issued firm "no comments" when asked for comment on this story.
Gering's contract is up in June.