Who's In and Who's Out at Passions
by
Dan J Kroll

Posted Wednesday, April 20, 2005 3:53:58 PM

As previously reported by Soap Central, Galen Gering (Luis Lopez-Fitzgerald) has yet to renew his contract with NBC's Passions. But Gering isn't the only top male star whose future with the show is still very much in doubt.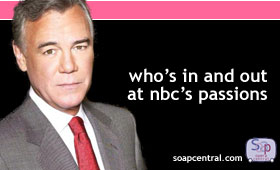 Fan favorite Ben Masters (Julian Crane) has yet to re-up with Passions, prompting some to worry that the actor might be dropped to recurring status or cut from the cast all together. Masters is one of eleven original cast member still with the almost-six-year-old Passions.

While Gering and Masters' may both have uncertain futures with Passions, a handful of their co-stars have already made the decision to renew their contracts. As is the norm in these situations, the terms of the deals have not been announced. That said, signing on for more Passions are: Eric Martsolf (Ethan Winthrop), Juliet Mills (Tabitha Lenox), Tracey Ross (Eve Russell), Danica Stewart (Jessica Bennett), Rodney Van Johnson (TC Russell), Kim Ulrich (Ivy Crane) and McKenzie Westmore (Sheridan Crane).

RELATED STORY
Passions star John Bailey killed in "pool accident."
---