Did Passions need to write out Edna Wallace?

No. I love Edna and wish she wasn't going to be leaving.
72%
Absolutely. The Edna character is just a bit too much.
12%
At least for now. I think the Edna character needs a 'rest.'
11%
I'm not sure how I feel just yet about Edna's exit.
4%
Other
1%
Poll Posted: July 6, 2005
As previously reported
by Soap Central,
Kelli McCarty
(
Beth Wallace
) has exited her role on NBC's Passions. At the time, the status of McCarty's on-screen mom,
Kathleen Noone
(
Edna Wallace
), was very much in doubt.
A show spokesperson has now confirmed that Noone will exit the show -- but she has not been "fired." However, the exit is said to be one that will go down in Passions history.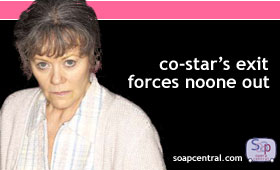 "Edna Wallace will not fade demurely into the summer sunset," the rep smiles. "It's safe to say that her final scene will be one for the record books."
Even with a much-hyped exit, this may not be the last time that viewers will see Noone's wacky alter ego. The show's head writer, James E. Reilly asserts that the actress will more than likely be back in the near future.
"Beth and Edna Wallace are the embodiments of 'recurring characters,'" adds the spokesperson for Passions. "Just when you think they're gone once and for all, they pop up again. Never say 'never again' when it comes to the influence these two will have on the citizens of Harmony."
Noone exits the show on August 3rd.