Original Passions cast member McKenzie Westmore (Sheridan Crane) is back at work after being sidelined by a potentially serious illness in late July and early August. Because the actress' illness came on so suddenly, NBC was forced to temporarily recast the role.

"I have an acute inner-ear infection that is causing terrible vertigo. Every time I stand up, I get sick and the room spins," Westmore explained.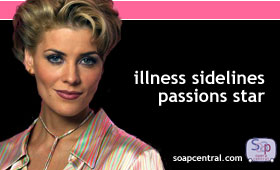 While Westmore rested at home and recuperated, Shannon Sturges (ex-Kate Reynolds, Port Charles) was tapped to temporarily fill in for the ailing star. Sturges will appear in a handful of episodes beginning September 6th. She will make her final appearance on September 15th.

While temporary recasts are relatively rare, this is not the first time that Passions has had to scramble to bring in temporary replacements. Last summer, the roles of Theresa and Fox were recast when actors Lindsay and Justin Hartley were on a joint baby leave.

Westmore, meanwhile, returned to work on August 6th and will be back on the airwaves on September 23rd. Her time off marked the first time in Passions' six-year history that Westmore had to call out sick.

"I'm better now," Westmore shared. "I am back to work now. I still have vertigo, but I am dealing with it as best I can. I have to wear a patch for the vertigo. It's not fun."