Passions fans holding on to hope that Jesse Metcalfe (Miguel Lopez-Fitzgerald) might return to the show may have to let go of their expectations. The young actor has made it clear that he has no intention to return to the show that served as his launching pad into television stardom.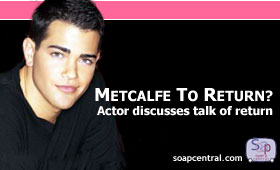 "I never look back," Metcalfe said in a recent interview with Soap Opera Digest. "I want to keep moving forward."
Metcalfe was part of the original cast of Passions, making his debut when the show bowed in July 1999. He remained with the show through July 2004 when he exited to pursue other opportunities.
Those opportunities were quick to find the star. He landed a starring role on the breakout hit "Desperate Housewives" and remains with the show now in its second season. Metcalfe's name, however, is no longer attached to the opening credits. He also landed the starring role in the film John Tucker Must Die, which is scheduled for a 2006 release.
Meanwhile, fans of the show are wondering if the show is planning to recast the role in the near future. A recent cast call for a 20something character going by the name of "Andre" has some wondering if Miguel will find he way back to the canvas.