Charles Divins has re-signed with Passions? What is your reaction?

I don't really like the character of Chad, so I'd rather he be written out.
63%
I'm glad. I really like Divins' work -- and Chad is a good character.
19%
It might have been interesting to see another actor take over the role.
12%
I don't really have an opinion about Chad at this time.
6%
I'm a fan of Divins, but I'd like to see him in work outside of Passions.
0%
Other
0%
Poll Posted: November 6, 2005
Despite his recent foray into primetime television, handsome Harmony hunk
Charles Divins
(
Chad Crane
) has re-signed his contract with Passions.
Passions fans will know that Divins is not the first actor to tackle the role of Chad.
Donn Swaby
(ex-Chad Harris) -- an original cast member when Passions debuted in 1999 -- created the role before leaving in September 2002. Divins joined the cast in September 2002, just days after Swaby exited.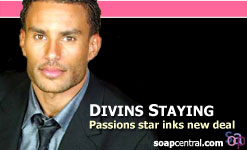 Before joining Passions, the Dallas, Texas native was at the height of his modeling career. Divins appeared in ad campaigns for Tommy Hilfiger and the Nissan Maxima, as well as in a number of fashion magazines. He also has appeared in singer Kimberley Locke's music video for "8th World Wonder." This season, Divins has appeared as Lorenzo on the UPN sitcom "Half & Half."
The terms of Divins contract were not released.