Soap Central has learned that Ian Buchanan (ex-James Warwick, The Bold and the Beautiful; ex Duke Lavery, General Hospital) will be joining the cast of Port Charles in the show's ninth book, which is currently being filmed.
Buchanan has been the subject of casting rumors on several different shows. Buchanan was to have appeared on The Bold and the Beautiful last month, but a last-minute production change resulted in Buchanan's appearance being scrapped. According to a show spokesperson, B&B executive producer and head writer Bradley Bell decided to rewrite the storyline involving James' return. Buchanan appeared on James Warwick on The Bold and the Beautiful from 1993 to 1998 and earned five consecutive Daytime Emmy nominations in the Outstanding Supporting Actor category between 1994 and 1998. Warwick earned a win in 1997.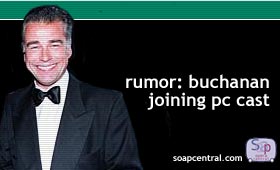 Previously, Buchanan reportedly had been in talks to join the cast of All My Children. Insiders said that Buchanan would have played Duke Lavery, a character he created on ABC's General Hospital. Since Buchanan's exit from General Hospital in 1989 when his character was gunned down, his former on-screen love also believed dead as a result of a boat explosion, Anna Devane, has been resurrected on All My Children. It was widely speculated that All My Children wanted Buchanan to sign on for an on-screen reunion of the two characters. Setside sources told Soap Opera Central that show executives had asked actress Finola Hughes (Anna Devane, All My Children) to call her close friend Buchanan and try to talk him into joining the cast.
A spokesperson for Port Charles declined to comment on the news of Buchanan's addition to the cast.
---