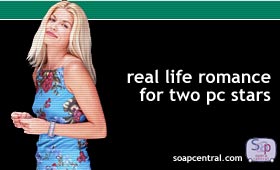 They are not exactly a couple on Port Charles, but in real life Erin Hershey (Alison Barrington) and Brian Presley (Jack Ramsey) are engaged.
The PC co-stars became engaged on April 19th, when Presley popped the question during ABC's Super Soap Weekend. Presley took a page out of Cinderella and proposed to Hershey with a diamond engagement ring tucked away in a glass slipper.
The pair plans to get married next summer. There's no word whether or not the writers will have Presley and Hershey's on-screen personas become an item.
---