There is rampant speculation that Julie Pinson (Eve Lambert Thornhart) will be exiting Port Charles at the conclusion of the "Secrets" story arc and joining the cast of NBC's Days of our Lives.
Fans have been trying to figure out for weeks who would occupy the much talked about "fifth chair" on Port Charles. Just about every character's name has been bandied about on Soap Opera Central's message boards over the last month. With the revelation last week that Amy Stradling is the show's "dark angel," many viewers are now convinced that Eve will be killed during Amy's revenge plot against Ian.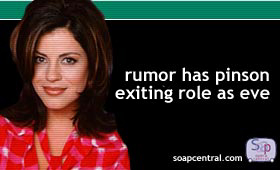 Days of our Lives has been trying to cast the role of Billie Reed. The show's first choice to tackle the part is veteran daytimer Lisa Rinna, who previous played the part. However, Rinna has landed the hosting job of a talk show on the SoapNet cable channel, thus rendering her unavailable to return to DAYS. The show's other choice for the part, Krista Allen - another performer to have previously played Billie, is also unavailable to return to the show.
A DAYS insider tells Soap Opera Central that Pinson visited the DAYS studio to read for the part of Billie earlier this month. A DAYS spokesperson declined to comment on the rumor.
The resemblance between Pinson and Rinna is quite striking, but, as soap fans will note, shows do not always consider physical appearance when casting or recasting a role.
Pinson is one of the few original cast members remaining on Port Charles.
---