Kelli McCarty (Beth Wallace) will once again be leaving Passions. However, it is unclear if the actress' exit is something that had been planned or if it is a result of the show's budget crunch.
In a message on her official web site, McCarty expressed her appreciation to her fans but did not rule out a possible return to the NBC soap.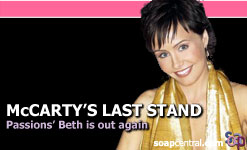 "Today [June 1st] is my last official day [of work]," McCarty stated. "I truly enjoyed having fans of Beth come up to me and tell me how much they love having me back on the show - and how much they love to hate Beth."
As previously reported by Soap Central, Passions is in the midst of a major budget crunch, a crunch that has seen half of the show's behind-the-scenes crew fired.
McCarty's return engagement - she appeared on the show from 1999 through 2004 as both a contract and recurring player - was always slated to last only a few months. However, McCarty returned to TV screens in May and her last tape date came just one month later.
A final airdate has not yet been made available, though the actress is expected to air into July.