For several weeks, Internet rumors have speculated that Sabryn Genet (Tricia McNeil) will be leaving The Young and the Restless.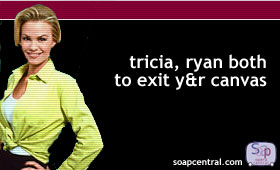 The rumors of Genet's exit surfaced shortly after her character started seeing the deceased Matt in visions. To some it seemed like the beginning of the end for the character - or at least the beginning of a long stay at a psychiatric care unit.
Things heated up last month when it was revealed that Scott Reeves (Ryan McNeil) had been let go. The ten-year veteran will exit the role later this fall.
Genet joined the cast of The Young and the Restless in 1997. A spokesperson for the show declined to confirm that the actress would be exiting.