As reported last week, Ashley Bashioum (Mackenzie Browning) will be leaving The Young and the Restless next month.
While there are two conflicting reports as to why the actress is leaving the show, Bashioum's successor has now been named.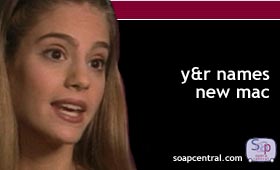 A setside source told Soap Central earlier this month that Bashioum and show executives were unable to come to terms on a new contract.
A second report, however, claims that the decision to leave the show was solely that of Bashioum. As Bashioum has gotten older - the actress just turned 18 in December - she has apparently questioned whether or not she wants acting as a full-time career. Bashioum would like to pursue a career in medicine and obviously a full-time gig on a soap opera would make schooling extremely difficult. It is said, however, that Bashioum would not mind working on a primetime project or film project that would only require a short-term commitment. Bashioum's interest in medicine runs in her genes; her father is a plastic surgeon.
The setside source interviewed by Soap Central hints that both scenarios could be true -- Bashioum might have asked for more time off from the show, time that the show was unable to give the actress.
In the meantime, Kelly Kruger has landed the part of the to-be-recast Mackenzie. Kruger is a veteran of the MTV series Undressed.
Bashioum makes her final on-air appearance on February 15. Kruger debuts on February 19.