A message on his official web site confirms what many fans have been fearing: Michael Damian (ex-Danny Romalotti) is not returning to The Young and the Restless.

Rumors of Damian's return to The Young and the Restless flared earlier this year when Damian was spotted in Los Angeles -- the location where Y&R is filmed. Damian had been in Europe for many weeks prior to his LA spotting working on a television project called Red Eye. The sighting -- and an earlier rumor that hinted that Damian might be asked to accompany Lauralee Bell (Christine Williams) back to the show from her extended maternity leave - sent Internet fans buzzing.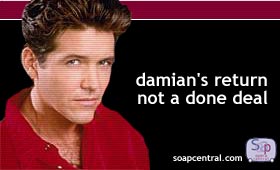 The earlier rumor of a Damian-Bell return was quickly quashed when Bell stated in an interview that while she had heard the rumors of Damian returning, she knew nothing about the actor returning to the show any time soon.
For his part, however, Damian has not ruled out a possible return to Y&R. In fact, the actor has gone on record as saying that he would very much enjoy returning to Genoa City, a place he called home from 1980 to 1998. Talks between Damian and Y&R execs about a possible return have been "informal," according to Damian.
During his time away from Y&R and in addition to his work on Red Eye, Damian is also laying down some tracks for a new album. Damian had a #1 hit on the Billboard Hot 100 in 1989 with the song "Rock On."
Damian exited Y&R in 1998 for what Y&R creator Bill Bell called an "indefinite hiatus." Bell stated that the show did not have any storylines brewing for Damian's Danny and felt that the character was no longer needed.