For the second time in less than a year, The Young and the Restless is undergoing some behind-the-scenes changes.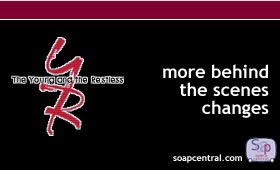 Kathryn Foster, a director with The Young and the Restless since 1994, has been named producer for the show. Foster's promotion comes as Peter Frisch exits the producer position. Frisch had been named Y&R's producer only three months ago.
In other changes, Jack Smith joins Trent Jones as co-head writer for Y&R. The team will work under head writer Kay Alden. Prior to joining the Y&R team, Smith served as a writer for The Bold and the Beautiful as well as The Young and the Restless.
In December, David Shaughnessy was named Y&R's executive producer, replacing long-time Y&R veteran Edward Scott.
A previous version of this article incorrectly stated that Frisch served as director for The Young and the Restless. Soap Central apologizes for this mistake.